Looking for a new way to experience the Great Smoky Mountains of Tennessee? Be sure to check out Anakeesta in Gatlinburg!
To help you get the most out of your trip, we've made this guide with things to do and see at Anakeesta, a unique attraction in the Smokies!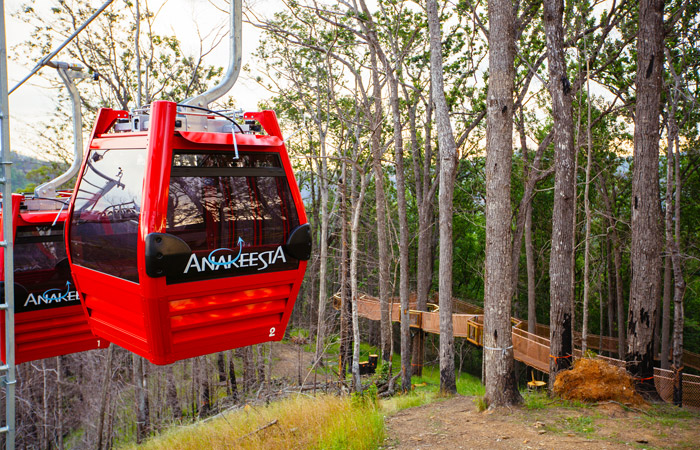 What is Anakeesta Gatlinburg?
Anakeesta is a Smoky Mountain family destination that offers a unique way to explore the beauty of the Smoky Mountains. This brand new $47 million dollar development project is yet another exciting addition to the great lineup of attractions in Gatlinburg, TN that you won't want to miss!
Guests can access this 72-acre Anakeesta Park via the Chondola that is located on the Parkway at traffic light #5.
A "Chondola" is an aerial lift that will take riders on a 12-minute ride to the 600' summit of the mountain. In case you were wondering, a "Chondola" is a combination of a Gondola and a chairlift, so you if you choose to ride in one of their 8 red 6-person gondola cabins you will enjoy a ride up the mountain fully sheltered from the elements.
Once the lift arrives at the summit, visitors can explore shops and restaurants in Firefly Village, a beautiful, raised network of shops connected by bridges and hiking trails. This village in the mountains is built amongst the forest, so you can enjoy lovely scenery while you explore Anakeesta.
From the top of Anakeesta Mountain, visitors can enjoy impressive, panoramic views of the Smoky Mountains and of the charming town of Gatlinburg in the valley below.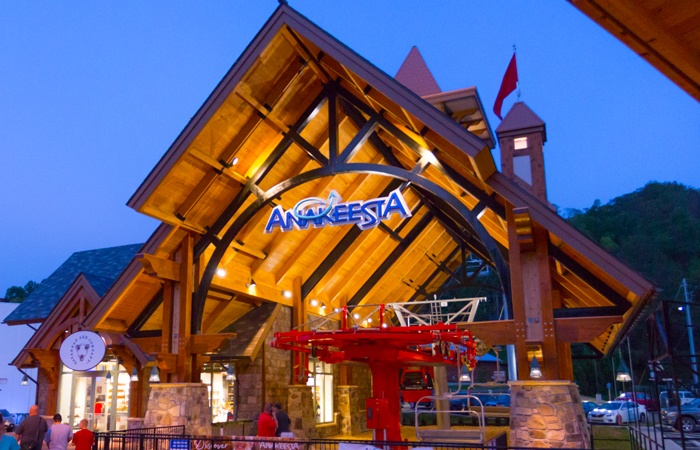 What Does Anakeesta Mean?
Anakeesta is the Cherokee word that translates to "Place of the Balsams." Typically, this refers to a high elevation area where balsam trees would thrive.
In the high peaks of the Smokies surrounding Mt. LeConte, this geologic area is known as "The Anakeesta Formation," a part of the mountains that is dominated by ancient, slate "Anakeesta Rock" that creates the Smokies' rugged landscape and iconic overlooks like The Chimney Tops, The Cliff Tops, and The Jump Off.
This new attraction in Gatlinburg is appropriately named because it's a new development that celebrates and preserves the beauty that makes the Smoky Mountains so enchanting. After all, much of this attraction is built in the forest, so you can truly enjoy the scenery of the Smokies.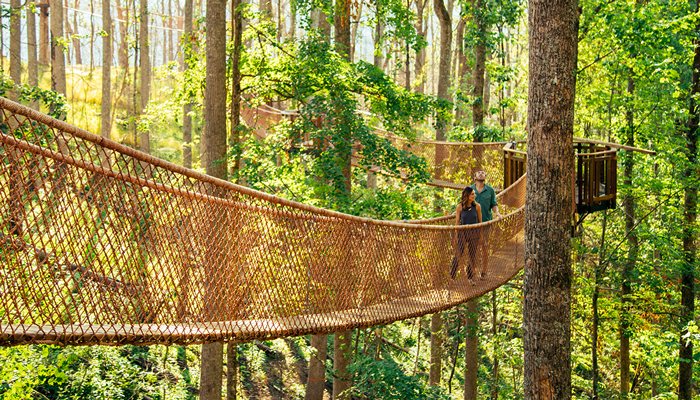 Things To Do At Anakeesta
Once you arrive at the top of Anakeesta Mountain to Firefly Village, you'll have plenty of outdoor adventures to explore including:
Tree Canopy Walk – Stroll 40' to 60 ' above the forest floor as you explore the forest canopy on Anakeesta Mountain. This journey also includes observation platforms with scenic mountain views.
Children's Treehouse Area – Children will love exploring this tree house village built amongst the trees that also features interactive elements and educational displays.
Dual Racing Zip Lines - These impressive zip lines go 1,000' down the mountain as you soar 200' in the air! Better yet, these zip lines sit side-by-side, so you can race for a bit of friendly competition. After a thrilling ride, you'll rappel 60' off the zip line platforms and return to the top of the mountain via Chondola.
Mountain Coaster – Race through the forest on this unique, single rail mountain coaster. This coaster is built low to the forest floor, so you can fully descending through mountain terrain at 25 MPH. (Opening Fall 2017!)
Gem Mining – Look for beautiful gems, emeralds, and fossils at the Anakeesta Gem Mine with a waterfall and mining sluice.
Shopping
You can explore a beautiful, raised shopping area built amongst the forest known as Firefly Village. Here, you'll find shops like:
Great Outdoors Trading Company – Outdoor gear, apparel, and regional Appalachian crafts, art, & jewelry made by local artisans.
Catching Fireflies – A stylish boutique with clothing and toys for children and unique jewelry, home goods, and women's clothes.
Restaurants
Outdoor adventures can really work up your appetite! Luckily, the delicious restaurant options on Anakeesta mountain include:
Pearl's Pie in the Sky – Enjoy delicious pies and cones, milk shakes, and sundaes made with Blue Bell Ice Cream in a nostalgic 1940s atmosphere.
The Smokehouse – Feast on a hearty meal of Brisket, Pork, or Smoked BBQ at this Smoky Mountain Smokehouse.
Future Plans
Best of all, Anakeesta has plans to expand to offer even more activities in the Smokies like an outdoor amphitheater for musicians and performers. This new performance space will be set on a natural slope with views of Mt. LeConte and other peaks in the national park.
Gatlinburg has no outdoor concert space like this currently, so this would be a truly exciting addition to the Smoky Mountains.
Admission
A base-level admission to Anakeesta includes a ride on the Chondola and access to free attractions on Anakeesta Mountain like the Tree Canopy Tour, Children's Tree House Playground, and the Firefly Village.
Adults (12-59) $19.99
Children (3-11) $15.99
Seniors (60+) $17.99
Other activities like the Dueling Zip Line, Gem Mine, and Mountain Coaster have their own admission prices.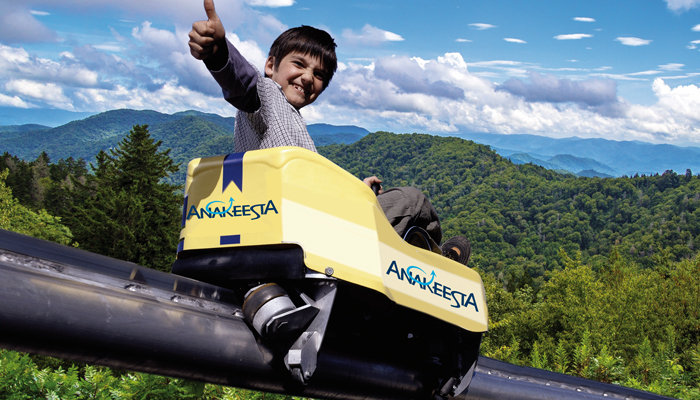 Where is Anakeesta in Gatlinburg?
Anakeesta is located at 576 Parkway in Gatlinburg at traffic light #5.
The Chondola station is located right in the heart of Downtown Gatlinburg across the street from Ripley's Aquarium of the Smokies and is adjacent to The Arrowmont School of Arts & Crafts as well as the Pi Beta Phi Elementary School.
How To Get There
The lower Anakeesta Village and Chondola Station is located right in the heart of Downtown Gatlinburg at traffic light #5, so many visitors can easily walk to Anakeesta.
Anakeesta offers paid parking for guests at the Chondola station to access Anakeesta Mountain and Firefly Village. Additionally, the city of Gatlinburg offers a paid parking deck at traffic light #3.
Contact:

576 Parkway
Gatlinburg, TN 37738
865-325-2400
info@anakeesta.com
https://www.anakeesta.com
A
- Cabins USA Gatlinburg
B
- Anakeesta in Gatlinburg
Written by Hayden Brown