Want to experience whitewater rafting in the Great Smoky Mountains?
Rafting in the Smokies has guided trips on the Pigeon River since 1978. With years of experience, this outfitter is known for its expertise and careful attention to safety.
As part of this company's commitment to safety, a certified rafting guide accompanies every river raft. This ensures you'll have a safe and fun adventure on this beautiful Smoky Mountain river.
Smoky Mountain Rafting Info
The season for rafting in the Smokies runs from April to September. Between Memorial Day and Labor Day, there are guaranteed rafting days. This is because the Pigeon River is dam-controlled and has regularly scheduled water releases on Tuesday, Wednesday, Thursday, and Saturday. On these days, Rafting in the Smokies can guarantee trips, but on other days, rafting trips are subject to river conditions.
Reservations are required so this outfitter can plan your trip for a day when the river is ideal for whitewater rafting. Simply book your trip at their Gatlinburg office or online and get ready for an exciting adventure that begins at the Pigeon Rafting Center in Hartford, TN. Rafting in the Smokies organizes shuttles, so you don't have to worry about planning your transportation while you're there.
There are two guided whitewater trip options that Rafting in the Smokies offers on the Pigeon River.
Rafting the Upper Pigeon River
You'll experience the best whitewater in the Smokies since this section of river boasts 12 Class III and 3 Class IV rapids. This 5-mile long trip passes through scenic stretches of river and goes through exciting rapids with nicknames like Razor Blade, Duck N Run, and Vegamatic.
This portion of the river is bordered the Great Smoky Mountains National Park and the Cherokee National Forest, so a floating trip on this river is an excellent way to explore the mountains.
No experience is necessary, but all participants must be 8 years of age or at least 70 pounds.
Family Float Rafting
If you aren't interested in a high-octane adventure, Rafting in the Smokies offers a peaceful trip as well!
Take a laid-back float along the scenic Lower Pigeon River. This section of river has smaller Class I and Class II rapids. This 6-mile trip along the river takes about 2 hours, so it's a great trip for beginning rafters or anyone who wants a relaxing float down this Smoky Mountain river.
No experience is required for the Family Float trip on the Lower Pigeon River and anyone who is 3 years or older can take this trip.
Other Activities At Rafting in the Smokies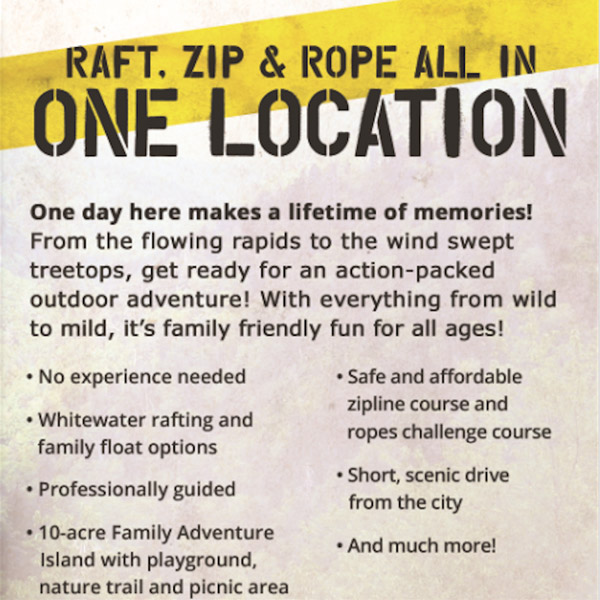 Along with a rafting trip, you can also spend time at the Family Adventure Island on the Rafting in the Smokies' property with a playground, nature trail, and picnic area.
There's also a 150 ft suspension bridge, a zip line, and a high ropes course to explore during your visit. Rafting in the Smokies also offers a horseback riding trip.
Best of all, all of these adventures are in one location, so it's easier to enjoy zip lining, ropes course challenges, and rafting all in one day!
You can bundle these activities for a full day of fun in the great outdoors. This local outfitter offers combo packages that combine different activities at a discounted rate, so you can save money on your adventure!
Here's what you can expect when you visit Rafting in the Smokies!
Contact:
Rafting in the Smokies
813 E Parkway
Gatlinburg, TN 37738
A
- Cabins USA Gatlinburg
B
- Rafting in the Smokies
Written by Hayden Brown