Of one of the many joys of visiting Gatlinburg in spring, the beautiful sight of blooming wildflowers has to be the most spectacular reason to visit this gorgeous part of the country.
The Great Smoky Mountains National Park is sometimes called "the wildflower national park." In fact, the Smokies are renowned for its biological diversity and is home to over 1400 varieties of flowering plants.
To help you experience this natural wonder, we've made this handy guide with the 10 best places for seeing wildflowers in the Great Smoky Mountains National Park!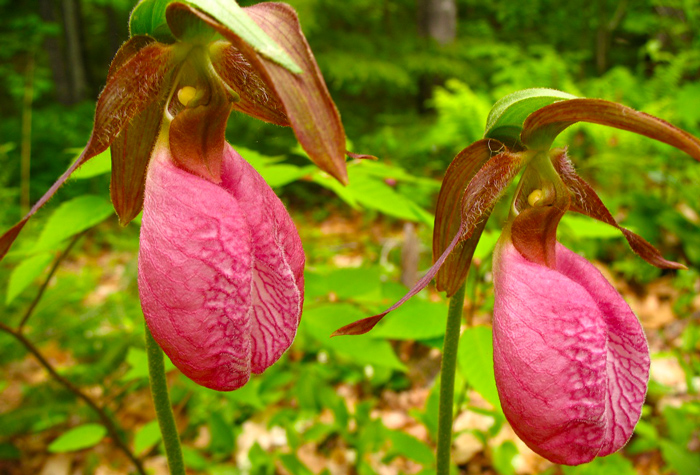 By vacationing in Gatlinburg in March, April, or May, you can see this diversity in full display as flowers of every color and size bloom throughout the park.
1. The Roaring Fork Motor Trail
This popular scenic drive just outside of Gatlinburg opens on March 25th after being closed during the cold winter months. This is just in time for visitors to see beautiful wildflowers on hikes in this area like the Trillium Gap Trail, Baskins Creek Trail, and Grapeyard Ridge Trail.
Spring wildflowers tend to grow in low-lying areas of the park with plenty of water and nutrient dense soil – so the roaring fork area of the national park is a perfect place to spy beautiful flowers this spring.
2. The Cades Cove Loop
The Cades Cove Loop road is probably the most visited sight in America's most visited national park. Thankfully, spring is not a busy time to visit Cades Cove.
This lull in visitation before summer is the perfect time to explore gorgeous wildflowers that emerge from the forest floor this time of year. To see some beautiful blooms, simply take a drive on the 11-mile loop road through this picturesque valley.
Forge Creek and Parson Branch Road just off of Cades Cove are known to have beautiful fields of wildflowers as well. At the end of Forge Creek Road, you'll find the trailhead for the Gregory Ridge Trail. The first two miles of this trail are an ideal place to find wildflowers.
3. Chestnut Top Trail
This lesser-used trail in the Smoky Mountains National Park begins at the Townsend Wye. This pleasant, secluded trail continues a mountain ridge that's nice and sunny – a great spot to find sun-loving wildflowers like hepatica, violets, fire pink, and Jack-in-the-pulpit.
4. Schoolhouse Gap Trail
Not far from the Townsend Entrance to the national park, the Schoolhouse Gap trail is another top place for finding spring flowers in full bloom. This pleasant trail follows an old wagon road, so it's an easy hike for beginner hikers. Along the way, you'll find daffodils, hepatica, and bloodroot.
5. Curry Mountain Trail
This lesser-used trail begins near the Metcalf Bottoms Picnic area. This hike has some good climbs, so it's a great way to get some exercise. Better yet, once you climb up the mountain a bit, you'll be rewarded with the sight of blooming mountain laurel, fire pink, columbine, and phacelia.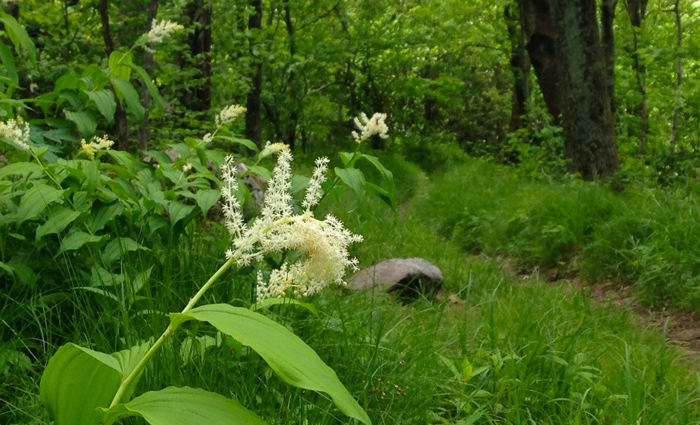 6. Meigs Creek Trail
This hike begins at The Sinks Waterfall in the Great Smoky Mountains National Park.
While this popular waterfall may have big crowds, the trail itself is not nearly as crowded. Not only will you find peace and quiet on this trial, but you'll also get to see some stunning blooming wildflowers.
Water is abundant on this trail and there are lots of stream crossings. Trekking poles or a hiking stick are recommended for this hike.
7. The Little River Trail in Elkmont
This wide, level trail follows a beautiful stretch of the Little Pigeon River. Not only is this a great hike for beginners, but the Elkmont region of the park is home to some beautiful wildflowers as well.
Other highlights include the historic homes of the Elkmont Community. Many of these old homes are being left to the ravages of nature, but a few are being maintained by the park service.
8. Metcalf Bottoms Trail
This beginner friendly hike goes to a historic schoolhouse and the Walker Sisters Cabin. On your way, you'll likely see lovely blooming wildflowers. In early spring, this is a great place to catch fleeting spring ephemerals that bloom and go dormant before the forest trees grow their leaves. This group includes plants like Columbine, Pink Lady Slipper Orchids, Purple Violets, and Crested Dwarf Iris.
9. Porters Creek Trail in Greenbrier
Many hikers regard the Greenbrier area of the national park as one of the best places to view wildflowers in the Smokies. During early spring, visitors to the Greenbrier picnic area have reported seeing the forest floor carpeted with hepaticas, violets, white trilliums, and bloodroot.
If this incredible display of color wasn't enough, there are other things to enjoy in the Greenbrier region of the park.
The Porters Creek Trail in Greenbrier passes by historic home sites and continues through stretches of old-growth forest that have never been logged. This natural forest is an especially good site for wildflowers to grow, since smaller bushes and trees that occur in second-growth forest tend to block more sunlight. Another highlight of the hike is the 60-foot Fern Branch Falls that lies only 2 miles from the trailhead.
10. Sugarlands Area of the National Park
This low-lying valley is nestled in the mountains right next to Downtown Gatlinburg. Though this part of the national park isn't too far from civilization, its still home to some beautiful wildflower hikes like the Gatlinburg Trail, the hike to Cataract Falls, and the Old Sugarlands Trail. All of these trails are on level terrain and aren't too demanding for beginner hikers.
Map Of Suggested Wildflower Areas in the Smoky Mountains
What Time Do Different Flowers Bloom?
Predicting when and where different flowers will bloom in the Smoky Mountains is a difficult task. After all, factors such as the weather and elevation can delay or rush blooms of wildflowers in the park.
This is complicated by the fact that the rugged topography of the mountains creates micro-climates that have very different conditions for plants to grow. That being said, this is the estimated time-frame in which some common flowers will bloom.
March Flowers
Trout Lily
Pink Lady's Slipper
Violets
Jack-in-the-Pulpit
Hepatica
Spring beauty
April Flowers
Columbine
Crested Dwarf Iris
Dogwoods
Fire Pink
May Flowers
Yellow Lady's Slipper
May Apple
Showy Orchis
Blue Phlox
Painted Trillium
Puple Phacelia
Final Thoughts
Another great way to see wildflowers in the Smokies is to participate in the Spring Wildflower Pilgrimage, an annual event sponsored by the park service.
This 5-day festival features guided hikes and lectures on a variety of topics in the Smoky Mountains. Because this event takes place in late April during the height of wildflower blooms, the colorful flowers of the Smoky Mountains are the main attractions.
If you plan on staying in the Smoky Mountains to see wildflowers, consider booking a comfortable cabin rental for your stay! We offer several cabins only a short drive away from the Great Smoky Mountains National Park, so you shouldn't have any trouble spending as much time as you'd like exploring the beautiful flowers of the Smokies!
Written by Hayden Brown