Planning to visit Gatlinburg during the month of September?
You're in for a real treat! Though there's a lot to love about visiting Gatlinburg any time of year, a September vacation in the Smoky Mountains has its own unique charms.
That's why we've made this guide with tips for visiting Gatlinburg in September 2017, so you can get the most out of your trip to the Smokies!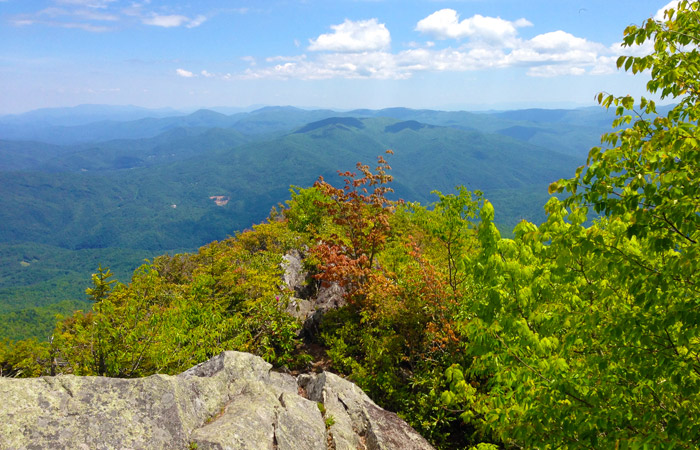 What's Gatlinburg Like in September?
There are several reasons to be excited about visiting Gatlinburg in September, but first and foremost, the weather is a big perk.
September is a warmer, dryer time of the year. The hottest days of summer are past and there's less rainfall as the fall season creeps closer. Towards late September, there is a chance you can see the first fall colors in the highest elevation areas of the Park like Clingmans Dome.
Average September Temperatures
Avg. High – 80°F
Avg. Low – 68°F
With all this warm dry weather, September is a great month for going for a swim or enjoying one of Gatlinburg's many outdoor activities. Apart from great weather, there are other things to be excited about.
Since school starts back in September, many of the summer crowds have also subsided. This means less traffic, shorter waits in lines, and more time spent doing what you love in the Smokies! That being said, downtown can be a little busy on the weekends.
Be aware there are big car shows in Pigeon Forge on a couple weekends in September: The Shades of the Past Car Show and the Grand Fall Rod Run.
These popular September car shows primarily take place in Pigeon Forge, but some of the traffic does spill over into Gatlinburg in the Great Smoky Mountains National Park. If you are visiting during these weekends, but don't want to get caught in one of the biggest events in the Smokies, we suggest taking alternative routes that don't pass through Pigeon Forge during your stay.
Things To Do
With all of the great weather, there's no doubt you'll want to get outside for your September vacation. In addition to taking a stroll through Downtown Gatlinburg or spending a day at Dollywood Theme Park, here are some more ways to enjoy the great outdoors!
Horseback Riding
Mountain Coasters
Zip Lining
Whitewater Rafting the Little Pigeon River
Hiking in the Great Smoky Mountains National Park
River Tubing
Golfing
ATV Tours
If that wasn't enough, there are also big events in September that you can see while you're in Gatlinburg!
September Events in Gatlinburg
Shades of the Past Car Show
This popular car show features classic cars up to 1972, so you'll see some beautifully restored autos at this rod run.
Fall Rod Run
Probably the largest Pigeon Forge Car Show of them all, the Fall Rod Run is known for taking up the entire Pigeon Forge Parkway with spectators and motorists. You'll see some incredible custom vehicles around town this weekend.
A Taste of Autumn
At 5 PM at the Gatlinburg Convention Center, you can enjoy dinner and a show for only $25. The Taste of Autumn annual event brings it great food from local restaurants and celebrity entertainment. Plus, this great local event raises money for the United Way of Sevier County!
Fall Jubilee in Gatlinburg
This 3-day event brings meaningful worship services, beautiful gospel music, and wonderful keynote speakers to the Gatlinburg Convention Center! Thousands of participants enjoy this event every year so don't miss out!
Gatlinburg Octoberfest
Experience a bit of Bavaria in the Great Smoky Mountains at Ober Gatlinburg's Oktoberfest! In honor of the traditional German festival celebrating the harvest, Ober Ski Mountain hosts a special event that features authentic German food, beer, music, and dancing!
Final Thoughts
Start planning your September getaway to the Great Smoky Mountains to enjoy beautiful weather, fun outdoor activities, and exciting events today!
There are also September cabin specials to make your trip even more affordable. See how much you can save by booking online with Cabins USA Gatlinburg!
Book Your September Cabin in Gatlinburg!
Written by Hayden Brown