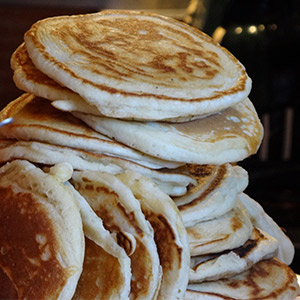 Did you know that the Smoky Mountains are arguably the pancake capital of the world? For all the things the Gatlinburg is celebrated for: the most visited national park in the country, 800 miles of hiking trails, the playground of the Southeast — the accolades go on and on, but there is no mention of breakfast. With over 20 pancake houses and breakfast restaurants in the Smoky Mountains area, the Smokies clearly know what the most important meal of the day is.
From the delicious old-world recipes of the Pancake Pantry to the country favorites at Flapjacks, there are nearly endless options for enjoying a hearty breakfast in Gatlinburg and the Smokies. Even better, many of these breakfast restaurants are open until 4 pm so that you can enjoy a tall stack of pancakes for lunch as well!
So when you visit the pancake capital of the world, be sure not to miss out on the premier meal of the Smoky Mountains. One last thing - would you like some syrup with that?
Please Note: Cabins USA LLC's, hereinafter referred to as Cabins USA, area information, area events, and blog pages are provided as a public service. Cabins USA does not endorse any of the products, vendors, consultants, or businesses referenced in these web pages. Any mention of vendors, products, businesses, or services on the Cabins USA web site is for informational purposes only. Users of this web site are responsible for checking the accuracy, completeness, currency and/or suitability of all information. The inclusion of this information does not imply endorsement by Cabins USA. Furthermore, specific questions regarding any content should be directed to the appropriate organization and not necessarily to Cabins USA.