Bakeries in Gatlinburg and the Smokies
Everyone deserves a sweet treat when they are on vacation in the Smokies. Whether you are planning to have a wedding cake made for your big day or you just happen to catch a whiff fresh funnel cake in downtown Gatlinburg, bakeries in the Smokies are another perk of your vacation. Look for these excellent bakeries when you visit to find delicious sweet treats or cakes for any celebration: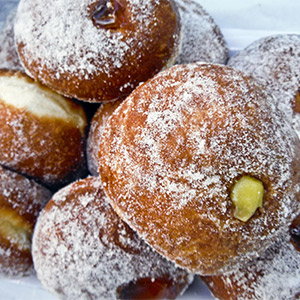 The Donut Friar
The Funnel Cake Co.
Smoky Mountain Cakes
Paula Mae's Bakery
Smoky Mountain Cakes for Any Occassion
If you are planning a wedding in the mountains of Tennessee, there are many excellent local bakeries to choose from. With classic wedding cakes and custom designs, Gatlinburg bakeries offer a variety of options for your big day! Or perhaps you just want a delicious dessert to complement a dinner in your Gatlinburg cabin. Smoky Mountain Cakes can prepare gourmet cakes including an Italian Cassata Cake and a White Chocolate Raspberry Dream — delicious!
Are you really making the most of your vacation if you don't indulge a little? Besides, visiting the Smokies is a real workout. With hiking trails, action-packed attractions, and long strolls downtown, you'll definitely burn extra calories. So, if you happen to break down and enjoy a delicious doughnut from the famous Donut Friar, you can enjoy your treat with a clear conscience. From classic carnival treats to beautifully decorated cupcakes, there are baked goods for every occasion to satisfy your sweet tooth!
Please Note: Cabins USA LLC's, hereinafter referred to as Cabins USA, area information, area events, and blog pages are provided as a public service. Cabins USA does not endorse any of the products, vendors, consultants, or businesses referenced in these web pages. Any mention of vendors, products, businesses, or services on the Cabins USA web site is for informational purposes only. Users of this web site are responsible for checking the accuracy, completeness, currency and/or suitability of all information. The inclusion of this information does not imply endorsement by Cabins USA. Furthermore, specific questions regarding any content should be directed to the appropriate organization and not necessarily to Cabins USA.