Steakhouse in Downtown Gatlinburg, TN
Looking for a romantic dinner in Gatlinburg or just a quality steakhouse to celebrate a special occasion? Cherokee Grill and Steakhouse in Downtown Gatlinburg is a great choice for a quality dinner in the heart of the Smoky Mountains.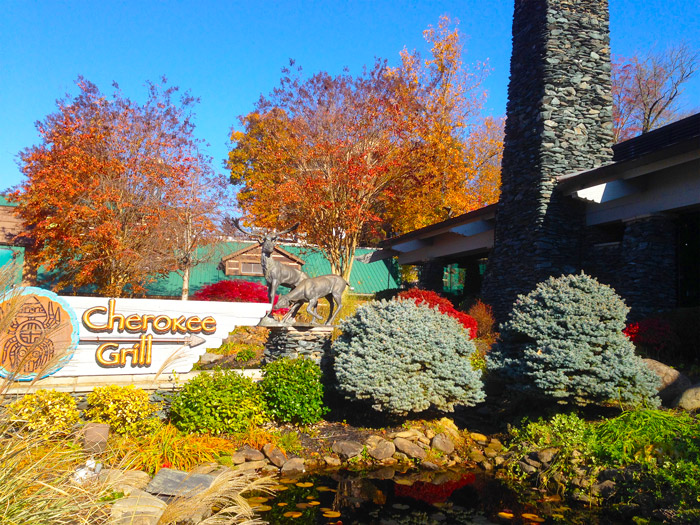 Inside, you'll find a stylish interior decorated with earthy tones of granite and walnut. This creates a soothing dining atmosphere perfect for a relaxed date during a great night on the town in Gatlinburg. Though this restaurant is upscale, bringing your family to this pleasant restaurant would be perfectly fine. In fact, it's not uncommon to find diners with muddy hiking boots fresh just back from trails in the national park.
The food here is fresh, thanks to its own butcher shop, bakery, and warehouse, you can be sure that quality ingredients are the foundation of every meal at Cherokee Grill. In addition to being a steakhouse in Gatlinburg, Cherokee grill offers several seafood options including crab cakes, calamari, trout, and shrimp. Although you are in the mountains, this Gatlinburg grill goes to great lengths to ensure their seafood is both fresh and quality.
As part of the Copper Cellar Family of restaurants, Cherokee Grill serves Smoky Mountain Brewery craft beers. Not only are the beers tasty, but also this restaurant group commands excellent popularity in the Smoky Mountains as a whole. Though this restaurant is on the main tourist drag, you can rest easy knowing that Cherokee Grill is a restaurant that the locals enjoy as well.
Menu
This Downtown Gatlinburg restaurant offers a full selection of wine and cocktails. Also features fresh beer from Smoky Mountain Brewery down the street. For starters, this restaurant offers great dishes including calamari, Maryland crab cakes, spinach crab dip, fresh bruschetta, chicken tortizza and more!
As a steakhouse, you can expect some tasty meals with classic Steakhouse entrees like these:
Rotisserie Chicken
Grilled Bar-B-Que Chicken
Charbroiled Shrimp
New York Strip
Herb Crusted Trout
Smoky Mountain Fried Chicken
Filet Mignon
Rib Eye Steak
Prime Rib (Available only on Friday and Saturday)
Some other favorite items of the menu include:
Southern Fried Catfish

– Fried with Southern Spices and seasoning.

Maryland Crabcake Sandwich

– A sandwich with Jumbo Lump Maryland Blue Crab Meat.

Prosperity Steak

– A generation portion of Steak marinated with olive oil, garlic, pepper, and Worcestershire butter that earns rave reviews
Add on sauces are available to take your steak to the next level including bernaise, soy ginger, Dijon, sun dried tomato, or smoky mountain whiskey sauces. These dishes come with sides and some of the most popular are the Blue Cheese Grits and Neva's Potatoes – a deep fried potato skin filled with creamy mashed potatoes.
Hours and Directions
Cherokee Grill is located near Calhoun's on the main drag in Gatlinburg and is within walking distance of the NOC. While, you can easily reach this steakhouse by walking along the main road, there is onsite parking for customers behind the restaurant as well.
Hours are subject to change somewhat at Cherokee Grill from the slow winter season to the busy summer time. Primarily, this restaurant serves dinner and is open from 4pm to 10:30pm on weekdays and is open until 11 pm on weekends. Be sure to call to check for hours and wait times at this popular local restaurant in Gatlinburg.
Select days, they are open earlier such as Thanksgiving, Christmas, and New Years and open at 2pm for lunch.
Final Thoughts
Cherokee Grill and Steakhouse has a strong reputation for excellent service. Combined with an upscale look and feel, this steakhouse is a great pick for enjoying a date night in town with your sweetheart. That being said, this Steakhouse is also a family friendly restaurant with a kid's menu and plenty of seating. This restaurant can fit a special occasion or just a nice vacation dinner with the family. After a great night in Downtown Gatlinburg, this restaurant has a great location for reaching other great attractions or just returning to your cozy log cabin rental in the Smokies.
Contact:

1002 Parkway
Gatlinburg, TN 37738
865-436-4287
A
- Cabins USA Gatlinburg
B
- Cherokee Grill Gatlinburg, TN
Written by Hayden Brown