A trip to Cades Cove is a way to step back to a simpler time when people made their living from the land and farm animals were a part of every day life. An even better way to explore this historic mountain community is by horseback. Cades Cove Riding Stables is the only outfitter in the Cades Cove area of the national park that offers guided trail rides, carriage rides, and hayrides.
Enjoy a different way of exploring the cove as you clop along on horseback or sit on a fragrant bale of hay with the soaring peaks of the Smokies as your backdrop. It is estimated that 563,000 vehicles drive the Cades Cove loop road every year, so it can get a bit crowded. When you're on horseback, you can rest assured that your route won't have nearly as much traffic as you enjoy peaceful mountain trails and open fields.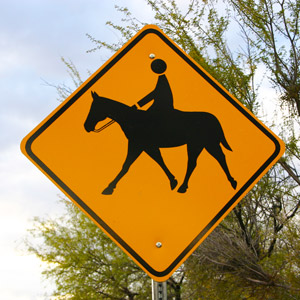 Insider Tip: All excursions offered by this riding stable depend on trail and weather conditions. Regularly scheduled rides may be cancelled for safety, especially in the summer when thunderstorms create a risk of lightening and other hazards.
Horseback Rides in Cades Cove
First and foremost, the experienced guides at Cades Cove Riding Stables prioritize each rider's safety and comfort. Every tour features a helpful orientation session to make sure riders are comfortable and familiar with their horse before setting out on their trail.
A guide who is well-versed in local history and knowledge of local plant and animal life accompanies each tour group and leads the way. As you enjoy gorgeous mountain forests and babbling mountain streams, your group may have the chance to spot local residents of Cades Cove like white tailed deer, raccoons, turkey, and maybe even a black bear.
Every tour is limited to only 9 riders in a group. This is to ensure that everyone enjoys a quality experience in peaceful Cades Cove, as well as to limit wear and tear on the trail.
Cades Cove Riding Stables does not schedule reservations and rides operate on a "first-come, first served" basis.
Price:

$30 Per Rider

Tour Duration:

1 Hour

Season:

March – November 30th

Hours:

9:00am to 4:30 pm
Insider Tip: Especially during the busy summer months, it can be hard to book a tour with the Cades Cove Riding Stables. Showing up early for a ride increases your odds of getting a tour on horseback. Better yet, Cades Cove is a very scenic place to wait. Enjoy a picnic at the campground or enjoy a short hike on a nearby trail.
Carriage Rides
If horseback rides aren't your idea of a great time, this riding stable in Cades Cove also offers horse carriage rides. Each carriage can carry up to 6 guests depending on the size of the passengers. On the carriage ride, your guide will give a great tour of the sights, plants, wildlife, and history of Cades Cove. Learn the story of the settlers who made Cades Cove their home while you enjoy the pure mountain air. Vacationers will love this leisurely ride through one of the most scenic places in the Smokies.
Like the guided horseback rides in Cades Cove, carriage rides cannot be reserved in advance. Showing up early is your best bet for experiencing these fun tours in the Great Smoky Mountains National Park.
Price:

$12 Per Person

Tour Duration:

30 Minutes to 45 Minutes

Season:

March – November 30th

Hours:

9:00am to 4:30pm
Hay Rides
Guided hayrides are another great way to experience a unique tour of Cades Cove. These large tours operate for a minimum of 15 riders and can accommodate up to 65 people. Like the other tours offered by Cades Cove Riding Stables, an experienced guide accompanies groups to show points of interest and share facts about the flora and fauna of the cove.
Some tours are even lead by official Great Smoky Mountains National Park Rangers. These ranger led tours are 2 hours long and cost $14. Simply call the Stables to learn when these special tours are scheduled.
Price:

$12 Per Person

Tour Duration:

1.5 to 3 Hours

Spring Season:

March – May 31st

Tour Hours:

Summer Season:

June – August 15th

Tour Hours:
Insider Tip: It is possible to make reservations for hayrides with Cades Cove Riding Stables, but there are a few conditions. Reservations can only be made for groups of 15 or more and groups must pay a 50% deposit. Be sure to call in to ask about reservations.
Directions and Lodging Options
The closest accommodations to Cades Cove are cabin rentals in Wears Valley, TN. From Wears Valley, it's easy to access the national park via the Metcalf Bottoms entrance and take right to drive towards the Townsend "Wye" and Cades Cove.
If you're staying in a Gatlinburg cabin rental, drive to the Sugarlands Visitor Center and take a right on Laurel Creek Rd. towards Elkmont. Continue past Elkmont, Metcalf Bottoms picnic area, and Tremont until you reach the Cades Cove Loop Road. There is a parking area just before the road enters the 11 mile single lane loop. Turn left towards the picnic area, and continue onto the Cades Cove Riding Stables located near the Cades Cove Camp Ground.
Contact:
Cades Cove Riding Stables
10018 Campground Drive
Townsend, TN 37882
865-448-9009
http://www.cadescovestables.com
A
- Cabins USA Gatlinburg
B
- Cades Cove Riding Stables and Tours
Written by Hayden Brown