There's no denying that mini golf courses are an institution in the Smokies. No matter how much of the "cheese factor" comes along with visiting a putt putt course, it's hard to deny that playing a round of golf with friends and family is just a great time.
There are a lot of great options for playing mini-golf in Gatlinburg, so you may as well pick a unique one. Gatlin's is just the ticket for vacationers looking for a unique and well-done mini golf course. Better yet, Fort Fun has 9 different activities that delight visitors of all ages.
This popular Gatlinburg attraction was previously known as "Fort Fun," but it now goes by "Gatlin's Fun Center"
Mini Golf at Gatlin's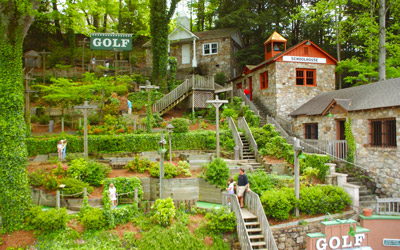 Gatlin's main attractions are two outdoor 18-hole courses that take a unique spin on the Smoky Mountains. These courses wind up and down a landscaped hillside with beautiful foliage from 100 year old trees. Better yet, you can practice your trick shots and enjoy a view of charming Downtown Gatlinburg while you play.
The Old Town Square – This course meanders through authentic restored Smoky Mountain cabins and informative displays about Gatlinburg's past and recreations of old landmarks from Cades Cove.
The Old Mountain Trail – This hillside course offers challenging shots and tells the story of the Great Smoky Mountains from its earliest inhabitants, the native Americans, to the story of the Little River Rail Road, Elkmont, and the logging companies of the Smokies.
Black Light Golf Course – As Gatlin's indoor course, you can enjoy family fun here even when the weather doesn't cooperate. This 9-hole course offers a colorful "under the sea" theme and dazzling blacklight paint effects for a fun and memorable round of mini golf.
With 3 courses to choose from, your family or group won't have any trouble finding the right experience here. For warm summer days, there are outdoor courses and for rainy days or winter weather there are indoor courses. Come rain, sleet, or snow, you'll have a good time at Gatlin's!
Plenty To Do at Gatlin's
While the main draw for this classic Gatlinburg attraction is the mini golf course, other activities offer hours of entertainment:
Laser Tag
Bumper Cars
3-D Theater
Video Arcade
Laser Maze
Gem Mining
The Gem Mines are a huge hit with families with kids. Once find your rare Smoky Mountain gems, you can even pay to have the stones cut and polished for a souvenir you can be proud of. For any individual activity, passes cost $12 dollars to experience.
Insider Tip: Check out the 6 attraction pass that allows you to pick any 6 activities with the exception of Gem Mining. Their "Do It All Pass" gives you access to all of Gatlin's for a bundled price of $20.99. Some passes are good for the entire week of your stay and certain attractions like the bumper cars can be used multiple times on one pass.
Directions, Coupons, and Hours
Gatlin's is located on the Parkway in Downtown Gatlinburg between the Space Needle and the Village Shops. It enjoys a prime spot right on the main drag so it's hard to miss. If you can't find parking near this attraction, this section of Gatlinburg is very pedestrian friendly and it is often only a short walk away from paid parking.
This Gatlinburg attraction is open year round from 10 am to 9 pm or 12 am depending on the season. During winter, business is slower so expect for this business to close around 9pm. In summer when Gatlinburg is busy, you can enjoy mini-golf late into the night at this fun-filled Gatlinburg destination.
For discounts, paying for one of the passes offers a great value to enjoy 6 or more attractions. With so much to do, it's hard to imagine not finding something that the whole family will love at Gatlin's.
Insider Tip: Group packages are available For groups of 12 or more.
Final Thoughts
There's a lot to do and see at Gatlin's in Gatlinburg. Whether you're enjoying the best in Gatlinburg mini golf while you learn local history, dominating your family and friends at laser tag, or searching for hidden gems, you're bound to have a great time at this attraction. Better yet, bundle your activities together for an even better value and even more family entertainment on your cabin vacation in the Smokies. Looking for rentals close to Gatlin's and Downtown Gatlinburg? Check out a cabin in Gatlinburg for your Smoky Mountain getaway!
Contact:
Gatlin's
716 Parkway
Gatlinburg, TN 37738
865-436-2326
http://www.fortfungatlinburg.com
A
- Cabins USA Gatlinburg
B
- Fort Fun in Gatlinburg, Tennessee
Written by Hayden Brown