Gatlinburg – a charming town at the foot of the Great Smoky Mountains of Tennessee is an incredible place to visit with someone special.
With fun attractions, delicious restaurants, and gorgeous waterfalls, mountains, and views, this Smoky Mountains, Gatlinburg is simply a beautiful place to explore. Needless to say, you'll have no trouble finding a romantic spot to enjoy for your honeymoon, weekend getaway, or anniversary trip.
But to save you the trouble of looking, we thought we could recommend the most romantic places in Gatlinburg, TN! You'll love bringing your date to these spots perfect for making tender memories.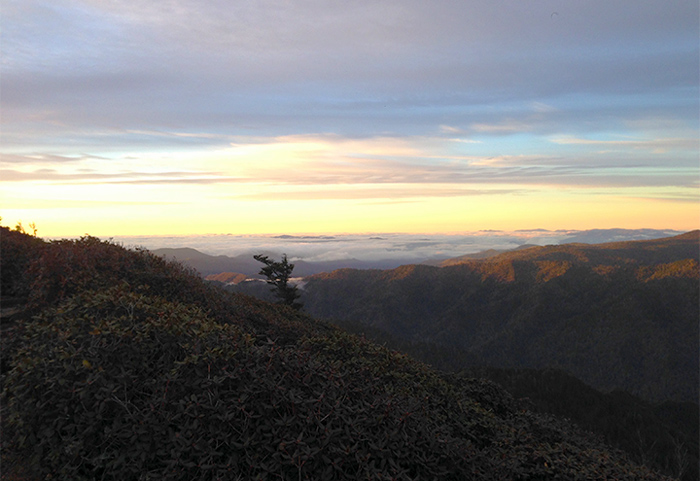 Myrtle Point on Mt. LeConte
If you're passionate about hiking, you'll find the peak of Mt. Leconte is one of the most challenging, rewarding, and scenic places in all of the Smokies. There are several trails to the summit, but these are more demanding than your average nature walk. Every path to Mt. LeConte is at least 10 miles long and requires several hours to complete.
That being said, if you want to bring your sweetheart on a day-long outdoor adventure, it's hard to imagine a more dramatic and beautiful vista. The overlook at Myrtle Point is especially rewarding with mountain views for miles and miles.
Newfound Gap
For those of us who don't want to trek for miles and miles to find a romantic mountain view, there are places like New Found Gap. This parking area nestled high in the Smoky Mountains National Park boasts incredible views of both the Tennessee and North Carolina sides of the park.
By day, you can enjoy seeing beautiful layers of mountain peaks and ridges. Sunrises and sunsets are also particularly stunning from this overlook. If you're unable to race to the mountain top before sundown, you'll still have a beautiful consolation prize: the Smoky Mountain night sky.
On a clear night, the view of the sky from Newfound Gap fills with stars. Since the Great Smoky Mountains National Park is undeveloped, Newfound Gap is one of the rare places in the Eastern US where you can enjoy stargazing with minimal light pollution.
The Roaring Fork Motor Trail
Gatlinburg has a wealth of natural beauty and historic homes to experience. Just ask anyone who's taken a drive on the Roaring Fork Motor Trail in the Great Smoky Mountains National Park. This one-way loop road begins and ends in Gatlinburg, so you won't have any trouble finding this lovely part of the Smokies.
There are several popular hiking trails and waterfalls on Roaring Fork that make great photo opportunities for you and your date like Rainbow Falls and Grotto Falls.
Go back to pioneer times with the Alfred Regan House, the Ephraim Bales Cabin, and the Alex Cole Cabin that all line this scenic roadway.
If you find that the Roaring Fork becomes too crowded, it's always easy to steal away on a quiet hiking trail to find a peaceful place by a mountain stream and wildflowers.
The Gatlinburg Skylift Ride
Every skier knows that rides on chairlifts are perfect for romance. Maybe it's the scenic views, the gentle sway of the lift, or just the chance to snuggle up close to your sweetheart, but the Skylift up Crockett Mountain is an experience you won't want to miss.
By day, you'll be treated to gorgeous views of Mt. LeConte in the Great Smoky Mountains. At night, riders will be treated to a different spectacle – the lights of Gatlinburg shining in the valley below.
If you're planning a honeymoon on a budget, a free place to enjoy a similar view is the Overlook on the Gatlinburg Bypass.
Sugarlands Valley
This valley in the Great Smoky Mountains National Park is directly adjacent to Downtown Gatlinburg. This area is home to the Sugarlands Visitor Center – an excellent place for planning excursions in the Smokies.
In addition to being a great spot to enjoy a picnic in the forest, you can also plan a horseback adventure with Sugarlands Riding Stables that operates within the national park boundary. No matter what you choose to do in the Sugarlands area of the park, you're bound to enjoy this peaceful area with historic home sites, waterfalls, and easy hiking trails.
Bonus Place: Romantic Log Cabins in Gatlinburg
For your romantic trip to the Great Smoky Mountains, it's hard to beat the lovely experience of staying in your own Gatlinburg cabin with someone with who you share a deep connection.
With beautiful mountain views, romantic jetted tubs, fireplaces, and hot tubs, our Gatlinburg honeymoon cabin rentals can set you up for an incredibly romantic vacation. Better yet, our 15% cabin discount can help you keep your romantic vacation getaway truly affordable.
Really, the most romantic place in Gatlinburg is wherever you can steal a quiet moment with your sweetheart. What are some of your favorite romantic spots in Gatlinburg? We'd love to hear about your story in our comments section!
Written by Hayden Brown