Fall is just around the corner and we're gearing up one of the best seasons for golf in the Smoky Mountains. Crisp temperatures, changing fall foliage, and beautiful views can take your game to the next level.
It's no wonder why so many of our guests are looking for cabins near Gatlinburg Golf Course and Bent Creek Golf Course in the Smoky Mountains.
After all, you wouldn't want to miss your tee time by staying far away from the best courses that Gatlinburg has to offer. So grab your clubs and stay at these cabins that are perfect for Gatlinburg golf vacations!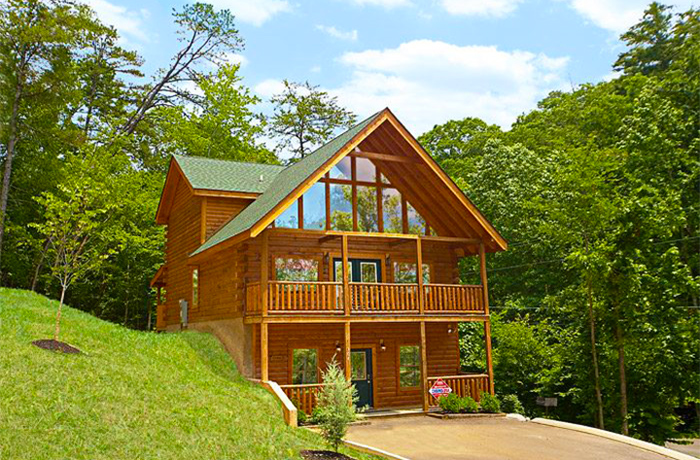 Our Cabins Close To Gatlinburg Golf Course
This popular golf course in the Smokies is only minutes away from Gatlinburg and Dollywood Theme Park. Guests who want to stay in this area are bound to love these cabins with central locations near top-rated attractions. When you aren't exploring the best that the Smokies can offer, you can practice your golf game at this fun, scenic, 18-hole course.
Bear Cove Falls
Our cabin rentals in Bear Cove Falls are not only near the Gatlinburg Golf Course, but they also come with great resort amenities as well. A seasonal swimming pool, children's playground, and a picnic pavilion make this landscaped resort a great option for families with kids.
Additionally, these affordable rentals keep guests close to Dollywood, Downtown Pigeon Forge, and Gatlinburg, TN. Several of our rentals even feature views of the golf course that's only minutes away.
Upper Middle Creek Rd. Cabins
These cabins near Dollywood in the Upper Middle Creek area are also a prime place to find cabins near the course. Better yet, this resort area is well known for offering luxury cabins with stunning mountain views. Find a great cabin close to Gatlinburg's golf course and see the incredible mountain scenery for yourself!
Mountain Park Resort
This Smoky Mountain resort area is famous for placing guests exceptionally close to the thrilling attractions of Downtown Pigeon Forge. Luckily for golfers, you'll have no trouble making it to the green from this convenient resort area. Our Mountain Park cabins close to town range 1 bedroom honeymoon cabins to 7 bedroom lodges with plenty of room for large groups.
Bent Creek Golf Course
This course designed by 3-time masters champion Gary Player is another exceptional 18-hole course to explore in the Smoky Mountains. Located out on US-321 east of Gatlinburg, this course is nestled at the foot of the tall mountains in the national park. Beautiful scenery and professional course design blend to make Bent Creek a popular destination for golfers of all skill levels.
Cobbly Knob
Cabins in Cobbly Nob in Gatlinburg are definitely some of the most convenient cabins near this course. The secluded cabins of Cobbly Knob are off the beaten track, so these rentals are a great fit for anyone seeking a restful and relaxing vacation. At the same time, guests staying here can enjoy easy access to attractions Downtown Gatlinburg. Our guests love having access to a swimming pool and resort tennis courts during their stay.
Glades Road Cabins
On the way to the Bent Creek Golf Village, you'll find our rentals in the Glades road area. These Gatlinburg arts and crafts community cabins are also close by to the Bent Creek Golf Course. When you aren't busy playing a round of golf, you can enjoy exploring the local crafts shops in America's largest independent artist community.
This cabin community is known for offering seclusion and scenic views in the Smoky Mountains.
Find the Right Rental For Your Vacation
Need more help finding the right cabin for your Gatlinburg golf vacation? Don't hesitate to call our office to speak with one of our special reservations specialists at (865) 436-5031. We'd be glad to help you find the perfect cabin for your stay with the right amenities, accommodations, and nightly rate!
Written by Hayden Brown