Looking to stay in Gatlinburg off the beaten path? Visitors seeking peace and quiet for their vacation should look into staying in some of our Gatlinburg cabins on Highway 321.
Where is Highway 321 in Gatlinburg?
Highway 321 is one of the main ways to reach Gatlinburg, but this might not seem obvious to many visitors. Although this road is one of the main arteries for downtown, it's far less traveled than the popular Highway 411 through Pigeon Forge.
This area is also known as the East Parkway. From Ripley's Aquarium of the Smokies, you can take US Hwy 441 towards Pigeon Forge, but you can also take US 321 East towards I-40.
This beautiful route is a designated scenic highway that offers gorgeous views of the northern section of the Great Smoky Mountains National Park. With such lovely scenery, the East Parkway region of Gatlinburg is arguably one of the region's hidden treasures.
Why Book a Gatlinburg Cabin on Highway 321?
Other cabin rentals in Gatlinburg, like those in Chalet Village Resort, are closer to Downtown Gatlinburg and Pigeon Forge. So if you're planning a trip to the Smoky Mountains, why would you pick a less central location for your stay?
The answer depends on what you'd like to get out of your trip.
We've laid out some factors that might make these cabins a great fit for your vacation. Some of our cabins just off of Highway 321, like our cabins the Glades area of Gatlinburg, could be just right for your stay!
So what makes these cabins so special?
A Good Place to Getaway - When Pigeon Forge has lots of traffic for big events or during the busy tourist season, it's nice to stay in a peaceful spot in the mountains. Highway 321 East of Gatlinburg has plenty of cabins in secluded locations, so you can really getaway from the crowds.
Quick access to Downtown Gatlinburg - Though you're off the beaten path, you're not far from all the action. The heart of Gatlinburg is only a short drive away where you can enjoy all manner of attractions, shops, and restaurants.
Easy Come, Easy Go - US Hwy 321 provides quick access to I-40, one the main routes vacationers use to reach the Smoky Mountains. By staying in this part of Gatlinburg, you won't have to drive through the busy Pigeon Forge Parkway to reach your cabin or make your way home.
An Authentic Smoky Mountain Vacation - This unique part of the Smokies has plenty of unique mom and pop shops and restaurants to explore. There's also plenty of local color in this part of the Smokies. This region of Gatlinburg was home to the community of Big Greenbrier, where many early settlers of the Smoky Mountains staked their claim. You can still see the remnants of their homes and barns inside the national park.
Some of the most popular destinations on Hwy 321 are:
Glades Arts & Crafts Community
The Greenbrier Region of the National Park
Cosby Campground in the Smokies
The Bent Creek Golf Course
Smoky Mountain Riding Stables
Ready for a great stay? Explore our Cabins on Highway 321 in Gatlinburg, TN!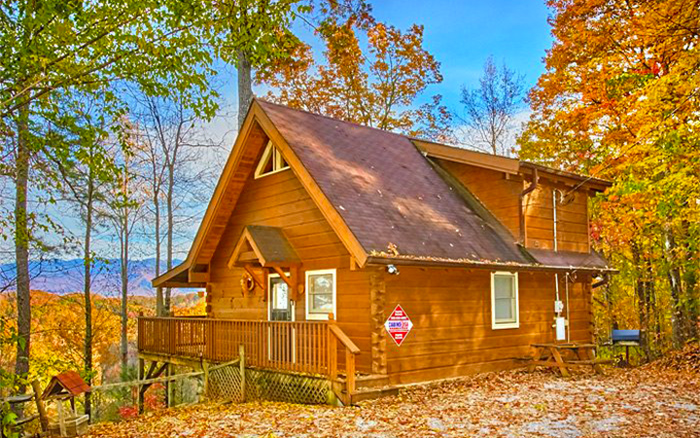 Glades Road
Cabin rentals in the Glades Road area are nestled in the mountains above highway 321. These cabins are also exceptionally close to Downtown Gatlinburg, so you will never be far from exciting events, activities, and attractions. Additionally, the Glades area is home the Gatlinburg's arts and crafts community. Here, you can visit the shops of artists whose families have practiced their trade for generations.
Mountain Shadows
Our cabins in Mountain Shadows resort come complete with luxury amenities like resort swimming pool access, a playground, and hiking trails. Not only are these rentals a great choice for families, but they also offer a beautiful resort setting in the Smoky Mountains of Tennessee!
Cobbly Nob
Further out from Gatlinburg, you'll find Cobbly Nob. The cabins in this resort are popular for providing a secluded mountain setting and resort swimming pool access. Our cabins in Cobbly Nob are a great fit for vacationers planning hikes in the Cosby or Greenbrier regions of the national park. As an added perk, these rentals are also close to the 18-hole Bent Creek Golf Course at the foot of the Smokies.
Elk Cove
Elk Cove is a cabin community that offers guests a luxury experience in a secluded setting. You'll love these cabins with hot tubs, game rooms, pool tables, and prime locations that are tucked away in Smoky Mountain forests.
Map of Cabins Near Hwy 321
Final Thoughts
Come see another side of the Smoky Mountains when you book a cabin on Gatlinburg's East Parkway! The peaceful communities of Pittman Center and Cosby offer a unique experience for long-time vacationers in the Smokies. Other sights like the Glades craft community offers plenty of hidden treasures as well.
Feel free to contact our office at (865) 436-5031 or browse our site to find the perfect cabin for your Gatlinburg, TN vacation!
Written by Hayden Brown