While many vacationers come to the Smokies to see beautiful mountain views or historic sites, some of us come to witness beautiful waterways and waterfalls.
Luckily, Gatlinburg and the Smoky Mountains are filled with many beautiful creeks, rivers, and streams. These scenic areas are well-worth exploring during your trip, but there's a way to spend even more time by the water. For next vacation, why not book a Gatlinburg cabin by a river?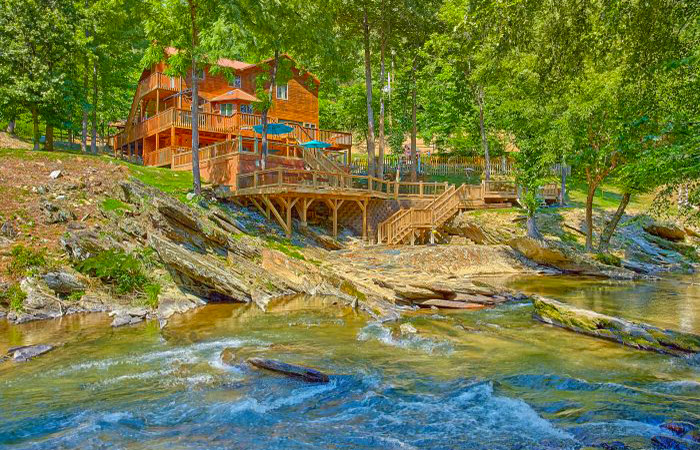 Why Book A Waterfront Cabin?
1. Calming Sounds – The sounds of pure mountain water rushing over rocks is simply good for the soul. Whether you're relaxing in a porch rocker or sitting back in a hot tub, the soothing tones of falling water are bound to help you unwind.
2. Wildlife Viewing – Birds and other local wildlife are commonly drawn to streams and rivers for a source of water and food. As a result, booking a cabin in one of these areas can give you a front-row seat for viewing birds and animals in the Smoky Mountains.
3. Fishing – The Great Smoky Mountains area is a famous destination for fly fishing. While fishermen can always venture into the national park, why not save time by booking a cabin by the water's edge?
4. Scenic Views – No matter the season, our cabins on rivers and streams offer beautiful scenery that can make your vacation even more unforgettable.
Where to Find Riverfront Cabins in Gatlinburg?
We've got a few suggestions! Here are some resort areas and cabin communities where you'll find creek-side cabins and vacation rentals!
Glades Cabin Rentals
The Glades Rd area, just off of US Hwy 321 (Gatlinburg's East Parkway), is famous for offering guests a quiet area to enjoy the mountains. Several of our log cabin rentals in the Glades boast secluded locations complete with small streams that run through the property.
Chalet Village
On top of offering a convenient location close to Gatlinburg and Ober Ski Mountain, cabins in Chalet Village Resort are often located along brooks and streams.
When you aren't busy exploring the best attractions that Gatlinburg can offer, you'll love relaxing at these luxury retreats with views of creeks. Better yet, this resort area offers swimming pool access through several clubhouses and facilities.
Bear Creek Retreat
This resort area nestled in the mountains only a short drive away from Gatlinburg, provides guests with multiple properties located on a flowing mountain river. Though Bear Creek Retreat is part of the Wears Valley area, these cabins offer such beautiful riverfront locations that its well worth staying a bit further from town.
Sevierville River Cabins
These rentals along the West Prong of the Little Pigeon River offer a great place to sit by the water and listen to the soothing music it makes. Better yet, these River Mist Resort cabins offer picnic tables, fire pits, and walking trails to enjoy a wonderful riverside vacation. Guests here enjoy fishing, swimming, and tubing in the pristine mountain river water only a short drive from Gatlinburg, TN.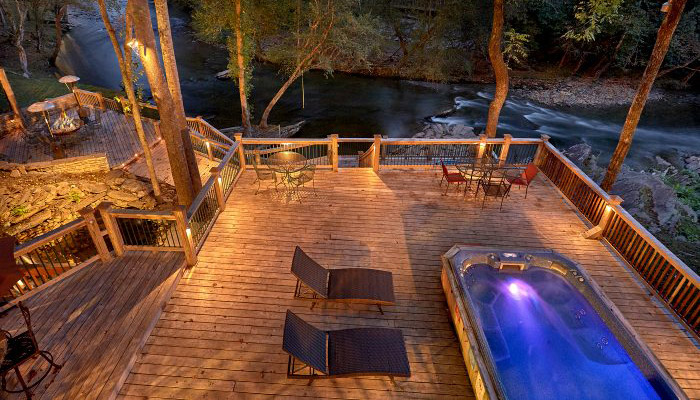 Final Thoughts
For assistance in finding Gatlinburg cabins with views of creeks, streams, and rivers, feel free to contact our reservations office at (865) 436-5031. Our helpful reservations staff would be glad to assist you in finding just the right cabin for your vacation!
We'd also love to know, what would you do on your vacation in a cabin by a creek? Would you go fishing? Take a dip in the cool mountain waters? Or just sit back on your cabin's deck and listen to the beautiful sounds of a rushing stream? Please share your thoughts in our comment section!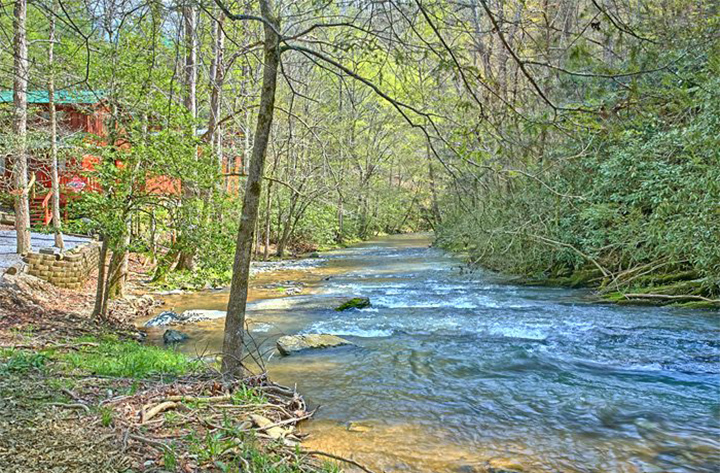 Written by Hayden Brown