Need help finding where to book your cabin in Gatlinburg? We're here to help!
Cabins USA Gatlinburg has made this handy guide to help narrow down your search and choose the best possible location for your cabin getaway.
Gatlinburg, TN has something that just about everyone will love! From hiking trails to shopping to outdoor adventures, you'll have no trouble finding exciting things to do on your vacation.
If you love exploring beautiful mountains, visiting Gatlinburg can make you feel like a kid in a candy shop. However, at some point you'll have to answer one nagging question: Where will you stay in Gatlinburg?
From our experience, not only do vacationers in the Smoky Mountains want cabins that keep them close to attractions, but they also want cabins that afford peaceful natural settings.
With this in mind, we've carefully selected resort areas that keep guests close to the sights they want to see. Additionally, many of these cabins are secluded or provide lovely mountain scenery that can make your stay truly special.
Below, we've made a map of the biggest attractions in Gatlinburg and marked the approximate locations of resort area cabins.
By far, the most popular attractions in Gatlinburg are:
Ripley's Aquarium of the Smokies
Ober Ski Mountain
Dollywood
The Great Smoky Mountains National Park
So we've selected cabin communities that keep vacationers close to all of these must-see Gatlinburg activities.
Where Can I Find Cabins Near These Attractions?
As you can see from the map, our rentals in Chalet Village Resort place guests close to several of Gatlinburg's top sights. For guests planning ski trips, Ober Ski Mountain is only a short drive away. Additionally, attractions in Downtown Gatlinburg like the aquarium and the convention center are also within easy reach.
Last but not least, Chalet Village provides quick access to the Sugarlands Entrance of the national park. From the main visitors center, guests can easily drive to Cades Cove, Elkmont, Tremont, Newfound Gap, or Clingman's Dome.
For guests who want to stay in Gatlinburg, but also have quick access great things to do in Pigeon Forge like Dollywood Theme Park, Sky Harbor cabins are a great way to split the difference between both towns.
These rentals are nestled in the mountains above the Spur Road that connect Pigeon Forge and Gatlinburg, so these cabins are just as beautiful as they are convenient.
This map also shows cabins in the Glades area. These rentals are along Gatinburg's East Parkway and are well known for providing peaceful retreats in the mountains. These rentals are a good fit if you're interested in exploring the Arts & Crafts Community or lesser known park entrances like Greenbier and Cosby.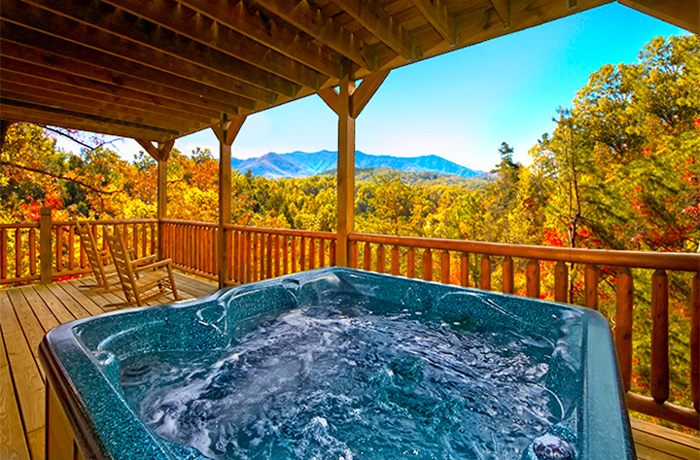 Closing Thoughts
While this map only shows approximate cabin locations, hopefully this is a good starting point to narrow down your search. Cabins USA Gatlinburg offers a variety of cabins in these resort areas, so it's easy to find a rental that's the right fit for your vacation.
Keep in mind that there are several other great places to rent cabins in Gatlinburg like the Glades Rd. area, Mountain Shadows, and Smoky Mountain Village. Feel free to browse these rentals in the cabins by area portion of our site.
Also, feel free to contact our reservations staff at (865) 436-5031. We'd love to help you find the perfect cabin with the right location, amenities, and affordable nightly rate to make your vacation memorable, fun, and carefree!
Are there other attractions you'd like to stay near during your trip? Ask us about it in our comments section and we'll do our best to suggest a cabin rental that keeps you close to the things you want to see and do in the Smoky Mountains.
Written by Hayden Brown