During Christmas time in Gatlinburg, there's holiday magic around every corner. From the beautiful Christmas lights that adorn the whole town to festive holiday attractions, there are plenty of things to do in Gatlinburg for Christmas!
As the gateway to the beautiful Great Smoky Mountains National Park, it's no wonder why so many families celebrate Christmas vacations in Gatlinburg. TN.
To help you experience the magic of the holidays, we've made this guide with the best things to do in Gatlinburg for Christmas as well as some insider tips for planning your Christmas vacation in Gatlinburg.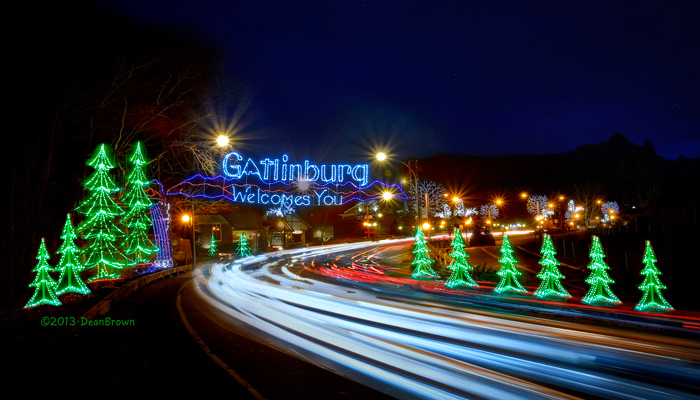 1. See Incredible Holiday Attractions
With the incredible Christmas lights of Gatlinburg's Winter Magic Festival, all of Gatlinburg is full of the holiday spirit. The Trolly Ride of Lights make it easy to explore the light displays of Gatlinburg and fantastic events like the Fantasy of Lights Christmas Parade on December 5th brings more cheer to the Smokies.
While the entire town of Gatlinburg looks like a Christmas wonderland, there are a few attractions that can make your Gatlinburg Christmas vacation even more fun!
One of the most beloved Christmas attractions in the Smoky Mountains is Dollywood in nearby Pigeon Forge. Every holiday season, you'll find ornate displays, Christmas lights, special holiday performances, and excellent rides and roller coasters at this Smoky Mountain themed amusement park.
In fact, Dollywood is so renowned for celebrating the holidays that it has been recognized as one of the top Christmas festival locations in America. Another memorable attraction is Shadrack's Christmas Wonderland in Sevierville, which puts on a dazzling light show synchronized to music every year.
Come see what Christmas in the Smoky Mountains is all about when you visit Dollywood in November or December.
2. Plan Festive Christmas Activities
Making a snowman or roasting chestnuts over an open fire are quintessential holiday activities, but Gatlinburg can give you some unique things to do to celebrate the Christmas season!
Try out some of these fun things to do for Christmas in Gatlinburg:
Ice skating at Ober
Snow Tubing at Ober
Caroling in Downtown Gatlinburg With the Tunes & Tales performers
Drinking Hot Chocolate Downtown
Riding The Ober Gatlinburg Tram
Visiting the Wilson Glyn Christmas Tree Farm
3. See Penguins at Ripley's Aquarium of the Smokies
Though Penguins live in the South Pole, rather than the North Pole with Santa and his merry Elves, Penguins are just the cold weather bird to see during the holidays!
Ripley's Aquarium of the Smokies has an excellent African Black-footed Penguin display. These playful birds delight visitors of all ages and seeing Ripley's Aquarium is a perfect holiday memory to share with your family.
4. Explore the National Park in Winter
Certain areas of the Smoky Mountains are closed like the Clingman's Dome Road, but there are plenty of other things to explore.
Frozen Waterfalls on the Roaring Fork
Beautiful Views From Newfound Gap
Historic Cabins in Cades Cove
Better yet, the park is always open on Christmas Day, so you can explore the national park even when many other attractions may be closed.
Better yet, the Great Smoky Mountains National Park often experiences snow showers in December. Thanks to the high elevations in the mountains, much of the national park receives more snowfall than Gatlinburg, TN.
If you'd like to see some snow over the holidays, be sure to take a trip to high elevation areas in the park like Newfound Gap!
5. See A Christmas Show in Pigeon Forge
In nearby Pigeon Forge, you can find dozens of theaters and dinner shows debuting special Christmas shows to celebrate the holidays!
Major venues like the Dixie Stampede, The Hatfield & McCoy Dinner Show, and the Smoky Mountain Opry all put on terrific performances that bring Christmas to life.
Closer to town, Gatlinburg has the Sweet Fanny Adam's Christmas show. This local theater is known for its whimsical, side-splitting, vaudeville-style acts.
This year, you can see "Mistletoe & Malarkey", a fun show with the world's shortest rendition of A Christmas Carol and plenty of other surprises.
6. Dine Out in Gatlinburg
While some may relish preparing a delicious meal for their family and friends, some of us would rather simply spend time with our loved ones.
Luckily, you won't have to cook a big Christmas dinner in Gatlinburg.
Have a delicious Christmas feast at these restaurants that are open on Christmas day!
Cherokee Grill
Smoky Mountain Brewery
Calhoun's Restaurant
The Smoky Mountain Trout House
The Greenbrier Restaurant – Open Christmas Eve
7. Stay Off the Beaten Path
As you plan your Gatlinburg Christmas vacation, this thought may cross your mind: How crowded is Gatlinburg at Christmas?
The answer: things can get pretty busy, but this simply adds to the festive atmosphere.
Certain attractions and restaurants may have longer waits than usual. Additionally, parking in downtown may prove more difficult. Arriving early to events, restaurants, or attractions is the best way to deal with the crowds.
At the same time, the crowded sidewalks and lines may eventually become overwhelming. So where should you spend Christmas in Gatlinburg?
If you dislike crowds, you'll probably prefer staying in a secluded cabin. These private properties are nestled away in peaceful locations but are only a short drive from all of the festive excitement downtown.
By staying off the beaten path, you can see exciting holiday events, but also enjoy the peace and quiet you need for spending quality time with the people who matter most!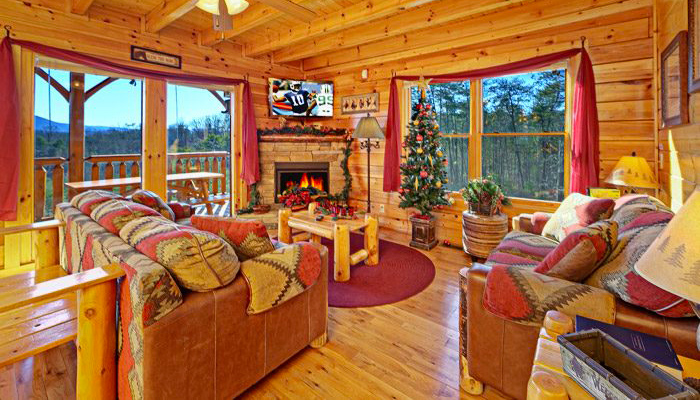 8. Stay in a Cabin
Why are cabins best place to stay in Gatlinburg for Christmas?
Here are just a few of the reasons to book a cabin for celebrating the most wonderful time of the year:
Many Cabins Are Decorated for the Holidays
You'll See Beautiful Views
There's Plenty of Room for your Family
Enjoy Full Kitchens & Dining Rooms for Christmas Dinner
After all, celebrating Christmas in Gatlinburg should be about enjoying quality time with your family, not knocking on hotel doors.
By booking a log cabin, you can enjoy the warm glow of a fireplace, a large kitchen for preparing meals, and a game room for fun evenings with your family.
Additionally, you could reserve a log cabin with a theater room for watching Rudolph the Red Nose Reindeer or it's a Wonderful Life. Or you could book a log cabin with a gorgeous view of the snow-capped peaks of the Smoky Mountains.
Looking for a cabin that's decorated for the holidays? Our website marks all of our cabins that are decorated for Christmas with a wreath icon. Find your perfect Gatlinburg cabin for Christmas and planning a festive getaway to Gatlinburg, TN!
Thoughts in Christmas in Gatlinburg, TN
What are your favorite Christmas memories in Gatlinburg? What was your favorite activity or what made your trip truly wonderful? We'd love to hear about your holiday experiences in our comments section!
If you're interested in experiencing Gatlinburg during the holidays, don't hesitate to call one of our helpful reservations specialists at (865) 436-5031 to start planning an incredible holiday getaway in Gatlinburg and the Great Smoky Mountains!
Written by Hayden Brown