Planning A ski trip to Gatlinburg? Nestled just outside of the Great Smoky Mountains National Park, Ober Ski Mountain is Tennessee's only ski resort!
We've got details of where to find terrific log cabins near Ober Gatlinburg Ski Mountain!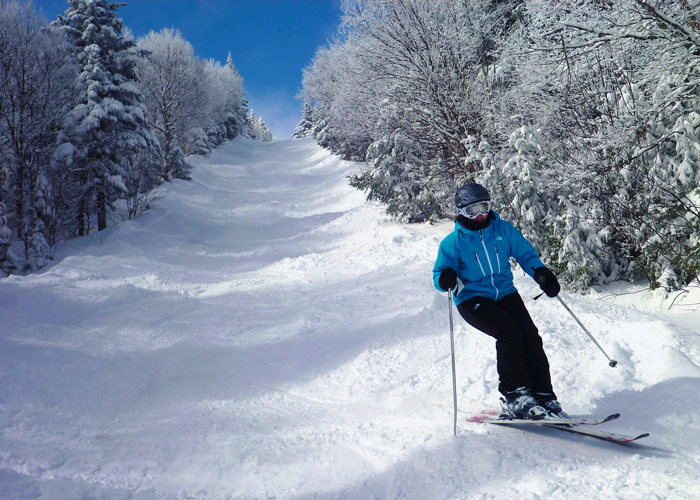 About Ober Gatlinburg Ski Mountain
Founded in 1962, this year-round Gatlinburg destination offers far more than skiing and snowboarding. During your visit you can take advantage of Ober's:
Ski Equipment Rentals
Snow Tubing Park
Indoor Ice Skating Rink
Alpine Slide
Alpine Mountain Coaster
Freestyle Terrain Park
Scenic Lift To an Overlook
Wildlife Encounter Zoo
Ski Sports Center Ski School – Professional Instructors of America Certified
The Seasons of Ober Restaurant – Enjoy Dinner with an Excellent View
Of course, the main attraction at Ober Gatlinburg is its 10 ski slopes that can be reached by two quad lifts.
Beginner Runs - Cub Way and Ski School are level slopes that are perfect for beginners or just warming up before you move onto more advanced runs.
Intermediate Runs – For a long intermediate run, take the black lift up to the top of Mt. Harrison. From here, skiers and borders can take Ober Chute (length 4,400' and vertical drop 556') or Yeti's Run (length 700' and vertical drop 120'), a brand new slope at Ober. To enjoy a leisurely descent, skiers can continue down Upper and Lower Bear, two more intermediate slopes. Castle Run and Alpine Way are other blue circle runs that are ideal for practicing your technique.
Advanced Runs – If you're a thrill seeker, you'll love the steep drops and technical challenged of Ober's black diamond slopes: Grizzly and Mogul Ridge. Grizzly is an advanced, curvy run that's over 3,800 feet long and drops 556 feet. Mogul Ridge is only 300 feet in length, but this steep, wide route drops 235 feet and is perfect for picking up speed.
When Are The Slopes Open?
Slope conditions can vary greatly depending on when you visit during the season.
The best way to ensure you visit when the slopes are open, try to schedule your trip during the coldest seasons in the Smokies (Jan. through Feb.) or visit after the Smokies experiences a sustained cold snap. For updates on skiing conditions at Ober, be sure to check out the slope report.
Where To Find Cabins Near Ober Ski Mountain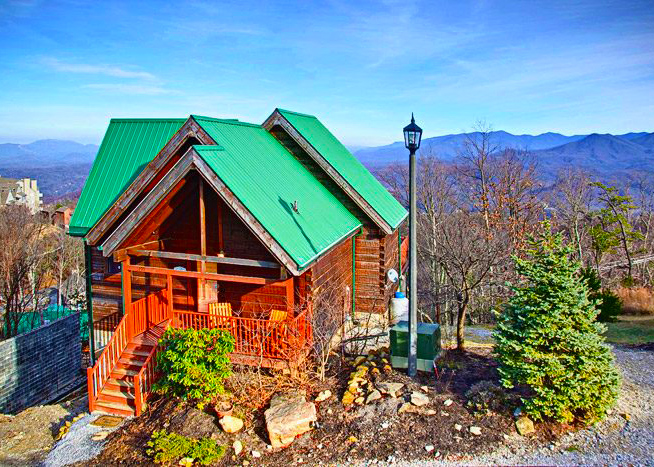 If you're planning on staying close to Ober Ski Mountain, the best way is to book a log cabin in Gatlinburg rather than finding lodging in Pigeon Forge or Sevierville. Staying in downtown Gatlinburg at a hotel is also an option, but rentals in the mountains above town are even closer to the ski resort.
1. Chalet Village
One of the best places to reserve cabins for a ski trip to Ober are in Chalet Village in Gatlinburg. In many cases, cabins in this resort area boast views of the ski slopes or the mountain tram that carries skiers from Gatlinburg to the Ski Lodge at the foot of Mount Harrison.
2. Smoky Mountain Village
Smoky Mountain Village cabins are another option that's only minutes away from Ober Ski Mountain. Another perk of reserving a cabin close to Ober is that guests will also enjoy being close to attractions in Downtown Gatlinburg like Ripley's Aquarium of the Smokies and the Great Smoky Mountains National Park. Better yet, some of these cabins come complete with private indoor pool.
3. Sky Harbor
If you're unable to reserve a log cabin in Chalet Village or Smoky Mountain Village, Sky Harbor cabin rentals are also only 10 minutes away from great skiing and snowboarding at Ober.
Final Thoughts
Ober Gatlinburg is a terrific place to visit for winter fun in the Smokies! With a full ski mountain, ice skating, and tubing only 3 miles away from Downtown Gatlinburg, it's well worth making the trip to Ober even if you only want to enjoy the beautiful mountain views.
Better yet, you can reserve your very own ski chalet to stay even closer to Ober to spend even more time carving the slopes! Best of all, Cabins USA Gatlinburg offers our luxury cabins near Ober with a special 15% discount to make your stay even more affordable!
Written by Hayden Brown