Ready to feel the chilly air, play in pure, white snow, and see beautiful winter landscapes?
Simply take a winter vacation to Gatlinburg, TN!
December through February is an incredible time to visit Gatlinburg and the Smoky Mountains for many reasons, but we thought we should narrow down the list. Check out the top 5 winter activities and attractions for your Gatlinburg winter getaway!
Use this guide to find the best winter things to do in Gatlinburg, TN to get the most out of your Smoky Mountain vacation!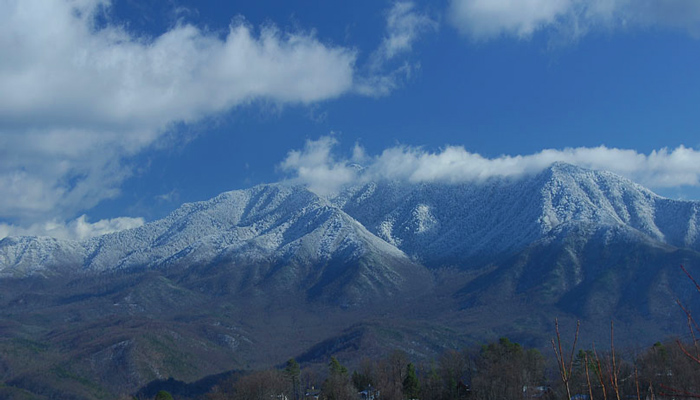 1. See the Lights of Winter Magic
Of all the things to enjoy during the winter months in Gatlinburg, the Gatlinburg Winterfest is the easiest to see.
After all, it's hard to miss the 4 million Christmas lights that decorate the entire town of Gatlinburg from November to February. These fantastic light displays are part of Gatlinburg's Winter Magic Festival, a celebration of Christmas and the winter season.
You can always tour the lights yourself, or you could hop on the guided Trolley Ride of Lights Tour. No matter how you see the lights, you're in for a real treat!
2. Experience Ober Ski Mountain
Winter is the perfect time to visit Tennessee's only ski mountain. Though Ober Gatlinburg has plenty of year-round attractions, it's well worth visiting the ski lodge while the slopes are covered in snow.
If you plan on visiting Ober Gatlinburg during Gatlinburg's snowy season, you can enjoy:
Skiing
Snow Boarding
Snow Tubing
Indoor Ice Skating
Downhill Mountain Coaster
Planning a ski trip to the Smoky Mountains? Check out some of our cabins close to Ober Gatlinburg so you can spend less time driving and more time shredding the slopes!
3. Marvel At Wintertime Mountain Views
Some of the best things to enjoy during winter in Gatlinburg are practically free.
Just by taking a scenic drive through the Great Smoky Mountains National Park, you'll be able to see some beautiful winter landscapes. Even if there isn't any snow in Gatlinburg during your visit, visitors can usually find the white stuff by taking a drive up Newfound Gap road into the high peaks of the Smokies.
High elevation roads and hiking trails are perfect for finding snow, ice, and gorgeous mountain views. Use this guide to find your own winter wonderland in the Smokies. Mt. LeConte is an excellent place to find panoramic overlooks in the Great Smoky Mountains.
If you don't want to go on a long winter hike, you don't have to go far from Gatlinburg to see beautiful snow-capped mountains. Check out some of these great ways to see beautiful winter views in Gatlinburg:
Ride the Gatlinburg Aerial Tramway
Go To The Top of the Gatlinburg Space Needle
Overlooks on the Gatlinburg ByPass and Morton's Overlook in the Great Smoky Mountains National Park
4. Check Out Fun Indoor Attractions
While there aren't as many outdoor activities during the chilly winter months, Gatlinburg has some terrific indoor attractions that are perfect for enjoying in any weather.
Better yet, winter months like January and February are typically less crowded times to visit Gatlinburg.
Ripley's Aquarium of the Smokies
Hollywood Star Cars Museum
Wild Bear Falls - An indoor waterpark in Gatlinburg with slides, hot dubs, a lazy river, and swimming pool.
Gatlin's Indoor Mini Golf and Laser Tag
Gatlinburg's thriving restaurant, winery, and distillery is also worth checking out during your stay. Nothing beats a hearty plate of flapjacks from the Pancake Pantry and you could always responsibly enjoy samples at the Ole Smoky Distillery or Sugarland Cellars for only $5.
5. Explore Frozen Waterfalls in the Great Smoky Mountains National Park
One of the most unique things to do while spending a winter vacation in Gatlinburg is to go on the hunt for frozen waterfalls!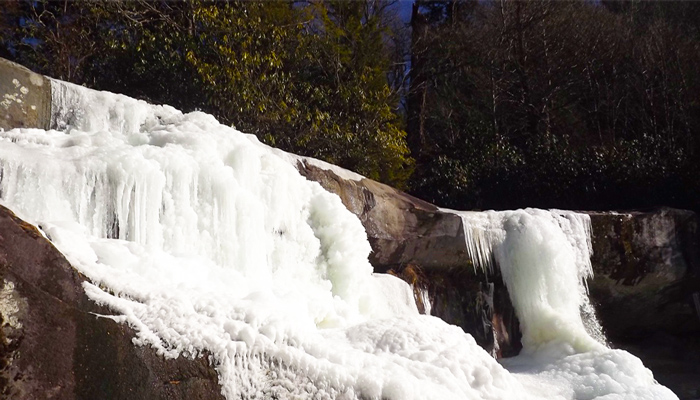 When the temperatures go below freezing, you can count on seeing some beautiful ice formations at waterfalls like:
Laurel Falls
Ramsey Cascades
The Sinks
Abrams Falls
The Cascades At The Chimney Tops Trailhead
Winter Events in Gatlinburg
If you find yourself in Gatlinburg in December you won't want to miss The Fantasy of Lights Christmas Parade or the New Years Eve Celebration at the Space Needle complete with a fireworks and light show.
Tips For Visiting Gatlinburg in Winter
1. Preparing For the Weather
Winters in Gatlinburg can sometimes be rather mild, but winter storms often bring below freezing temperatures and snowfall. Needless to say, you'll want to check the weather forecast while planning your trip. It's usually a good idea to bring a variety of clothing layers that you can shed or add as needed.
2. A Chance Of Snow
Will it Snow in Gatlinburg during my vacation? The answer to this million-dollar question: it depends. If you're visiting during November or December, you should know that Gatlinburg doesn't usually experience snowfall during these months. However, January, February, and even March can see some big snow storms.
Depending on the timing of your visit, you may not see any snow in Gatlinburg at all. However, the good news is that you can usually count on seeing some beautiful snow in the high elevation areas of the national park.
It's not a bad idea to bring a car with four-wheel drive for your trip to Gatlinburg. That being said, unless snow and ice are forecasted, you likely won't have a problem getting around Gatlinburg in the winter since the average temperature ensures that snow doesn't stick around too long.
3. Less Crowded Time To Visit
Generally speaking, winter is part of Gatlinburg's off-season. This is especially true for January, parts of February, and March. That being said, December is one of the busiest months in the Smokies. Valentines Day weekend is also a popular time of year to visit the mountains.
4. Lower Rates on Cabins
Vacationers who plan a winter trip to Gatlinburg during the off-season often find better nightly rates on cabins. Thanks to the simple rules of supply and demand, the winter months are a great time to find deals. It doesn't hurt that Cabins USA Gatlinburg offers a 15% discount on our cabins to make your stay truly budget-friendly.
You'll love relaxing in a hot tub while you take in the lovely wintertime scenery or simply curling up by your cabin's fireplace on a chilly mountain night. Bring your family and friends on a winter vacation you won't soon forget!
Find Your Gatlinburg Winter Cabin!
Written by Hayden Brown