Winter in the Smoky Mountains is truly a sight to behold!
Every season in the Smokies brings its unique perks, but visiting Gatlinburg in January is a great way to see the mountains during the height of the snowy season.
For planning a January getaway to Gatlinburg, we've made this guide with the top 5 things to do in Gatlinburg during January! Stay on top of what's going on in Gatlinburg in January and some of the best ways to enjoy your getaway to the fullest.
1. Experience Winter Sports At Ober
January is the ideal time to visit Tennessee's only ski resort: Ober Ski Mountain in Gatlinburg, TN!
By January, the slope conditions are in prime shape for skiing and snowboarding. Just check out their slope report before you start carving some fresh powder. Altogether, this ski mountain boasts 9 slopes including Yeti's Run, a brand new route that opened in the 2014 season.
This Smoky Mountain resort is also home to a freestyle terrain park with rails, jumps, and other features to put your skills to the test.
If you're not interested in skiing, Ober Gatlinburg also has a popular snow tubing hill and an indoor ice skating rink that's fun for all ages. Here's a video of some of what you can expect:
2. See The Lights of Gatlinburg Winter Magic
When the sun goes down, millions of lights bring Gatlinburg to life in the chilly winter months!
These festive displays are part of the Gatlinburg Winter Magic festival, an annual event that celebrates winter season in Gatlinburg.
From large snowflakes, to Smoky Mountain wildlife, to complex moving displays, the lights of Winter Magic are truly something to see. Whether you take a driving tour of downtown or you just want to stroll by the festive lights with a warm cup of hot cocoa, you'll discover the meaning of winter magic in Gatlinburg.
Best of all, Gatlinburg's Christmas lights are up for the entire month of January, so you'll have plenty of opportunities to see these 4 million LED lights on display.
3. Explore Gatlinburg Without the Crowds
After the busy holiday season, Gatlinburg is a little quieter during the wintertime. This means that you can explore all of Gatlinburg's shops, restaurants, and attractions without the crowds!
As a result, you can look forward to a delicious meal at the Pancake Pantry without having to wait for a table or you can easily go up to the Gatlinburg Space Needle to enjoy beautiful winter views of the mountains without having to share the view with other vacationers.
Better yet, popular destionations in the Great Smoky Mountains National Park like Cades Cove and Newfound Gap are far less busy during the winter months, so you can explore the natural beauty of the Smokies as well!
4. Enjoy Fun Indoor Attractions
While some attractions like Dollywood are closed during January, there are plenty of other sights to explore! Stay warm at these indoor attractions in Gatlinburg:
Ripley's Aquarium of the Smokies – Home to excellent displays like the Penguin Playhouse, the Shark Tunnel, an Octopus, venomous fish, and more, Ripley's Aquarium is one of the most popular destinations in Gatlinburg.
Indoor Mini Golf at Gatlin's – This family favorite is open year-round in any weather. Better yet, this fun course is lit by black-lights to create dazzling colors.
Ripley's Odditorium – Visitors of all ages enjoy this museum dedicated to the bizarre, fantastic, and unexplainable.
Hollywood Star Cars Museum – See some of the most famous cars from television and film including the Bat Mobile and James Bond cars.
The Art Galleries of Arrowmont – Explore the legacy of Smoky Mountain crafts making at this nationally renowned gallery and shop.
The Salt and Pepper Shaker Museum – This curious museum featuresmind-boggling number of salt and pepper shakers of all themes, shapes, and sizes.
The Sugarlands Visitor Center – Even if the national park is frosty, the Sugarlands Visitor center is home to an excellent museum that tells the story of America's most visited national park.
January is also a good time to go touring local breweries, distilleries, and wineries. Smoky Mountain Brewery features several craft beers brewed on location in Gatlinburg, TN.
Davy Crocket Whiskey and Ole Smoky Moonshine are other popular stops in downtown. Better yet, these distilleries offer free samples so you can find the perfect kind of whiskey or moonshine to take home as a unique Smoky Mountain souvenir.
5. Experience Outdoor Activities in January
Sometimes, there's nothing better than grabbing your best coat and going out to explore on a beautiful winter day. Since January is in the heart of winter, this month is the perfect time to enjoy scenic views of snowy landscapes!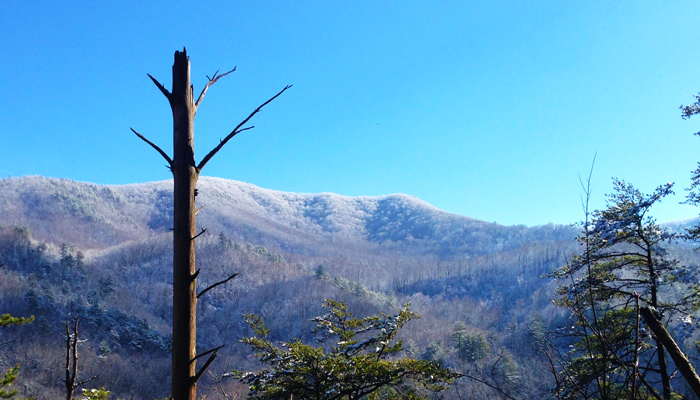 Here are some of the best places to see gorgeous wintertime views of the Smoky Mountains:
The Space Needle
The Ober Gatlinburg Tram
The Gatlinburg Sky Lift
Overlooks on the Gatlinburg Bypass
Morton's Overlook
Another popular winter pastime is to explore frozen rivers and waterfalls in the Great Smoky Mountains National Park. After a deep freeze, the Smoky Mountains are an incredible place to see dazzling ice formations and landscapes blanketed in snow.
If you have the proper equipment, its worth going on a snowy hike at one of these low elevation trails:
Sugarlands Trail
Trails in Elkmont
Laurel Falls Trail
Ramsey Cascades
Little Greenbrier Trail
Abrams Falls
Tips For Visiting Gatlinburg in January
Prepare For the Weather
Gatlinburg can be quite cold during the month of January, but here are the average seasonal temperatures:
Average High is 45°F
Average Low is 34°F
Nights are usually below freezing temperatures, but during the day it warms into the 40s. Needless to say, you'll want to bring several layers of clothing to adapt to the range of weather you could experience.
Does It Snow In Gatlinburg in January?
According to historic records, Gatlinburg usually receives 3 – 4 inches of snowfall on average during the month of January. However, this doesn't mean you can count on seeing a beautiful snowfall during your stay in Gatlinburg.
At the same time, vacationers can usually find snow by driving to high elevation areas in the national park like Newfound Gap. At an elevation over 5,000 FT, areas like Newfound Gap receive more snowfall than Gatlinburg.
Gatlinburg January Deals
Since January is a relatively slower time of year in the Smoky Mountains, it's easy to find great deals on cabin rentals!
Not only are you more likely to find discounts on cabins, but also vacationers often have a wider selection of rentals to choose from. As a result, January is an especially affordable time of year to visit Gatlinburg.
Start planning your January vacation to the Great Smoky Mountains and book a cabin with Cabins USA Gatlinburg to save 15% on your nightly rate!
Save On Your Cabin in January!
Written by Hayden Brown