As summer draws to a close, its time to go on one last trip before we all return to the usual routine. For your summer's last hurrah, why not schedule an August vacation to Gatlinburg in the beautiful Smoky Mountains of Tennessee!
With lots of beautiful weather, fun events, and exciting things to do, its no wonder August is one of the most popular times to explore the Smokies.
To help you get the most out of your trip, here's 3 things to know about visiting Gatlinburg in August!
1. Perfect Vacation Weather
August is one of the warmest and driest times of year to visit the Smoky Mountains in Gatlinburg. Based on past years, here are the usual temperature averages for Gatlinburg in August:
This warm sunny weather is ideal for visiting water parks like Dollywood Splash Country, enjoying a lazy day by the pool, or going swimming in a pristine mountain swimming hole. Not only is the weather warm, but there's also less of a chance that your summertime fun will get rained out.
Rain in the mountains during late summer is often short and sporadic. Much like Florida in the summer, there may be a chance of a quick shower or a short thunderstorm in the afternoon or evening.
Overall, you can look forward to plenty of sunny, warm weather during your stay in the Smoky Mountains in late summer!
For a sneak peak of what August looks like in the Great Smoky Mountains, check out this video of Cades Cove during late summer:
2. August Events in Gatlinburg
With long, sunny, days, August brings lots of great events to the Smoky Mountains. Here are just a few of the fun activities you can enjoy during your late summer vacation in the Smokies!
The Gatlinburg Farmers Market
Every Saturday in August, you can find fresh, local produce and unique crafts at this lively farmers market at the Covered Bridge in the Glades. While you shop for top-quality vegetables, homemade jams & jellies, and fresh-baked goods, the kids can enjoy fun crafts activities and games.
Smoky Mountains Songwriters Festival
This is a great way to watch free concerts in Gatlinburg this summer! In addition to some private ticketed concerts, the Smoky Mountain Songwriters Festival features 4 days of open concerts in Downtown Gatlinburg at venues like the Glenstone Lodge.
Celebrate Freedom Discounts
During the entire month of August, participating businesses in Pigeon Forge offer discounts to America's heroes. This includes active and veteran members of our armed forces, firefighters, police officers, and other first responders.
Stringtime in the Smokies
You'll find authentic Smoky Mountain bluegrass and a foot-stomping good time at the Old Mill Square in Pigeon Forge from 11:00 AM to 7:00 PM on the first Satruday in August. This unique festival features great live music & fun games.
Welcome Home Veterans Parade
Join Pigeon Forge in honoring America's heroes with a parade through the heart of town at 9 AM. This festive event is dedicated to the courage and sacrifice of active and retired members of America's armed forces.
The Great Smoky Mountain Jeep Invasion
Organized by the Smoky Mountain Jeep Club, this fantastic gathering for Jeep owners and enthusiasts will be held at the LeConte Center in Pigeon Forge from 8 am to 3 pm. There will be prizes and a charity raffle for great Jeep accessories and parts. Additionally, an official jeep ride in Cades Cove is planned for Saturday.
3. Things To Do in August in Gatlinburg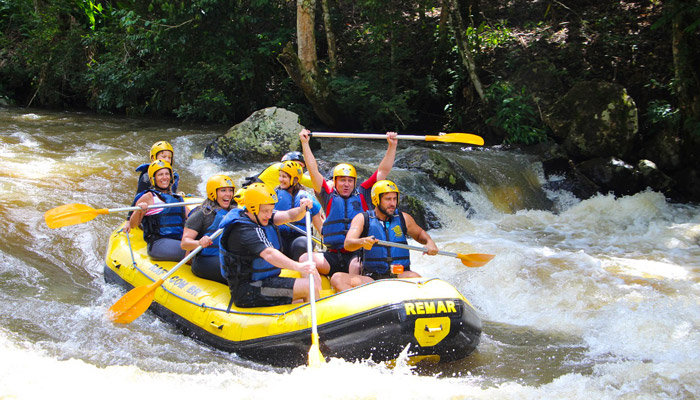 Along with visiting top-rated attractions like Dollywood Theme Park or Ripley's Aquarium of the Smokies, August is the perfect time to explore thrilling outdoor attractions and adventures.
Here are our top picks for what to enjoy during your August vacation in Gatlinburg:
Whitewater Rafting – August is a great time to go rafting on the Little Pigeon River only a short drive from Gatlinburg. Several outfitters take visitors on tours of the lower and upper sections of river that feature up to class IV rapids.
Guided Horseback Rides – Several stables offer guided horseback rides on private trails inside the Great Smoky Mountains National Park.
Ziplining – Explore the towering forest canopy on an exciting zip line ride through the trees!
Mountain Coasters – A newer attraction in the Smokies, these unique roller coasters take riders on a twisty, turning course down the side of a mountain.
Relax at Smoky Mountain Swimming Holes – With plenty of warm sunny weather, August is a prime time to go to swimming holes in the national park like the Wye, The Sinks, and The Blue Hole.
Final Thoughts
With so many fun things to do and see during late summer in the Smokies, you may be wondering: is August is a crowded time of year to visit Gatlinburg?
The answer is thankfully no. While summer is a popular time to visit the mountains, August doesn't feature major events that bring record crowds to Gatlinburg like a major car show or a holiday. As a result, you can enjoy great weather and tons of fun attractions without having to deal with crowds.
Better yet, you can take advantage of August deals on cabins. In fact, Cabins USA Gatlinburg is offering a special 15% discount on select properties! Be sure to find a great cabin for your stay with Cabins USA Gatlinburg to save on your nightly rate!
Written by Hayden Brown