As an International Biosphere Reserve, the Great Smoky Mountains National Park is an incredible place to see wildlife native to the southern Appalachian mountains. With 65 species of mammals, 67 kinds of fish, 80 reptiles and amphibians, and 200 kinds of birds, the national park is filled with a diversity of wildlife.
Best of all, the fun mountain town of Gatlinburg is only minutes away from this natural wonder! If you love spending time in nature, use this guide to find beautiful wildlife near Gatlinburg during your Smoky Mountain vacation!
To help you experience the wondrous animal life of the Smokies, we've made this handy guide on where to view wildlife in the Great Smoky Mountains National Park!
What Wildlife Can You See in the Great Smoky Mountains National Park?
Deer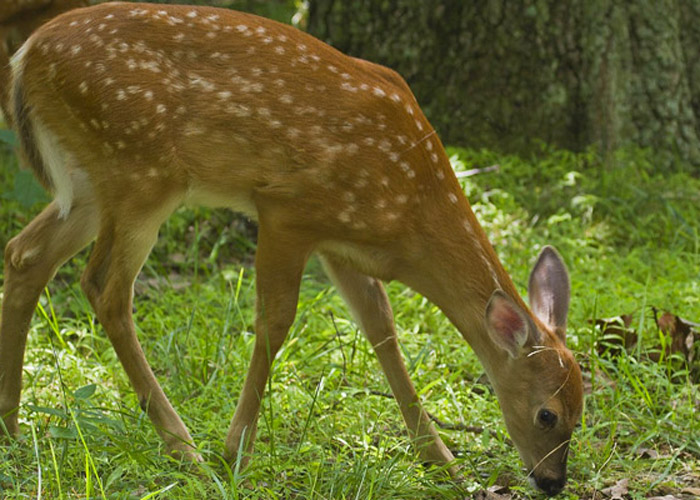 White-tailed deer are very common in the Great Smoky Mountains and they are wonderful to see in the wild. In June, visitors have the chance to see new-born fawns while in the summer you can see bucks with full antlers.
Turkey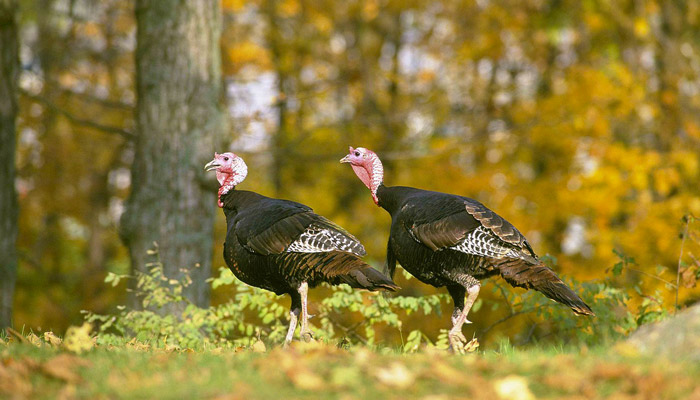 Simply driving along most roads in the national park, you may see a gaggle of turkeys strutting about. It's rare to find a lone turkey, as they typically travel in groups. Some of these may be quite large with as many as 20 or 30 birds. These are typically found in low elevation areas like Sugarlands Valley and Cades Cove.
Black Bears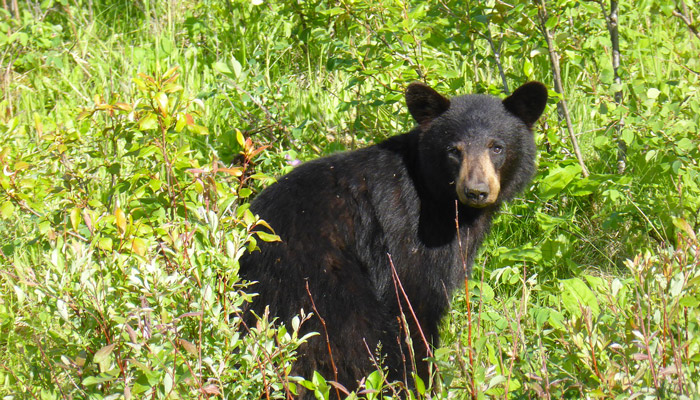 The Great Smoky Mountains area has around 1600 black bears – that's 2 bears per square mile inside the national park.
Black bears are particularly active in the fall when they begin preparing for the lean winter months. Bears can be seen in lots of areas of the park, but they are particularly common in lower elevation regions like Cades Cove. The best time of day to view bears are in the early morning before 10 am and early evening when it is cooler after 4 pm.
When viewing bears, it's important to keep your distance and never give them food. A bear that is fed by humans becomes habituated to human contact and increases the likelihood that they'll attack humans. For your safety, and the well-being of bears, do not approach bears.
Sometimes, visitors spot bears near the roadside. This creates a "bear jam" where a long line of cars can form to catch a glimpse of a bear or deer.
Peregrine Falcons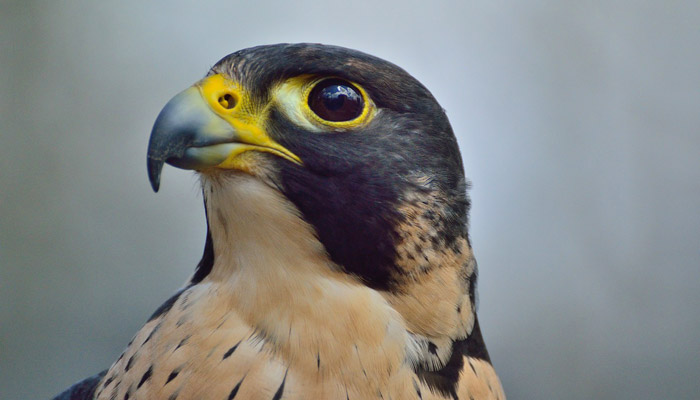 Falcons and other birds of prey love to nest on the craggy slopes of Mt. LeConte that provide a safe place to nest and a perfect vantage point for spotting prey. Peregrines are especially rare and the South slope of Mt. LeConte is home to one of the only breeding pairs in the state of Tennessee. These spectacular hunters can reach speeds of over 200 mph in pursuit of prey.
River Otters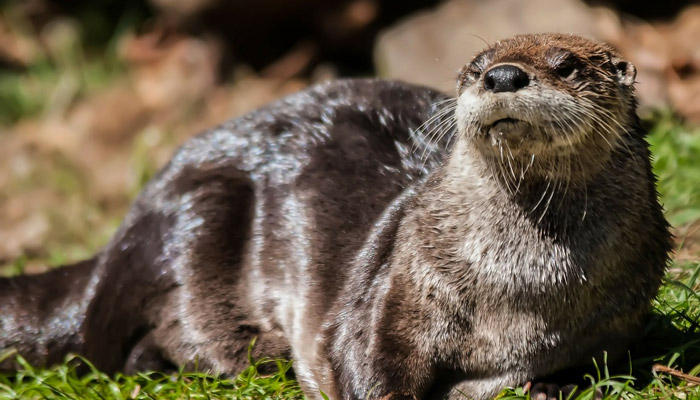 Reintroduced in 1986 – there's now a growing population of otters along Abrams Creek, Little River Trail, and Cataloochee Creek. Abrams Creek near Cades Cove is known to be the best place to spot otters in the national park.
Bobcats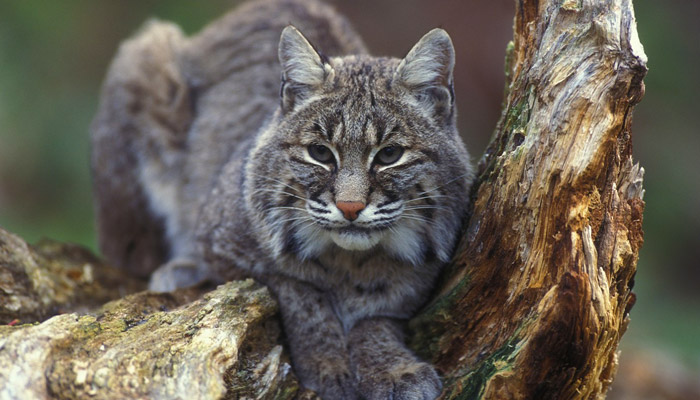 Park biologists are sure there are no mountain lions living in the park, but there are occasional sightings of North American Bobcats. These elusive felines are probably the hardest animal to find in the Smokies. Your best chance for seeing a bobcat is to stroll through the forests near Cades Cove in the early morning.
Elk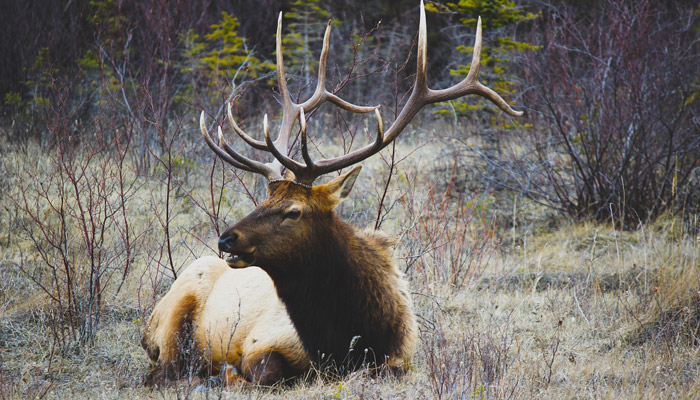 The last Elk was killed in the Tennessee in the mid-1800s but in 2001 conservationists' reintroduced elk to Cataloochee Valley in the Great Smoky Mountains National Park. Today there are estimated to be over 150 elk in the national park.
During the fall, you may catch the elk rut, where bull elk fight to claim harems of cows. It's important to be especially cautious this time of year, as bull elk that weigh over 700 pounds are very territorial. Staying away from elk is the best way to stay safe.
Salamanders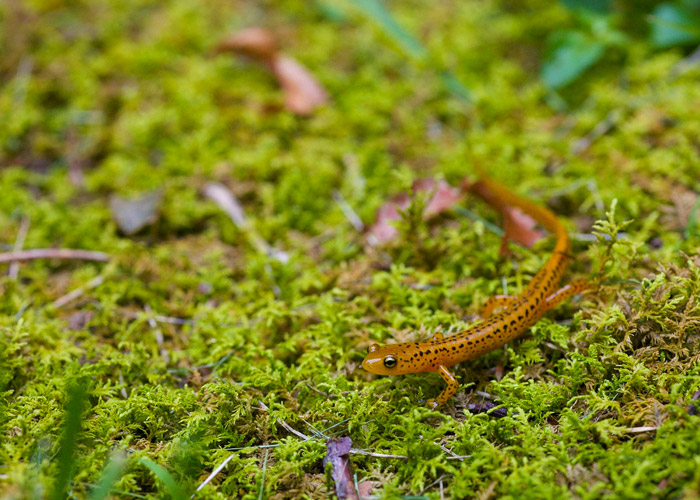 There's a huge diversity of salamanders in the national park, including the North America's largest salamander species, the Hellbender. These incredible river dwellers can grow over 2 feet long and weigh up to 5 lbs. Hellbenders are rare, but it's likely that you can find beautiful golden, red, and orange salamanders along streams in the national park. Overall, there are about 30 species of salamanders throughout the park making it the official salamander capital of the world.
Where are the Best Places To View Wildlife in the National Park
In the 800 sq-miles of the Great Smoky Mountains National Park, there are lots of places to view wildlife, but there are some regions that are particularly known for having more sightings.
Cades Cove - This peaceful valley is probably the best place to take a wildlife drive near Gatlinburg. The 11-mile Cades Cove loop goes around the perimeter of the valley, where you'll have the chance to spot deer, bears, turkey, and maybe even a bobcat. To maximize the chance of seeing wildlife, it's recommended that visitors go to Cades Cove early in the morning.
The Roaring Fork Motor Trail – Located a short drive from Gatlinburg, this area of the national park is an excellent place to view bears and deer.
Cataloochee Valley – This remote part of the national park is home to the only elk herd in the Smokies. While visiting here, there are also plenty of bears and deer to see as well.
Newfound Gap – Along the Appalachian trail near Newfound Gap, hikers often report seeing bears, deer, and wild grouse.
Mt. LeConte – Mt. LeConte has more than gorgeous views. Simply take one of the 5 hiking trails to the summit of Mt. LeConte for a chance to see flying squirrels, bears, hawks, and maybe even peregrine falcons.
Other Places To See Wildlife in the Smokies
If you don't catch a glimpse of wildlife in the national park, there's no need to despair! In fact, you have several options for a great backup plan:
Wildlife Encounter at Ober Ski Mountain
This growing zoo near Gatlinburg is home to river otters, birds of prey, bobcats, foxes, and other species that are native to the Smokies. There is also a family of black bears on display at the Wildlife encounter.
Smoky Mountain Deer Farm Exotic Petting Zoo
Home to deer, kangaroos, goats, reindeer, elk, emus, camels, zebras and more! Kids have a blast feeding animals and there are even fun activities like horseback riding.
Ripleys Aquarium of the Smokies
While most of the animals on display at Ripley's Aquarium in Gatlinburg aren't from the local area, they are no less magnificent to view. From large sharks to funny penguins to poisonous dart frogs, there are tons of great exhibits to see.
Final Thoughts
We want to know, what are your favorite animals to see when you're in Gatlinburg and the Great Smoky Mountains National Park? We'd love to hear your stories in our comments section!
Renting a cabin in the mountains is another way to see wildlife. Simply sit back on your porch in the morning or the evening for a chance to see deer, bears, or birds in the forest surrounding your secluded cabin!
Written by Hayden Brown