As Tennessee's only skiing destination, Ober Ski Mountain is the best place for winter sports in the Smoky Mountains!
Located on Mt. Harrison a short drive from Gatlinburg, this ski mountain has been in operation since 1962. With 9 ski slopes, a terrain park, and more, there's a lot to enjoy at Ober Gatlinburg. The best time to visit this classic Gatlinburg attraction is when the slopes open for the winter season.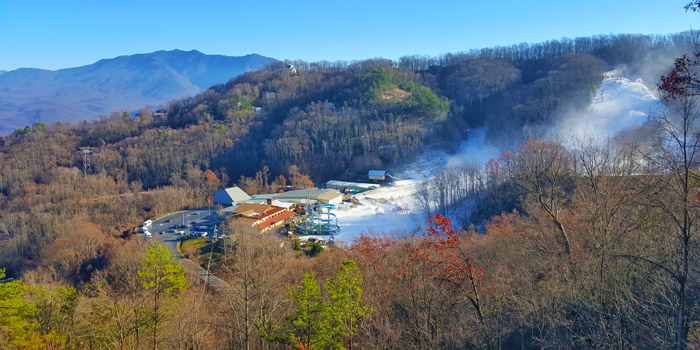 When Does Ober Ski Season Start?
The Ober Gatlinburg ski season usually begins in mid-December. Needless to say, if the weather is cooperative, the ski mountain tries to open the slopes as early as possible. Thanksgiving is a popular weekend in the Smoky Mountains, so the ski mountain often aims to be open by this date.
Since the majority of snow at Ober Ski Mountain is manmade, the length of the ski season is dependent on the weather. Ober employs high-tech snow-blowers, but these can't operate when the thermometer doesn't dip low enough.
Ideal conditions for snowmaking are if the temperature is below 28°F or colder. Dryer weather is also helpful for making snow because it allows for snow-making to occur at higher temperatures.
If you'd like to start skiing as early, look for a string of dry, sub-freezing nights in November and December. This will give you the best odds of seeing an early start to the ski season.
You can also check the slope report to see when the slopes are expected to open. This report also shows current conditions and details which ski runs are currently open.
Insider Tip: Even if the slopes aren't ready when you visit, there are plenty of other winter activities to enjoy at Ober Ski Mountain. Ober Gatlinburg offers an indoor ice-skating rink that's available year-round. Snow tubing at Ober Gatlinburg is often open by Thanksgiving.
When Does Ski Season at Ober End?
Ober Gatlinburg's ski slopes usually close in early March, but if the weather is sufficiently cold the season can be extended for a month or more.
In early March, Ober celebrates a successful ski season with the Spring Fling! This annual spring tradition features pond skimming, a giant slalom, jump competition, and lots of food and drinks. Since the snow has begun to melt by this time of year, Ober creates a small pond at the base of the ski mountain.
At this event, Ober allows for skiers to attempt to make it across the pond at the end of their descent down the mountain. Usually, a big splash ensues, but it's always a good time. Plenty of vendors with gear will be at this event too.
When is the Best Time to go Skiing at Ober?
January and February are the coldest, and snowiest months of the year. By this time, most of the slopes are open and there's even a chance you can enjoy some natural powder during your trip!
Additionally, the average temperature is low enough that the slopes are frequently groomed and new snow can be created with ease.
Final Thoughts on the Ober Ski Season
The winter ski season is always a special time in the Smoky Mountains. Whether you're skiing, snowboarding, tubing, or ice skating, snow sports are some of the best things about the Smokies during the winter season.
Find your own cabin near Ober Ski Mountain today to start planning your ski trip in the Great Smoky Mountains. Check our cabins' availability online or feel free to contact our helpful reservations office at (865) 436-5031 to plan your trip!
Written by Hayden Brown