A Hungry Bear Finds Lunch in Wears Valley
Following a morning stroll in the mountains, I caught a whiff of delicious food down in the valley. I had really worked up an appetite (plus hibernation is just around the corner!) so I was a one hungry bear. As it turns out, I had followed my stomach out of the national park to Elvira's Cafe in Wears Valley. It was a gorgeous day and this country cafe was fully decorated for the fall, complete with pumpkins, corn stalks, and festive lighting.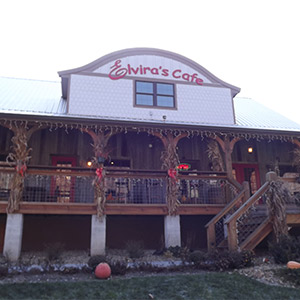 It is a little known fact that bears are mammals with an eye for presentation and décor, and I am no exception. Elvira's had me won over at first sight!
I decided to take a look through the window to scope things out. When around restaurants, I often approach with caution.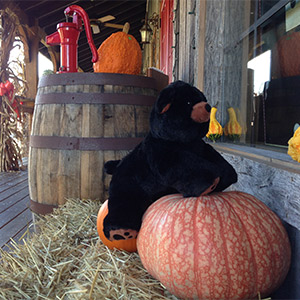 Usually, restaurant owners aren't keen on a black bear snooping around their property (we do get in the garbage when there aren't enough acorns). A sign on the door says they welcome early risers and that they open at 8 PM daily. Bears are quite active in the early morning so I knew right away that these were my kind of people.
Lunch at Elvira's
I was promptly seated by a helpful waitress and got my first chance to look at the menu. My excellent sense of smell had not led me astray and the menu had a smorgasbord of delicious options. (Not to brag, but black bears have one of the most finely tuned olfactory senses in the animal world, with proper wind conditions, we can smell food from 20 miles away!) Better yet, Elvira's makes most everything from scratch. The breakfast menu features country classics from hot cakes to biscuits and gravy. I also saw that they offer homemade crepes with veggies, sausage, Benton's bacon, and ham – yum!
Elvira's serves breakfast all day, but I had a hankering for lunch. I opted for the Homemade Chicken Salad Sandwich with a side of Sweet Potato Fries. Upon walking into Elvira's, I noticed whole potatoes and sweet potatoes in crates on the walls, so I was sure this fine cafe makes their fries from scratch.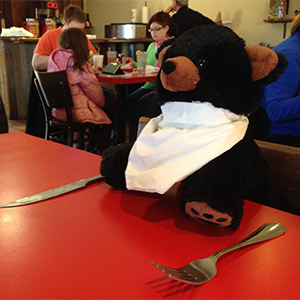 After I put in my order, I was able to take in the charming ambiance of the cafe. The restaurant has the feel of a gallery with high quality photos and beautifully paintings of the Smokies. There were plenty of pictures of my brethren on the walls, so I could tell Elvira had good taste in art.
I also spied a whole wall of delicious spreads and jams. With peach butter, apple butter, blackberry jam and more! Like much of the food in Elvira's, these jams and jellies use local ingredients for delicious southern food. My belly was starting to vigorously growl, just as my plate was delivered. Just as advertised, it was a simple lunch that was made with quality ingredients and classic recipes.
Before went on my way, I was sure to check out their special's menu. When I visited, Elvira's was serving fresh catfish, mountain trout, and fried chicken just to name a few. I also saw signs for a Sunday brunch with a special menu. Without a doubt, I plan to be back to see what else this excellent cafe can cook up! I also got to chat some with Elvira herself. She's a cheerful woman who works everyday in this cafe.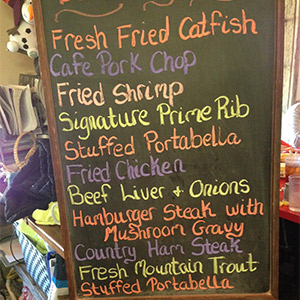 I could see immediately why there were so many locals and tourists dining at Elvira's. They all came for simply delicious food and a pleasant dining experience. I had only followed my excellent sense of smell here and this blogging bear was not disappointed. I give Elvria's two claws up!
Directions to Elvira's in Wears Valley
For folks visiting the Smokies in cabins, Elvira's is only a short drive away. You can drive through the national park towards Cades Cove and then turn left into Metcalf Bottoms to cross the bridge and then the park boundary. After exiting the park, you'll find yourself in gorgeous Wears Valley where you can see beautifully views of nearby Cove Mountain and find a great lunch at a local favorite like Elvira's Cafe!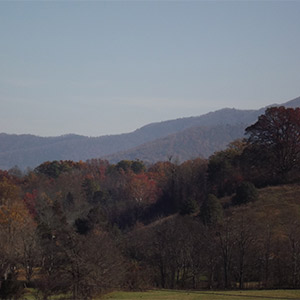 Written by Blogger Bear