Searching for lesser known places in the national park that are also exceptionally beautiful?
Whether you're looking for peace and quiet in the Smokies or if you just want to experience new places, there's nothing better than finding a hidden gem in America's most visited national park. Even in a national park that welcomes more than 10 million visitors annually, there are still hidden secrets to enjoy on your vacation.
To help you have an incredible stay in the Smokies, we've made this guide with 9 places off the beaten path in the Great Smoky Mountains National Park!
1. Mt. Cammerer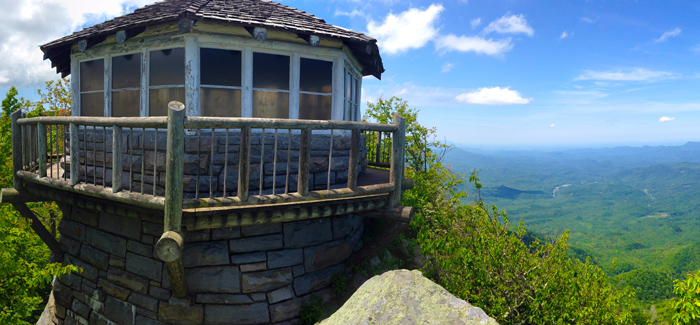 Located in the Cosby region of the national park, this impressive sight is definitely off the beaten path. Since this region of the Smokies is about 21 miles from Downtown Gatlinburg, Cosby receives a small fraction of visitors compared to more traveled locales like Newfound Gap and Cades Cove.
Apart from beautiful mountain streams and pristine old-growth hardwood forests, the Cosby area is home to the Low Gap Trail that leads to the Mt. Cammerer Fire Tower and Overlook. This historic Western-style fire tower is built into a rocky ridge and though it is no longer in use, the tower provides an excellent vantage point to enjoy panoramic mountain views of the pristine north-east section of the national park.
Hikers should note that the hike to Mt. Cammerer is a strenuous 11-mile round trip hike that includes a scramble over uneven rocks near the summit.
2. Spence Field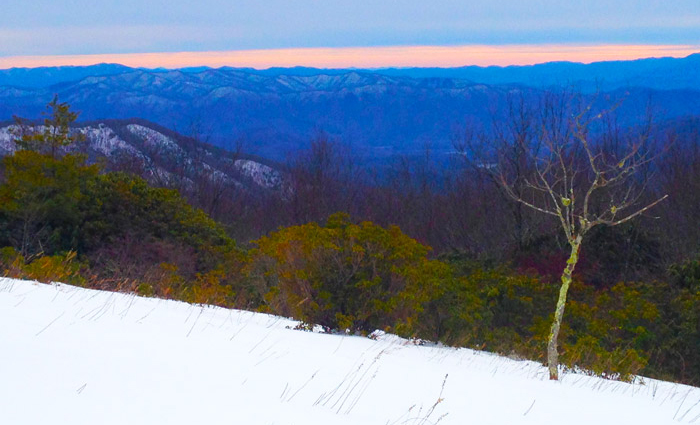 This stunning overlook along the Appalachian Trail can be reached by hiking the Anthony Creek Trail that begins in the Cades Cove picnic area. The Lead Cove Trail, which begins on Laurel Creek Road, is another route that can be used.
Spence Field is a large, mountain-top field that boasts panoramic mountain views of the Tennessee and North Carolina Smokies. Additionally, this high elevation mountain bald is a hot spot for unique wildflowers and other plant species.
Spence Field once served as a high elevation pasture for livestock for farmers who resided in Cades Cove. Today, it is a popular rest stop along the Appalachian Trail.
Since this hike requires over 10 miles of strenuous hiking and that it sits at an elevation of 4,928 Ft, there's good reason that this picturesque spot doesn't receive too much traffic.
3. Hiking to Abrams Falls Via Abrams Creek Campground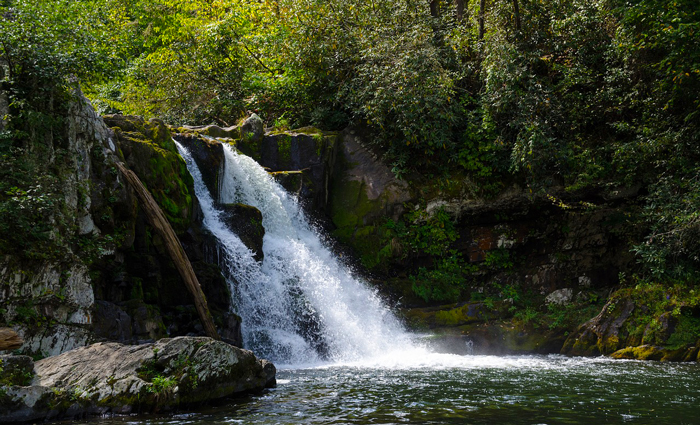 Abrams Falls is an impressive, high volume waterfall located in the Southwestern portion of the Great Smoky Mountains National Park. The most traveled path to this stunning sight begins in Cades Cove is the 5.2 round-trip Abrams Falls Trail.
Unfortunately, Cades Cove is one of the busiest areas of the national park and this trail receives a lot of foot traffic. However, there is an alternate route that you can take to see this powerful waterfall. Best of all, you can enjoy this lovely hike without running into crowds.
As an alternative, you can begin your hike in the Abrams Creek Campground and take the Cooper Road Trail and the Little Bottoms Trail to reach Abrams Falls. This hike is a 10.1-mile round trip hike, but you'll enjoy much more seclusion on your journey.
As an added perk, this hike is one of the more interesting trails in the park. On your way, you'll pass through a variety of ecosystems including an area with storm damage from a 2011 tornado that cleared out entire sections of forest.
Interestingly, there's a nearby mountain in this area is known as hurricane mountain. Some have speculated that locals in this area may have earned its name because of large wind storms, and perhaps even tornados, that sometimes occur in this region of the park. Since early settlers weren't familiar with the word "tornado," they may have named this mountain after a hurricane, their word for a large wind storm.
4. Gregory's Bald
Gregory's Bald is another lesser visited sight in the Cades Cove region of the national park. Like Spence Field, this destination is a high elevation mountain bald that boasts views of Cades Cove, nearby mountains, and a diversity of lovely plant life.
Even if you don't visit this place off the beaten path, you'll enjoy getting away from the crowds on the Gregory Bald Trail, a lesser used hiking trail that's an 11.3-mile round trip.
5. Mt. Sterling
At an elevation of 5,843 Ft, Mt Sterling is one of the highest peaks in the Smokies and one of the most remote areas of the national park.
The trailhead for Mt Sterling can be found in the Big Creek area of the National Park. The shortest route to the summit begins at Mt. Sterling Gap, but this difficult hike climbs over 2000 feet in less than 3 miles.
Along your way, you'll be treated to wildflowers, sections of old growth forest, and views of Cataloochee Valley. Though the summit of this mountain is surrounded by tall trees, you can climb up the 60 Ft. Mt Sterling Fire Tower for an excellent panoramic view of this pristine section of the national park.
6. Cataloochee Valley
Much like Cades Cove, Cataloochee Valley is a historic valley in the national park that used to be home to hundreds of people. However, this secluded region of the national park receives a small fraction of park visitors, so it's the perfect place to escape to.
Today, this region of the Smokies is home to a wealth of historic landmarks and it's also a great place for viewing wildlife. In addition to seeing bear, deer, and turkey, visitors to Cataloochee may spot elk, since this valley is home to one of the only wild elk herds in the Eastern US. You can enjoy a tour of Cataloochee by taking the Cataloochee Valley road, a winding, gravel road through the mountains.
7. White Oak Sinks
Located a short hike from the School House Gap Trail near the Townsend National Park entrance, the trail to White Oak Sinks isn't included on most park maps, but it is definitely one of the Smokies' hidden treasures.
This unique valley is a favorite destination for wildflower enthusiasts because the damp, rich soil of this region is the perfect place to view the Smokies' amazing diversity of plant life including Pink Lady Slipper Orchids, Golden Aster, Catesby's trillium, and more. Additionally, this region is home to several waterfalls and caves. In the warm summer months, you cool off by standing near the mouth of "Blowhole Cave," a large cavern that emits a constant refreshing breeze.
Please note: this area is a fragile ecosystem. In the past, the park service has closed this area to protect bat populations that reside in the caves near White Oak Sinks. If the sign says the trail is closed, please respect the park service's wishes in this matter. Additionally, please note that caving, also known as spelunking, is forbidden in the national park to protect bat populations and other wildlife.
8. Porter's Creek Trail in Greenbrier
You'll find this peaceful, 4 miles smoky mountain hike in the Greenbrier Region of the park that's only a short drive from Downtown Gatlinburg. His 4-mile round trip is definitely one of the more accessible hikes on this list and the trail is moderate in difficulty.
Not only is this hike short and it provides highlights like a historic, raised, Cantilever Barn, old growth forest, wildflowers, and the 60' foot fern branch falls, but it's also one of the more overlooked trails in the Smokies. As a result, you can enjoy these beautiful sights without running into the crowds.
All in all, Greenbrier is definitely one of the national park's best-kept secrets where you can reach other scenic destinations like Ramsey Cascades and the Grapeyard Ridge Trail.
9. Courthouse Rock & Quillams Cave
An old, unmaintained trail leads to courthouse rock, a 60 Ft. tall, freestanding rock that's a unique geologic formation in the Smokies. This formation is located only a short hike from Newfound Gap Road near the Carlos Campbell Overlook, but it is not visible from the road. There are other unique treasures in this area, including remnants of old homesteads and caves that were once used for covertly distilling moonshine to hide from "revenuers."
This off-trail location is better to visit in the winter when the underbrush has died down and snakes and insects are inactive.
Always use extreme caution when hiking off-trail in the Smokies. Officially, hiking off trail in most places in the park is legal, however, the park service does not recommend it. Please use hiking best practices like letting someone know where you will be hiking, providing them with an expected time of your return, and always carrying extra food & water. Even experienced hikers can find themselves in a dangerous situation when hiking off trail.
Ideally, it would be best to find a local guide to take you to this location in the park. The Hike The Smokies Facebook page is an excellent place to talk to locals who are knowledgeable about off-trail hiking in the Great Smoky Mountains National Park. Additionally, SmokyMountainGuides.com is another place where you can hire a local guide to safely lead you to off-trail locations in the national park.
Map Of Unique Destinations in the National Park
About This List
This guide includes places that aren't on the usual Smoky Mountain vacation itinerary. Specifically, this list of suggested places is for visitors who come to the Smokies year after year but would like to see lesser-known sights in the national park.
This list stands in contrast to some of the more famous places in the park like Clingmans Dome, Newfound Gap, Cades Cove, and the Roaring Fork Motor Trail. Some of these destinations are less accessible because they require miles of difficult hiking to reach. Others are just places that are further from the beaten path that you may have never seen before.
Final Thoughts
Looking for more places to explore in the Smokies? Check out these places in Gatlinburg to enjoy your vacation off the beaten path. Additionally, the national park service recommends places like Cosby & Greenbrier if you'd like to enjoy peace and quiet during your trip to the Smokies.
Written by Hayden Brown