There's just something special about taking the road less traveled. Though it sometimes feels risky, getting away from the main tourist destinations often brings great rewards.
For your Gatlinburg vacation, are you interested in discovering something new or having a vacation that's off the beaten path? Like beautiful waterfalls, a scenic place in the mountains or just a new attraction?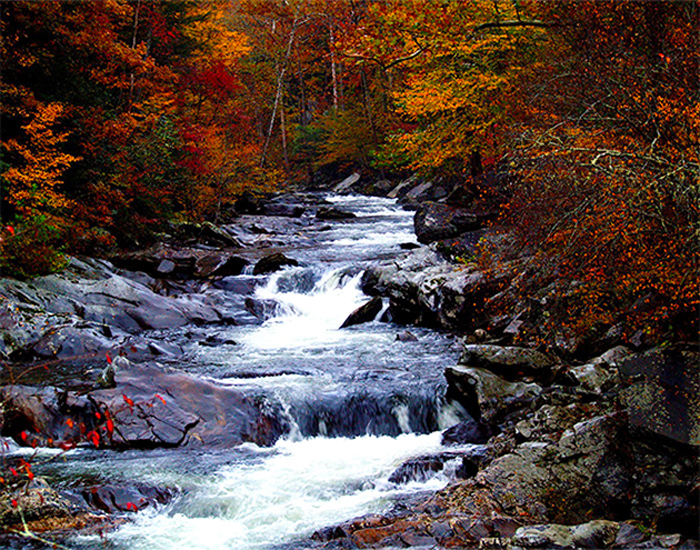 Whether you've been to the Smoky Mountains before or you just want to find non-touristy things in Gatlinburg, we've prepared a handy guide with special finds and tips for enjoying a vacation that's just right for you!
We've made a handy list of the best kept secrets in Gatlinburg with tips on attractions, hiking, and lodging to help you enjoy a vacation that's apart from the rest!
6 Unique Gatlinburg Attractions
In a high density tourist area like the Great Smoky Mountains, it can be difficult to find hidden treasures that can take your vacation to the next level.
Popular attractions like Dollywood, Ripley's Aquarium of the Smokies and the Titanic Museum are worth seeing at least once, these unconventional attractions can help you see a different side of the Smokies.
Gatlinburg Mountain Coasters – New mountain coaster attractions in Gatlinburg are definitely something unique to try on your vacation. Born in the European Alps, these thrill rides use the natural mountain topography to take riders through Smoky Mountain forests.
The Galleries at Arrowmont School – Located just off of Gatlinburg's busy main strip, Arrowmont School of Arts and Crafts is a quiet place perfect for enjoying some culture on your vacation. As a national school of the arts, Arrowmont has served the Smoky Mountains for years as training ground for artists and craftspeople. You can see the handiwork and creativity of artists-in-residence at the public galleries of this historic art school.
The Mysterious Mansion – There are tons of great attractions to choose from on Gatlinburg's main parkway, but you'll have to take a stroll on River Rd to find this hidden attraction. The Mysterious Mansion is just that – a mysterious, haunted house with terrifying surprises inside.
Sweet Fanny Adams – This one-of-a-kind theater show in the heart of Gatlinburg is definitely one of the more unique things you can do in Gatlinburg. As a throw-back to old vaudeville-style comedy, this whimsical performance has audiences doubled over with laughter. Sweet Fanny Adams has run shows in Gatlinburg since 1977 and has since been recognized as a national and historic treasure by Tennessee's State Senate.
The Salt & Pepper Shaker Museum – While this concept-museum may seem a bit cheesy, there's truly nothing like this museum. Visitors are simply stunned by the size and variety of the collection. Who knew there were over 20,000 kinds of salt and pepper shakers?
Magic Shows at the Iris Theater – Illusions, mind-reading, and hypnosis may sound like the stuff of fiction, but it's hard to believe the tricks and quality showmanship you'll see at the Iris Theater in Gatlinburg's Space Needle. This intimate theater is perfect for these unique shows that are usually found in locales like Las Vegas or New York.
Hiking Away From the Crowds
Nearly everyone who visits the Great Smoky Mountains National Park finds themselves in what we call the "big 3": Newfound Gap, The Roaring Fork Motor Trail, and Cades Cove.
We think these popular destinations are must see sights in the Smokies. However, if you're looking for new places to explore in the Smokies or you want to find a place away from the crowds, you should check out our post on secluded places in the national park.
You can enjoy a more authentic, nature experience by finding quieter places in the national park. Greenbrier and Cosby are some especially beautiful and remote regions to explore in the Smoky Mountains.
Here is a short list of some hikes to try throughout the Smokies:
The Middle Prong Trail
The Walker Sisters Cabin
White Oak Sinks
Bullhead Trail
Ramsey Cascades
The Low Gap Trail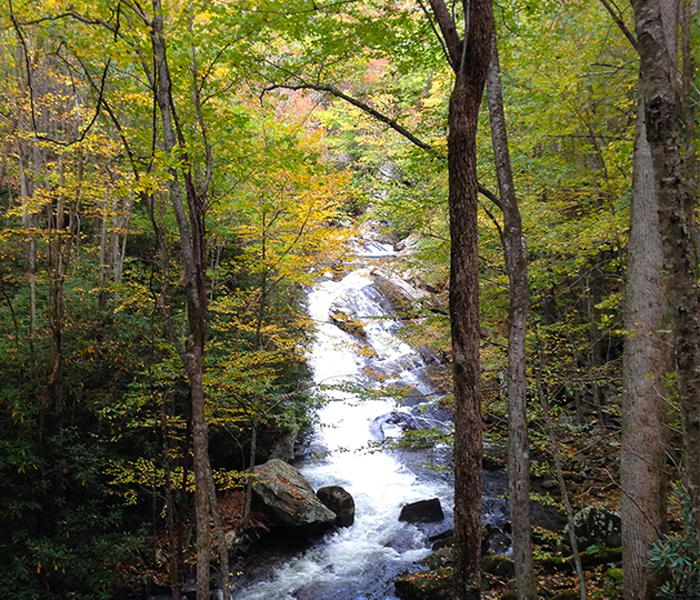 Note: The Greenbrier area can only be reached by taking an unpaved, gravel road with plenty of potholes. If your car has low ground clearance, you may want to stick to visiting the national park entrance near Cosby, TN that offers a paved entrance.
Getting Around Traffic
These vacation secrets are designed to help you get around traffic in the Smoky Mountains. We can all agree that going off the beaten path definitely has its rewards – especially when it means not getting caught in congested roadways.
Most vacationers enter and leave Gatlinburg on US-441 towards Pigeon Forge, TN. This route, commonly called "the parkway," can sometimes be locked in traffic – especially during parades, special events, or car shows.
To get to Pigeon Forge with less traffic, or to bypass Pigeon Forge entirely, try driving through the national park. The Little River Gorge Rd leads to Wears Valley, TN. From here, you can easily reach different parts of Pigeon Forge while avoiding Parkway traffic.
Some additional routes to consider:
River Road – This road runs parallel to the main drag in Gatlinburg and offers a quick way to get around traffic.
The Gatlinburg Bypass – a Scenic road in the mountains above Gatlinburg that provides an alternate route to the national park from US-441.
Gatlinburg's East Parkway – US-321 N provides a great alternate way to reach I-40 without driving through Pigeon Forge and Sevierville.
Bonus Tip: Riding the Trolley
Gatlinburg's trolley system is a fine way to get around downtown or reach other destinations in the Smoky Mountains like the national park or Pigeon Forge. As an added benefit, you won't have to pay any costly parking fees. Also, you'll help keep the Smoky Mountains beautiful by cutting down on vehicle traffic.
Finding Lodging Off the Beaten Path
For best kept secrets for finding great places to stay in Gatlinburg, you may want to consider booking a log cabin. While it's no secret that cabins offer a great value for your vacation, there are some tricks that can help take your trip to the next level.
Our secluded cabin rentals in Gatlinburg are a prime choice for vacationers who want to stay away from the crowds. Specifically, cabins on Highway 321 near Gatlinburg are a prime choice for guests who want to find private cabins close to town.
Another excellent tip is to pitch in on a large group cabin in Gatlinburg with several of your friends! Unlike booking several hotel rooms for a flat rate, a large group cabin becomes more affordable with every friend or family member that comes along.
As a reward for your thrifty, cost-saving decision, your cabin will also likely come with excellent amenities like game rooms, theater rooms, resort pool access, hot tubs, mountain views and more.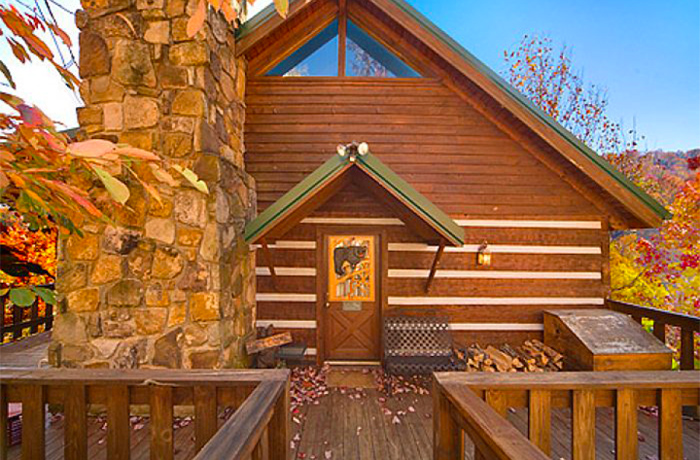 Final Thoughts on Gatlinburg's Best Kept Secrets
We'd love to hear about what your favorite places in Gatlinburg off the beaten path. Whether it's a hiking trail, shop, or restaurant, what unique places do you love to visit in the Great Smoky Mountains? Please share it in our comments section!
Written by Hayden Brown