With new attractions and developments coming to Gatlinburg, 2018 is shaping up to be an excellent year to visit the Smoky Mountains!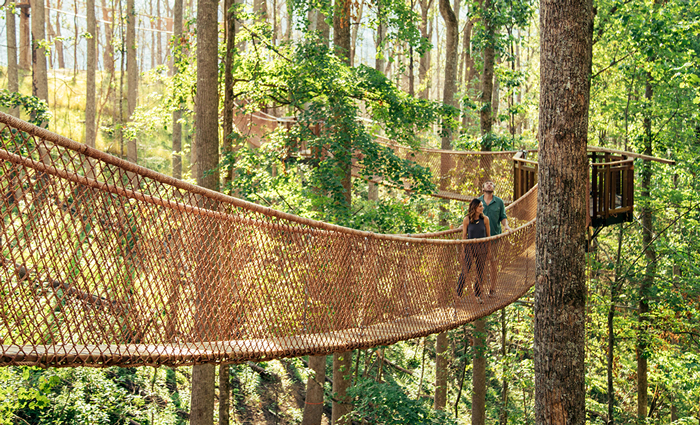 Of course, there were lots of new things to do and see in Gatlinburg in 2017, but this year is bound to be even better.
To help you start planning an excellent getaway to the Smokies, check out our guide with details on what's new in Gatlinburg for 2018!
1. Anakeesta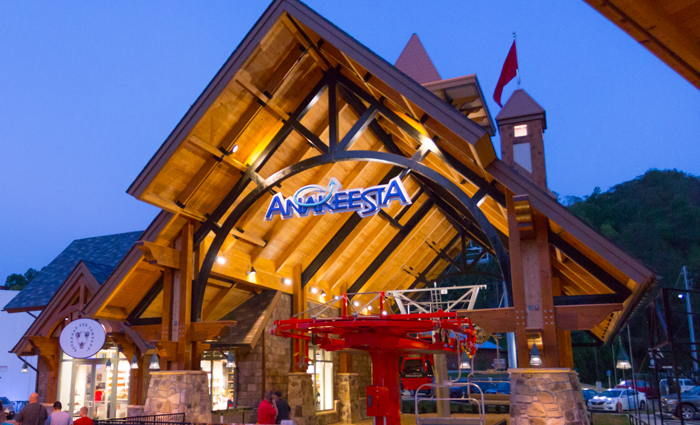 Anakeesta Gatlinburg is the newest major attraction in the Smokies that made big waves in 2017 when it first opened. Better yet, this mountaintop adventure park with fun outdoor activities and beautiful scenery is set to have even more attractions to enjoy in 2018.
By Spring 2018, Anakeesta plans to launch a single rail mountain coaster that will give riders the exhilarating feeling of flying down the mountainside. Additionally, there are plans to open a new Bar & Dining Pavilion.
In the future, there are even plans for an outdoor amphitheater to host live shows and concerts.
Of course, you can enjoy these new developments at Anakeesta along with their classic activities like:
The Chondola Ride
The Tree Canopy Walk
Dueling Zip Lines
Gem Mining
The Memorial Forest Walk
2. The Foothills Parkway Extension
For many years, visitors have been able to enjoy the scenic Foothills Parkway that connects Walland, TN to Lake Chilhowee. This scenic roadway follows a mountain ridge that skirts the edge of the Great Smoky Mountains National Park, so this parkway has always been an excellent spot to enjoy gorgeous mountain views.
Best of all, in late 2018, this road is going to get a big extension. Thanks to years of work, a critical section of this uncompleted parkway known as "The Missing Link" will soon be completed near Townsend, TN.
Once this section of road opens, visitors will be able to access the Parkway in nearby Wears Valley, TN and ride it continuously for over 30 miles to Lake Chilhowee.
Check out this video to see what you can expect on this new stretch of scenic roadway in the Great Smoky Mountains.
3. Crave Golf Club Pigeon Forge
Crave Golf Club is the newest mini-golf attraction with a sweet theme and plenty of unique experiences. Not only does this mini-golf attraction offer an indoor course and an outdoor rooftop course, but it also comes complete with its own milkshake bar and a candy store!
In addition to offering two 19-hole mini golf courses, Crave also comes complete with mini-bowling, a scaled down version regular bowling that offers a fun, fast-paced game for the whole family.
Crave is located on the Pigeon Forge Parkway a short drive from Gatlinburg, TN.
4. The Mountain Mile
Pigeon Forge is already a top-notch shopping destination, but with the addition of the Mountain Mile, it's about to get even better!
This new development in Pigeon Forge promises to bring over 174 acres of retail, restaurant, and attraction space to the Smokies! In addition to offering over 17,000 ft. of retail space, The Mountain Mile will also feature a 189 ft drop tower. This thrill ride will offer a beautiful view of the Smoky Mountains and the Pigeon Forge Parkway, so it's well worth a visit in 2018!
5. Indoor Tubing in Pigeon Forge
Every winter, vacationers can enjoy snow tubing at Ober Gatlinburg's long outdoor tubing runs. Now, thanks to Pigeon Forge Snow, visitors to the Smokies can enjoy snow tubing any time of year!
This new indoor snow tubing attraction in Pigeon Forge uses real snow to create an awesome tubing experience and with an indoor temperature of 60F°, you won't even need to bring your jacket!
6. Ice Bumper Cars At Ober
In 2018, Ober Ski Mountain in Gatlinburg debuted its new Ice Bumper Car attraction! This exciting new addition to Ober Gatlinburg is just like classic bumper cars, but with the fun of slipping and sliding across the ice.
You'll find this exciting new attraction on the ice skating rink in the main lodge at Ober Gatlinburg.
Final Thoughts
New activities and attractions come to Gatlinburg and the Smoky Mountains every year, so stay tuned for more updates on the newest things to do in the Smokies!
With all of these new things to do in Gatlinburg, what's the attraction that you're most excited for? We'd love to hear your thoughts in our comments section!
Written by Hayden Brown