10 Reasons Why the Smokies are the Perfect Christmas Wonderland
Christmas. Just the mention of it conjures images of presents, Santa Claus, Christmas trees, and of course, snow! Unfortunately, it can be hard to enjoy a true White Christmas as part of your holiday celebration. Where can we find the perfect place to celebrate the holidays and have a chance of seeing a snowy Christmas?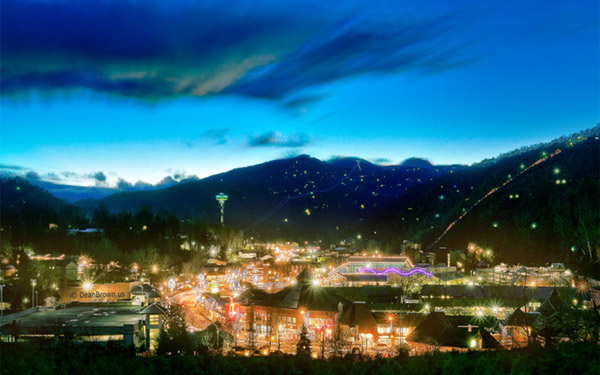 Though there are lots of places to find the "white stuff" and holiday magic, not just any destination will do. For example, the North Pole has plenty of snow and ice. However, even the most avid lover of winter must admit that the Arctic is less than pleasant in December. Plus, it's not likely that you'd find so much as a decorated Christmas tree in this barren tundra. To say the least, the good folks of the North Pole seem to be lacking some holiday spirit. Between the omnipresent risk of frostbite and/or polar bear mauling, few of us will be traveling to the great wild north to experience the magic of Christmas.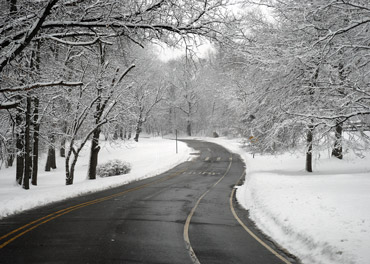 On the other hand, you could venture to the sunny Caribbean to celebrate the holiday season. With sun, palm trees, fruity tropical drinks, and good cheer, what's not to love? Well, even for those of us who live in fear of cold weather, there's something unusual about enjoying a fruity beverage complete with a tiny umbrella to celebrate the most wonderful time of the year. At the end of the day, many of us want a Christmas straight from a Norman Rockwell painting, complete with a roaring fire place, gifts under the tree, and of course, snow.
Where then can we turn to find the perfect Christmas wonderland with a chance of a white Christmas? The Smoky Mountains, of course! There are more than enough things to do for Christmas the Smoky Mountains and the mountains are gorgeous after a snowfall. Here are the top 10 reasons to come see Christmas in the Smokies.
#1. Snow in the Smoky Mountains
A snowy winter wonderland is part of any perfect Christmas. Luckily, the Smoky Mountains are often cold enough in December for a chance of snow!
And when it comes to snow, the more of the fluffy stuff the better right? Not necessarily. Like many things, moderation is a good thing.
Some parts of the nation have received 90 inches (over 7 feet of snow) in one storm – yikes. In November, Buffalo New York received this record breaking wallop of lake effect snow in only a few days. Even snow lovers must admit there is in fact "too much of a good thing."
Smoky Mountains receive more snow than the lower elevations the Tennessee Valley. New Found Gap, high on the ridge receives 69 inches of snow annually(more than 5 feet!) That may seem like a ton of powder, but the Smokies are special in where the snow falls (more on this later.)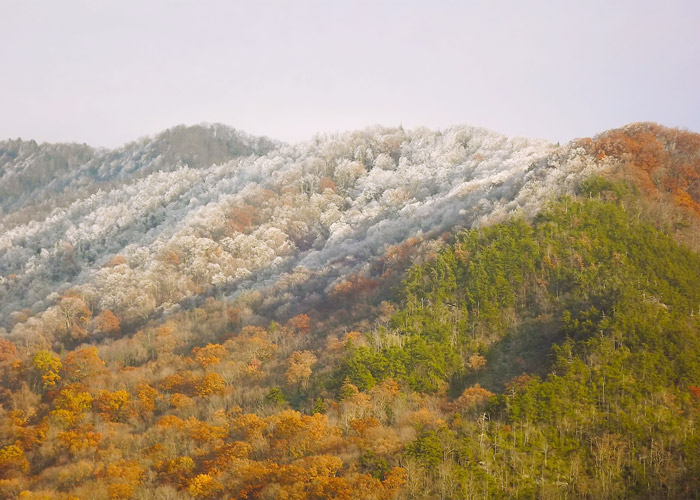 For much of the year, from October to May, light snow storms occur in the high mountains of the Smokies. Snow accumulations here range from dustings to totals of a foot or more. The largest ever accumulation in the Smoky Mountains was the Blizzard of 93' that dumped 5 feet of snow on the mountain road. On the mountain peaks, there were snow drifts nearly 10 feet in height. With the exception of freak weather events, the Smoky Mountains of Tennessee experience moderate and regular snowfalls of 2 to 6 inches. Overall, the Smoky Mountains have a far greater likelihood of seeing a white Christmas than most of the Southeastern U.S.
#2. Christmas Snow in All the Right Places
When it snows in the Smokies, most of the accumulation is high in the mountains. There may be a light snow flurry in downtown Gatlinburg, but most of the snow will be in the higher elevations. The result? You can enjoy the beauty of a Christmas snow fall with very few of the inconveniences. With less snow, fewer roads are dangerous for holiday travelers.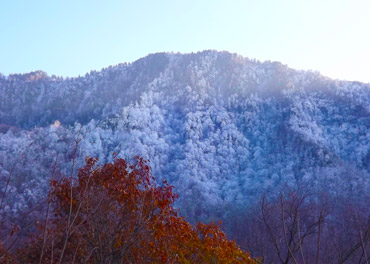 Gatlinburg, at the foot of the highest peaks of the Smokies, has averaged around 10 inches of snow annually in recent years. While it is possible that a big winter storm could hit Gatlinburg, it is more likely that there would be moderate snow accumulations in the mountains in the weeks around Christmas.
For those who like to appreciate the snow from a distance, the Smokies are perfect. Simply sit back on your cabin porch and gaze off into the white mountains in the distance under a blanket of white. A webcam on Look Rock mountain allows you to see if there is snow in the mountains during the holidays.
Insider Tip: If you'd like to play in the snow during the holidays, simply take a drive into the Great Smoky Mountains National Park. From Gatlinburg, the New Found Gap Road climbs up 4,000 feet in elevation to where you'll find winter snow and ice for Christmas magic.
#3. Icy Waterfalls in the National Park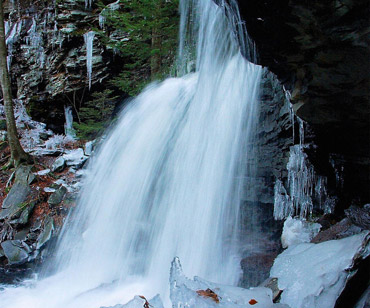 Icy waterfalls are another reason the Smoky Mountains are an ideal winter wonderland to explore during the holidays. There are hundreds of waterfalls in the national park and all of them are especially gorgeous around Christmas and the rest of winter. When temperatures dip below freezing, the cascading water is transformed into beautiful formations of ice and frost. You haven't lived until you've seen an icicle as big as your head.
#4.The Christmas Place: Magical Holiday Store
Located in Pigeon Forge, the Christmas place is the largest Christmas store in the South. It's always the most wonderful time of the year at this Christmas shop, but they really ramp up the holiday cheer during the festive winter months. This store is so festive that the Christmas Place single handedly earned Pigeon Forge a top spot in Time Magazines' listing most Christmassy Towns in America.
#5. Fun Christmas Themed Attractions and Shows
Local dinner Shows, theater Shows, and attractions offer special Christmas performances for the Yuletide season. There are a dizzying number of attractions, like Dollywood and the Titanic Museum that are fully decorated in festive regalia. Dollywood's Smoky Mountain Christmas has unique Christmas shows A short list of theaters and dinner shows that offer Christmas performances include:
The Hatfield and McCoy Dinner Show
Dixie Stampede
Sweet Fanny Adams Theater
Biblical Times Theater
Country Tonite Theater
And More!
These stellar Christmas performances offer top-notch comedy routines to classic Christmas stories and musicals. Chances are, you'll find a Christmas show in the Smokies that will warm your heart during this lovely season.
#6. Christmas Lights Everywhere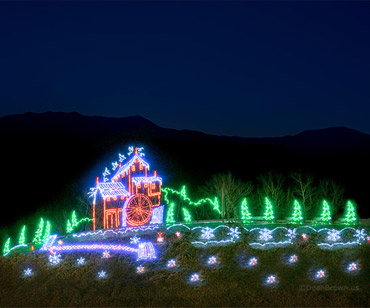 Ever since you saw your first Christmas lights on a Christmas tree, you've been fascinated with their warm glow. Everyone seems to have a soft-spot for Christmas lights, and lights are a huge part of celebrating the holidays in the Smokies. Every winter season, Pigeon Forge and Gatlinburg are adorned with millions of Christmas lights. These huge displays attract thousands of visitors every year and give the Smoky Mountains the look of a true winter wonderland.
Insider Tip: Maps for the self-guided Driving Tour of Lights are available at Pigeon Forge Wlecome Centers and the Trolley Office near Patriot Park. This tour takes you past all the fantastic lights displays in Downtown Pigeon Forge!
#7. Watching the Snow From a Comfy Log Cabin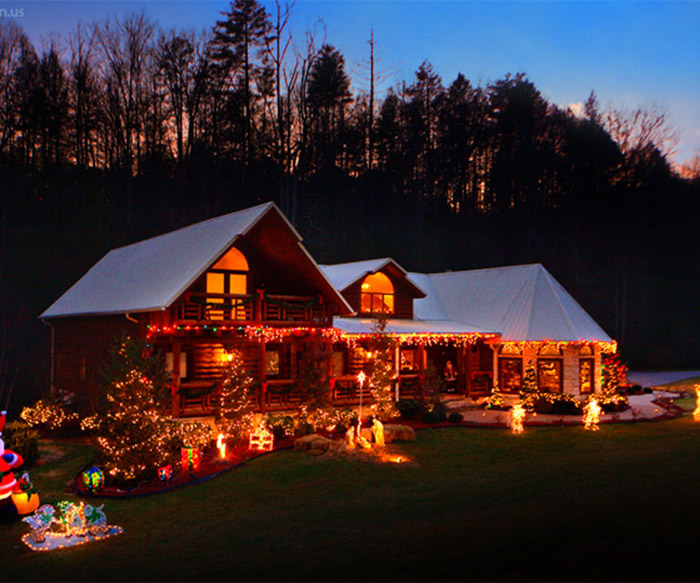 Who doesn't want to relax by the fireside in a cabin in the snow? The Smokies are home to hundreds of rental cabins that allow vacationers secluded retreats in the mountains. With beautiful snowy scenery and cozy cabin amenities, you'll love a stay in a Gatlinburg cabin rental this December.
#8. Ober Ski Mountain and Winter Sports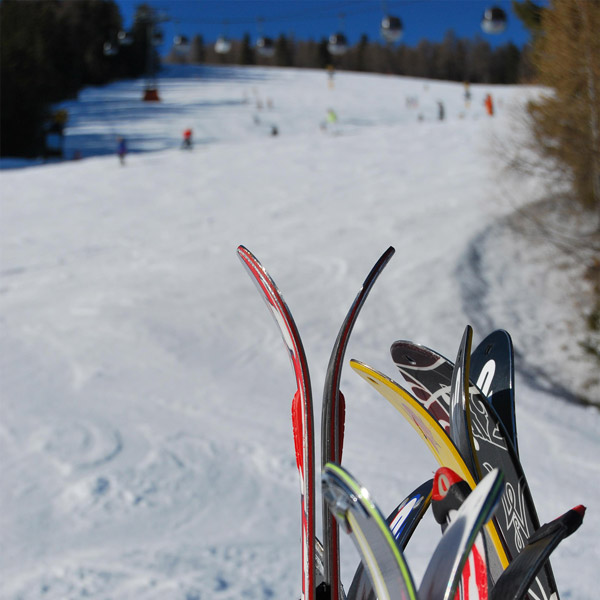 Why not go skiing on Christmas? Ober Ski Mountain in Gatlinburg offers 9 ski slops and a terrain park for freestyle ski sports. Skiers and snowboarders can enjoy man-made snow here even when there is not enough natural snowfall to cover the slopes. Recently, Ober received a special grant to improve its snow making capabilities with new technology and equipment.
Ober Ski Mountain also offers other Christmas activities like indoor ice skating rink and snow tubing as well!
#9. Awesome Christmas Parades
Pigeon Forge, Gatlinburg, and Sevierville all offer fantastic Christmas parades. Chances are, you'll be in town for at least on of these festive gatherings.
Christmas parades in the Smokies are highly popular. In 2016, the Gatlinburg Festival of Lights Christmas parade attracted tens of thousands of spectators. With floats, marching bands, live music, and thousands of red noses in honor of Rudolph the Reindeer, what's not to love?
#10. Snowy Hikes in the National Park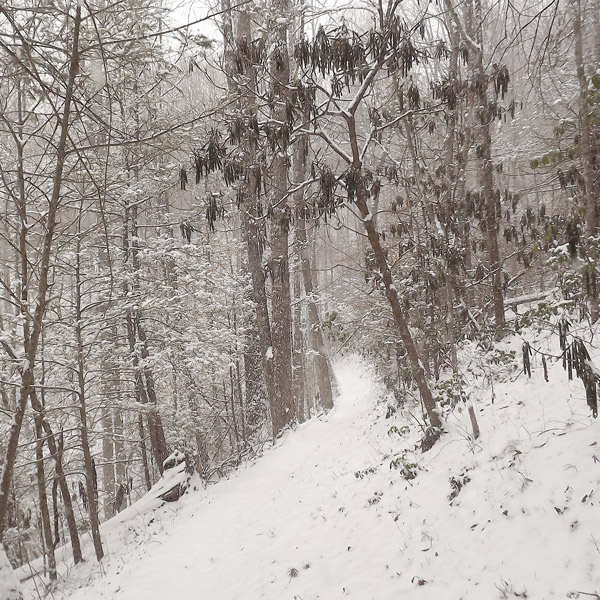 Walking in a winter wonderland. It's as fun as it sounds in beloved Christmas songs. Why not explore Smoky Mountain hiking trails during the holiday season? These trails are beautiful any time of year, but they are transformed into something magical in the snow.
If you do choose to go on a holiday hike, be sure to take the necessary precautions for winter hiking! Wear clothes that will keep you warm and dry. Trekking poles or crampons are also a great idea for rocky icy trails at high elevations. Some other gear to bring on your trip:
High Calorie Snacks – Hikers burn more calories in cold weather. Snacking will help keep you warm when it's frosty outside!
Maps – Information is key. Knowing where you are on the trail helps with planning.
Fire Starting Gear – In case of emergency, the ability to start a fire is a serious asset.
Cell Phone – Cell Coverage is unreliable in the park, but often you can find some service on a mountain ridge.
Hiking in the Smokies during the winter is a beautiful sight to behold, but be sure to tread carefully and bundle up!
Christmas in the Smoky Mountains: A Winter Wonderland
The Smokies have everything for you to experience a true winter wonderland in the Southeastern US. With snow, holiday festivals, and winter activities, there are more than a few ways to explore the mountains this holiday season!
Written by Hayden Brown