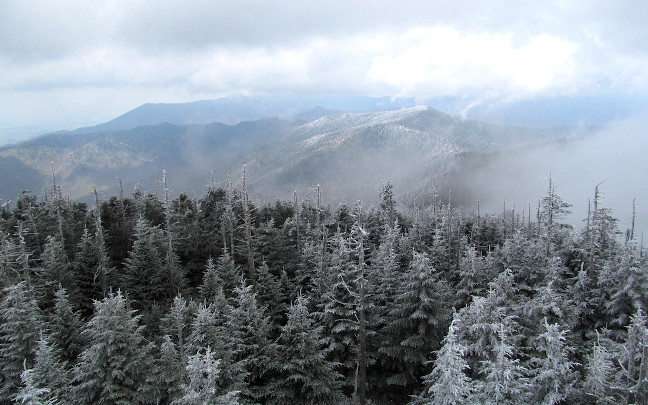 A Family Trip to Anakeesta's Enchanted Winter Celebration
This holiday season, take a trip to Gatlinburg to experience a family friendly Christmas at Anakeesta's Enchanted Winter celebration. Every year from November 19th to February 17th, this theme park surrounded by the Smoky Mountains transforms into the winter wonderland of your dreams.
During your visit, enter an enchanting world of glittering lights, filled with the tantalizing smell of holiday foods and hot drinks, and set against the backdrop of Mt. LeConte.
Spend an afternoon browsing the shops for Christmas or New Year's gifts, bring the kids for a visit with Santa, and when evening comes, take the Treetop Skywalk and let the spectacle of holiday lights sparkling below your feet amaze you!
Anakeesta promises a memorable Christmas experience in Gatlinburg for the whole family. What are you waiting for? Pack your bags and escape to the Smoky Mountains this holiday season!
Holiday Things to Do at Anakeesta
Anakeesta is the perfect spot to get some Christmas shopping done. Head over to the Great Outdoors Trading Company, where you can browse a wide variety of goods, including jewelry, pottery, gear and apparel and more. Pick up a Milkhouse Candle for friends back at home; these unique candles boast a natural blend of pure beeswax and soy wax from American sources.
Enjoy an amazing meal with family during your visit! At Anakeesta Smokehouse, dig into a mouthwatering plate of brisket and pork or lightly smoked turkey with a side of Alabama hot slaw. Or head over to Clifftop Grill & Bar for a half-pound, char-grilled burger with their popular bucket-o-chips. Make sure to save room for a delicious Canadian pastry from BeaverTails or a scoop of creamy ice cream from Pearl's Pie in the Sky.
Gather friends and family around the stone firepit and soak in the breathtaking mountain view surrounding you. Here in the heart of Anakeesta, you'll be surrounded by glittering lights, festive decor, and the magical feeling of the holidays.
There's no better place than Anakeesta to view the mountain scenery after a snowfall. The Mount LeConte range provides a glittering backdrop for pictures, so make sure to snap a few to preserve these amazing memories!
Things To Do for Kids at Anakeesta this Winter
Give your kids a magical, holiday moment in the Forest of Firefly Lights. Head out onto the Treetop Skywalk, which sits 40 to 60 feet about the ground, and watch as thousands of glittering lights transform the forest into a festive wonderland.
If you're visiting Gatlinburg over December 20 and 21st, take your family out for a holiday excursion to meet Santa at Anakeesta. From 11 AM to 3 PM, Santa will park his sleigh and hand out treats and take photos with kids at Firefly Village. Don't miss out on this chance to make holiday memories to last a lifetime!
Shopping is a magical experience for the kids at Catching Fireflies, an enchanting, forest-themed boutique. This charming shop features a line of children's clothing, costumes, plush toys, and so much more! There's also garden and home goods, as well as women's apparel.
Planning Your Trip to Enchanted Winter at Anakeesta
Anakeesta is a popular destination during the holidays, so anticipate some lines and a bit of wait time during the busy season. To speed things up, we recommend purchasing your tickets ahead of time through the website.
Web Admission Prices for Anakeesta:
Adult, Ages 2 to 59: $21.99
Senior Admission, Ages 60 and Up: $19.99
Child, Ages 4-11: $17.90
Children Under 3: Free
Events are weather dependent, and hours vary for each shop, restaurant, and other locations within Anakeesta. To have the best visit possible this Christmas, please call Anakeesta at 859-215-9238 ahead of your trip with questions.
More Family Friendly Holiday Events in Gatlinburg and the Smoky Mountains
Other than Anakeesta, Gatlinburg boasts many more holiday events and delights to explore during your stay. Here are just a few of the festive things to do near Anakeesta:
Gatlinburg Trolley of Lights
From November 6th to January 31st, hop aboard the Gatlinburg Trolley of Lights for a scenic excursion through Downtown Gatlinburg. Enjoy the festive holiday lights shaped like deer, foxes, squirrels, snowmen, and more! Trolley times are 6:30, 7:30, and 8:30 PM nightly. Admission is just $5–so bring the kids and hop aboard this magical trolley ride.
Winter Tunes and Tales
Head to Downtown Gatlinburg any Friday or Saturday from November 30th to December 22nd for Winter Tunes and Tales. Experience classic holiday tunes with a Smoky Mountain, Bluegrass twist. Bring the kids along for an opportunity to meet beloved characters like Frosty the Snowman, Rudolph the Red Nose Reindeer, and Santa's Elves.
A Family Vacation to Remember in Gatlinburg this Christmas
You and your family will have a memorable time visiting Anakeesta and enjoying other holiday events in Gatlinburg. But it wouldn't be the perfect Christmas vacation without a cozy, mountain cabin to come home to the end of the day. Browse some of our charming cabin rentals in Gatlinburg to start planning your holiday trip to the Smoky Mountains.
Written by Clare Wiker