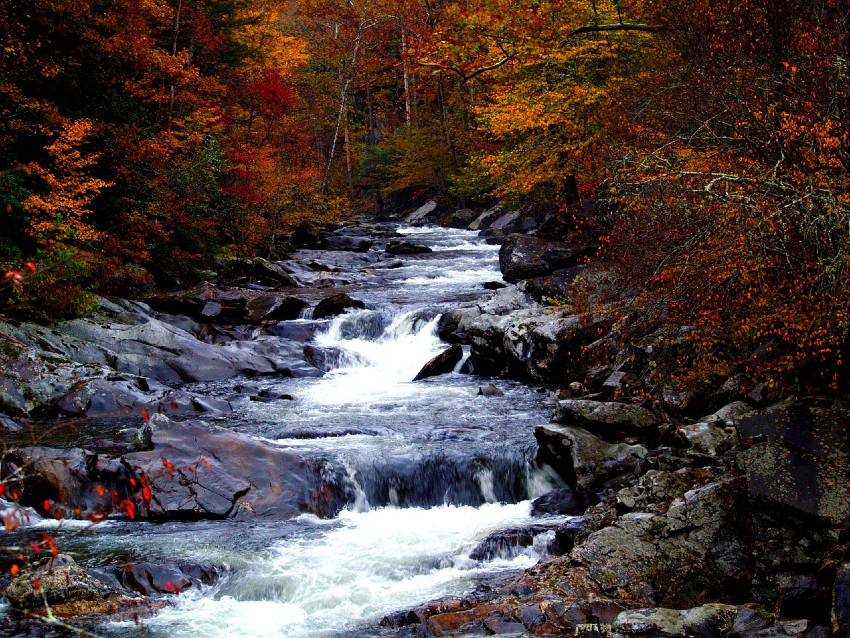 With the fall season coming to the Smoky Mountains, a whole new experience awaits its visitors. Within the Great Smoky Mountains sits many different species of trees that all change colors at different rates, which is why we're taking a look at the best time to see fall colors in the Smoky Mountains.
Just by visiting Gatlinburg in the fall, you'll experience the season's lovely colors, but do you know where to go to see the best views? More importantly, when in fall should you go to see fall colors? To answer these questions and more, we need to look at the rules that govern the Great Smoky Mountains fall colors.
Some Tips to Remember
Higher elevations will see color changes first before the changes make it to ground level in the Smokies. The first trees to look out for are the American Beech, Hobblebush, Pin Cherry, Yellow Birch, and Mountain Maple. As a rule, the trees begin to lose their leaves and color in late October to mid-November, so it's critical you plan accordingly.
In October, you can expect large crowds and traffic delays as everyone rushes to Gatlinburg and the surrounding area to see the leaves change. However, with this guide we've put together, you can plan as much as possible and ensure you don't miss one moment of true Autumn beauty.
Mid to Late September
If you're willing to drive up to higher elevations, you can get a look at the beginning of the fall season without needing to compete with everyone else for a spot. One of the best sites to hit during this time of year is Clingman's Dome.
Clingmans Dome
This spot boasts the highest point in the Great Smoky Mountains National Park, meaning it's your best chance to see the first round of fall colors this year. At 6,643 feet, you'll be surrounded by the fall colors while enjoying a spectacular panoramic view of the Smoky Mountains landscape. Keep in mind that such a high elevation makes it mandatory to layer up as it gets quite cold up there.
Beginning of October
At the very beginning of October, the fall colors will peak in the Smoky Mountains' highest elevation points. During this time, you'll enjoy a veritable sea of reds, yellows, and oranges as far as the eye can see. Some popular spots to experience this view are:
Newfound Gap Road
With an elevation of nearly a mile high, this will be one of the first spots after Clingmans Dome to show off its fall colors. As you travel the road, look for places to stop so you can get plenty of pictures. We recommend hitting this road earlier in the day to avoid peak traffic times.
Gatlinburg Space Needle
Located in downtown Gatlinburg, this is by far the tallest attraction and is excellent for helping visitors take in the beauty of the Smoky Mountain fall colors while keeping them close to everything there is to do in Gatlinburg. Once you've taken in the view, you're already where you need to be to keep having fun.
Early to Mid-October
After the higher elevations have had their head start, the rest of the area begins to peak. Starting in the second week of October, you'll see leaves that have completed their transition and reflecting the rays of the sun's light. This event is known as the season's glowing point, as it seems like the leaves come alive during this period. You can maximize your experience by checking out these vantage points:
Cades Cove
A popular destination in the Gatlinburg all year long, the Autumn season is no exception. While exploring Cades Cove, look for different vantage points to capture the true beauty of the fall colors that have spread throughout the area.
Roaring Fork Motor Nature Trail
While Cades Cove is famous for a good reason, it's also highly visited. If crowds aren't your thing, the Roaring Fork Motor Nature Trail provides an excellent alternative. Whether you walk the self-guided nature walk or drive the narrow road, you're bound to feel amazed by the beauty that surrounds you this time of year.
Blue Ridge Parkway
This highway stretch may not occur to most as a viable way to catch the changing colors, but with the sheer number of sugar maples dotting the way, this is one road trip you'll want to take. Make sure to hit the Graveyard Fields Loop or Max Patch for some truly incredible views. This option is best done as a day-long road trip to optimize your chances of seeing everything you want to see.
Plan Out Your Stay in the Smokies
Nothing ruins a trip to the Smokies to see the fall colors more than having to rush. Fortunately, with a stay in one of our Gatlinburg cabins, you can remain close to everything in the area as you plan out your day.
When not exploring the Smokies, you'll love staying in one of our cabin rentals that offer everything you could want from our game room cabins to our family-sized cabin rentals for a memorable family reunion.
There's a brief window to enjoy the best time to see fall colors in the Smoky Mountains this year. Book your Gatlinburg cabin rental today! Act now and save 15% on your nightly rate throughout your stay!