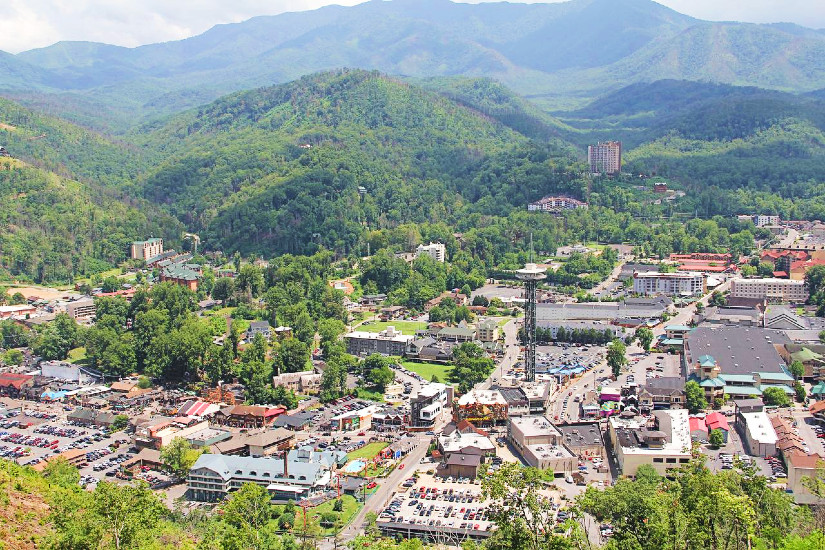 Not every Smokies getaway lasts for a long weekend or even a whole week. In fact, most vacations are only a couple of days long. While this wouldn't necessarily be bad, Gatlinburg offers so many things to do that it's hard to narrow down your choices for the best short vacation ideas for Gatlinburg. Fortunately, we have all the information you need to make the next 48 hours the most fun you've ever had.
Time to Play
It's no secret that Gatlinburg is a rare destination that offers something for everyone. Whether going solo, enjoying a romantic trip for two, or bringing all your friends, you won't lack options. For convenience, we've broken down the list of possibilities into major categories, letting you focus on how to enjoy your 48-hour trips in Gatlinburg.
Fresh Air and Sunshine Matter
It's practically impossible to visit the Smokies and not spend time outdoors, thanks to the many options available. First on the list should be Anakeesta, an outdoor adventure park packed with activities ranging from zip lines to mountain coasters. You'll be outside while getting your adrenaline pumping.
Are you a fan of incredible views that are unmatched? Don't miss your chance to visit the Gatlinburg SkyLift Park. You'll go 500 feet up to the top of Crockett Mountain to see the most incredible sights this side of the mountains. In addition, the SkyBridge is nearby, letting you walk on the longest pedestrian suspension bridge in North America.
Finally, the Great Smoky Mountains National Park is the last place on your list for outdoor fun. With hundreds of trails that let you discover waterfalls, forests, and more, you can't go wrong. Don't forget to stop by the Sugarlands Visitor Center to grab additional information to maximize your time in the park.
Indoor Fun Time
While you can play all day outside, you may not want to, or the weather may not be on your side. When those situations occur, the best solution is to double down on indoor fun time in Gatlinburg. Some options to consider to start with include but aren't limited to:
Ripley's Aquarium of the Smokies: Visiting this incredible attraction gives you and the others a chance to see thousands of aquatic animals. Even better, you'll get to interact with them too for an experience you'll never forget. This is one indoor favorite you don't want to miss.
Hollywood Star Cars Museum: Are you a car lover? You can't go wrong with visiting this car museum. With more than 40 authentic cars from top Hollywood shows and movies, you'll feel like you're in car heaven. Some notable examples of the vehicles you'll see include but aren't limited to the General Lee, cars from the Fast and Furious, and even some Batmobiles!
Fannie Farkle's: For a combination of food and fun, you'd be hard-pressed to find better solutions than this fun attraction. Try one of their Ogle Dogs while enjoying classic arcade games, ranging from Pac-man to driving games.
One of the best parts about Gatlinburg is the sheer wealth of options. Don't be afraid to go for a drive and explore. You might end up in the axe house or on a tour at one of the distilleries. The sky's the limit for indoor fun things to do in Gatlinburg.
Shopping Time For Everyone
Whether you want a souvenir to take home or just want to browse for something new altogether, you can't go wrong with making shopping one of your major activities. The first place to check out is the Village Shops. With over 20 unique shops set in an Old World atmosphere, you'll fall in love with the ambiance as much as the things you buy.
When you're in the mood for more traditional-style shopping, the Mountain Mall or Reagan Terrace mall offers the perfect solution. You can even combine your shopping with more fun by stopping in at Gatlin's Fun Center while at Reagan Terrace Mall for the perfect end to another fun-filled day in the Smokies.
Make Your Smokies Vacation Perfect
A Gatlinburg vacation just isn't an authentic experience without staying in a Gatlinburg cabin rental. By staying with us, you'll have access to a wide selection of amenities, from hot tubs to game rooms and more. In addition, we offer several cabin sizes so you can enjoy the vacation of your dreams without exception while trying our short vacation ideas for Gatlinburg.