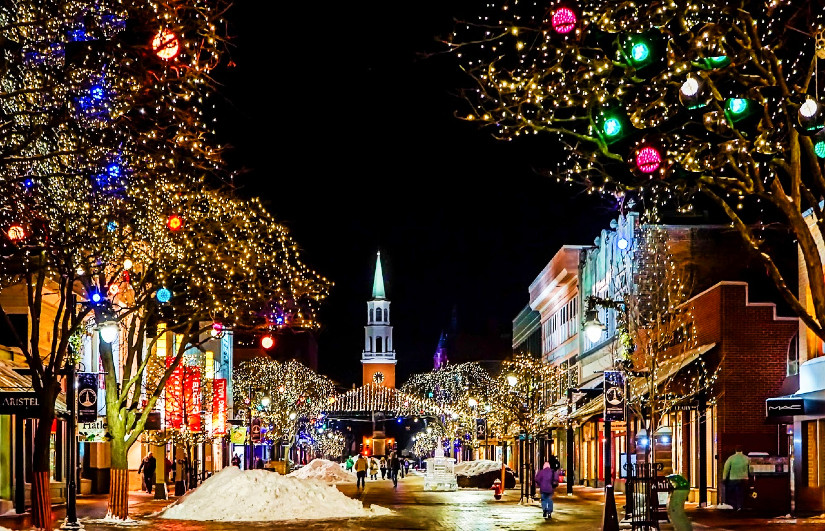 The holiday season is coming to Gatlinburg, and nothing beats timing your vacation with those who matter most with the holiday of your choice. With our help, you'll learn the best way to maximize the winter holidays in Gatlinburg.
Different Holidays For Different Family Fun
It's no secret there are different holidays throughout winter and that Gatlinburg celebrates all of them. Whether you're excited about Christmas in Gatlinburg or checking out the Gatlinburg New Year's celebration, there's a holiday event that perfectly matches your vacation plans with loved ones.
Thanksgiving
The winter holiday season officially begins with Thanksgiving. Fortunately, it's a magical time of year to have fun in Gatlinburg with the family, thanks to the breathtaking scenery and oncoming holiday splendor. Some things you might want to try around the Thanksgiving holiday include but aren't limited to:
Arts and Crafts Show
The annual arts and crafts show is one of the most relaxing things to enjoy with the family during the Thanksgiving holiday week. During this event, you can connect with dozens of independent artisans and get a head start on your shopping. Some items to expect at this event include but aren't limited to:
Paintings
Photography
Stuffed Animals
Pottery
Jewelry
Wood carvings
and More!
Great Smoky Mountains National Park
Before it gets too cold, you'll want to swing through the national park. Throughout November, you and your loved ones can enjoy beautiful fall colors and a cool breeze while hiking the dozens of trails. Sites like Clingmans Dome and Cades Cove will delight those in your group who love taking pictures. If you're lucky, you'll discover local wildlife before returning home.
Christmas
Nothing shines as brightly as the Christmas lights throughout Gatlinburg, backed by snow-topped mountains. However, there are so many things to enjoy during this holiday it takes time to narrow them down. Fortunately, we've picked out a few must-see highlights, such as:
See the Winterfest Lights
Without question, the first way to enjoy the Christmas holiday in Gatlinburg is to see the Winterfest lights. During Winterfest, you'll see millions of Christmas lights and dozens of light displays, creating a magical wonderland for you and your family to enjoy.
Christmas in the Smokies Bluegrass Festival
When not enjoying the lights, you can jam to the music. One way to add something extra to your music-loving is to swing by the Christmas in the Smokies Bluegrass Festival. During the festival, you'll enjoy listening to an excellent lineup of country and bluegrass bands and artists.
Snowing, Tubing, and Skating
During Christmastime, you'll want snow, snow, and more snow. Fortunately, there are plenty of ways to take advantage of playing at Ober Gatlinburg, regardless of the weather. At Ober Gatlinburg, you can enjoy skiing, snowboarding, snow tubing, and ice skating, ensuring hours of fun and entertainment for everyone.
Bonus: The Fun of Shopping
Whether it's Thanksgiving or Christmas, one thing you can count on while vacationing in Gatlinburg is shopping. Some places to spend time looking for the perfect gift include but aren't limited to:
The Village in Gatlinburg
Santa's Claus-et
and More!
New Year's
Ringing in the new year is a beautiful time when you can leave regrets behind and look ahead to new things to try, do, and experience. One way to start on the right foot is to drop in on the annual New Year's Eve Ball Drop & Fireworks Show at the base of the Space Needle at traffic light #8 late December 31.
The fireworks blast off at the stroke of midnight while the live music begins as early as 10pm. Due to road closures happening at 10:30pm on Airport Road and 11pm on a portion of the Parkway, we recommend you get to the Gatlinburg Space Needle early to secure your spot.
Holiday Magic with a Cabin
The best way to take your holiday vacation plans to the highest level is by securing an incredible Gatlinburg cabin rental to complete your mountain experience. Our cabins provide a wealth of amenities and bedroom counts to make your vacation nothing less than perfection. Some amenities to expect include:
Fireplace
Hot Tub
Game Room
Mountain View
and More!
Nothing beats a cabin experience more than a cabin with a mountain view. However, you'll want to grab our game room cabins and cabin rentals with a hot tub to keep the fun and relaxation levels high.
In addition, our cabins come in sizes as small as a 1 bedroom cabin to 5 bedroom and 7 bedroom cabins and larger, letting you go as big as you want while enjoying the winter holidays in Gatlinburg.