As the Gatlinburg summer season ramps up, so does the temperature. Average summer highs can reach into the high 80s. Chances are you could be feeling the heat during your Smoky Mountain vacation if you visit in June, July, or August. Even when you're in the mountains, a hot summer day can still be a bit too much to handle. So how can you stay cool on your vacation?
To help you make the most of your summer trip, we've got 6 awesome ways to beat the heat when you visit Gatlinburg, TN!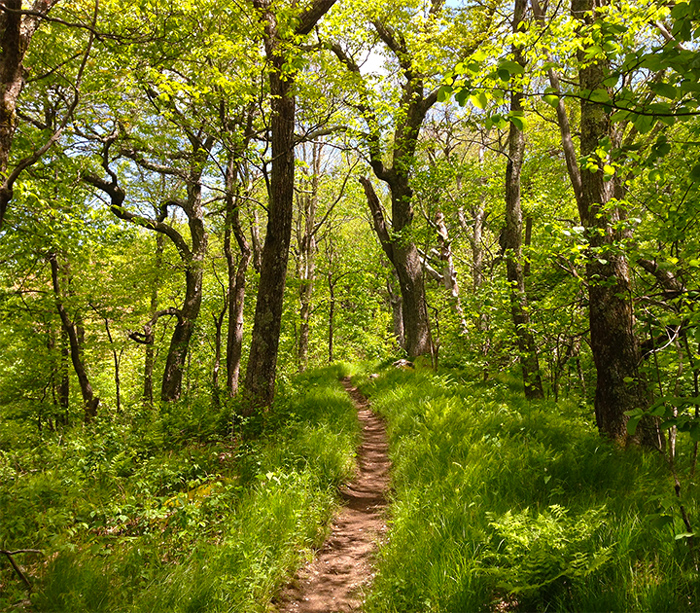 1. Find a Shady Spot in the National Park
With 800 sq. miles of protected forest, the Great Smoky Mountains National Park has plenty of shady places to relax in nature. Just getting out of the sun can make all the difference. To cool off even faster, find a Smoky Mountain stream. The brisk mountain water creates an air conditioning effect that makes forests pleasant even during a scorching day. Going on a short hike or walking a nature trail is a great way to stay cool and enjoy the beauty of nature.
2. Drive The Newfound Gap Road
From its starting elevation of 1,289', the Newfound Gap Road climbs over 3,753' to Newfound Gap. To locals and visitors, it's well known that high elevation ridges and peaks are cooler than the valley below. At the top, you'll be treated to spectacular views of the mountains and a crisp breeze. For even nicer temperatures, continue driving towards Clingmans Dome. At an elevation of 6644', this mountain peak can be as much as 10° F cooler than Gatlinburg in the summer.
3. Check out Local Swimming Holes
Finding a cool mountain swimming hole is a classic way to beat the heat and Gatlinburg has no shortage of great swimming spots to try! Whether you dip your toes in or jump right in, these swimming spots are fun, beautiful, and refreshing.
The "Wye" in Townsend – Located near the Townsend entrance to the national park, this swimming hole is at the confluence of two major rivers in the Smokies.
The River in Greenbrier – This peaceful stretch of river only a short drive from Gatlinburg has several deep swimming holes to enjoy.
The Chimney Tops Trailhead – A high elevation mountain pool can be found just below the first bridge crossing.
Metcalf Bottoms Picnic Area – This swimming area is located next to a great picnic spot so you can swim and enjoy a cookout in the great outdoors!
4. Cool Off By Riding a Mountain Coaster
If you're looking for an exciting way to stay cool in Gatlinburg this summer, its hard to beat the newest attraction in the area: Mountain Coasters. These thrilling rides, first developed in the Alps, are roller coasters built right into the mountainside. Feel the rush of the wind as you descend down a curvy track. Mountain coasters can be found at Ober Gatlinburg and or traffic light #2 in downtown.
5. Visit A Waterfall
Waterfalls aren't just a beautiful natural sight, they're practically nature's air conditioner! Check out these beautiful waterfalls in the national park to stay cool during your visit!
The Sinks – Located just off of Little River Gorge Rd, this popular waterfall doesn't require a hike to visit it or its popular swimming area.
Abrams Falls – One of the biggest waterfalls in the Smokies can be reached by a 2.5-mile trail off the Cades Cove loop road.
Ramsey Cascades – Ramsey Cascades in the Greenbrier region of the Smokies stands as one of the tallest falls in the park.
Middle Prong Trail – Rather than boasting one tall waterfall, the Middle Prong trail brings hikers past several beautiful mountain cascades in Tremont.
The Roaring Fork Motor Trail – This popular loop road in Gatlinburg features several waterfalls including rainbow falls, Grotto Falls, and the Place of 1000 Drips.

6. Stay at a Cabin With A Pool
For a fun-filled day of swimming, simply book a cabin rental with a swimming pool in Gatlinburg! Some of our cabins with swimming pool access are in resort areas, while others feature in-cabin indoor swimming pools for your family to enjoy in private. Splash in the water, work on your tan, or just read a good book while you enjoy a convenient resort pool only minutes from your mountain retreat!
No matter how you choose to cool off in Gatlinburg, these fun ways to beat the summer heat are just the ticket for enjoying an authentic Smoky Mountain experience.
Written by Hayden Brown