Shopping in Gatlinburg and the Smoky Mountains
Vacations in the Smoky Mountains are your opportunity to do what makes you happiest. For many vacationers, this means long hikes in the national park, riding thrilling coasters at Dollywood, or exploring fun attractions like Ripley's Aquarium. For some visitors, what they really want is a much needed afternoon of shopping. Bargain hunters and shopaholics are in luck – there is tons of quality shopping in Gatlinburg!
Want to make the most of your shopping excursion? Our Gatlinburg shopping guide can help you wade through the general tourist shops to find exactly what you are looking for. With everything from brand name outlet stores to unique Smoky Mountain crafts there is something for everyone. Whether you need the latest in technical outdoor gear, awesome gifts for Christmas shopping, or just a treat for yourself, there is a store in Gatlinburg to satisfy your shopping fix!
Outlet Shopping in Gatlinburg
In the Smoky Mountains, it's easy to find the best brand name clothes, gifts, and souvenirs during your stay. Downtown Gatlinburg has plenty of local and specialty shops that make for great window shopping. The main strip of Gatlinburg offers a huge variety of stores from a Paula Deen Cooking Wear Store to magic and novelty shops to a unique clock emporium! There are several groups of shops worth exploring as well:
The Mountain Mall

- A multi-storied mall with a bit of everything including shops like Paws and Claws Pet Fashion and Smoky Mountain Dulcimers.

The Village

– A charming old-world styled square with unique shops and galleries. Some favorite shops found here include Alewine Pottery, a Life is Good store, and The Sock Shop. After a day's worth of shopping, treat yourself with some European fare from the Pancake Pantry or the Hofbrauhaus Restaurant.

Baskins Square Mall

– Tucked in between two store blocks, this cozy assortment of galleries and shops features unique gifts and a native American crafts store.
After browsing around, you can find a treat at a nearby fudge shop or ice cream parlor to reward yourself for a day well spent.
For popular brands, it is worth taking a trip to nearby Pigeon Forge. Here, shoppers will find 5 Oaks Tanger Outlet that features a huge selection of outlet stores. Some of the most popular shopping options here are:
J Crew
Addidas
Banana Republic
Gap
Michael Kors
New Balance
Eddie Bauer
Polo Ralph Lauren
And More!
A new shopping establishment in the Smokies is The Island in Pigeon Forge. This gorgeous shopping area features some unique shops like Timber Valley Rustic Furniture and the Key West Hat Company. With great restaurants and amusements nearby, a trip to the Island is bound to be fun for the whole family!
Crafts and Unique Gift Shopping in Gatlinburg
For excellent shopping off the beaten path, it is well worth your time to checkout the craft's community in the Glades. This historic area is filled with galleries and shops featuring the work of local craftsmen. In many cases, these shops feature the work of artists and craftspeople that have learned a trade passed down from parents and grandparents. For unique gifts, a shopper at the Glades can find: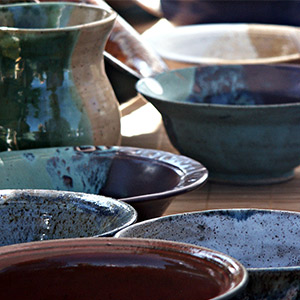 Leatherwork
Pottery
Wood carving
Handmade Jewelry
Landscape Paintings
Woven Baskets
Candles
Appalachian Brooms
Natural Soap
Old Fashioned Furniture
Quilts
This historic community is a great place to spend an afternoon. The artists and craftspeople here are truly passionate about their work and love explaining how their crafts are made. A stop at the Glades arts and crafts loop is not only a great way to find unique gifts of exceptional quality, you'll also meet a lot of nice, interesting locals who have spent decades honing their craft.
Another great way to find unique gifts is to explore Smoky Mountain antique shops. With so many affordable treasures waiting to be discovered, you never know what you may find in these antique stores. Even better, you can find one of these fine establishments on many back roads in the mountains near Wears Valley and Sevierville, TN.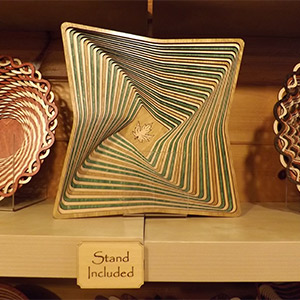 The gallery at Arrowmont is another place to find beautiful art in the Smokies. The exhibits here feature work from nationally renowned artists who teach workshops and crafts at Arrowmont School. While the price tag on the work at these galleries is a bit much for the casual shopper, the galleries here worth a stop just to appreciate beautiful pottery, paintings, and woodwork from skilled hands.
Outdoor Gear Shopping in Gatlinburg
For excursions in the national park, it helps to have the latest in technical gear and apparel. Whether you are looking for a new pair of boots, a warm jacket, or camping supplies, there are several outdoor retailers in the Gatlinburg area that can make your adventures in the mountains fun and comfortable.

NOC Outdoor Outpost – This Nantahala Outdoor Center in downtown Gatlinburg offers a huge variety of outdoor gear. With maps, survival supplies, and local knowledge, this outdoors store in Gatlinburg has the knowhow to help you have a great trip!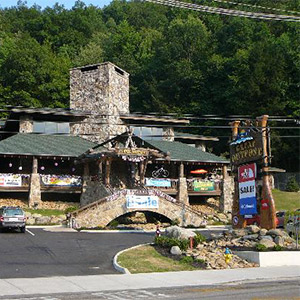 Bass Pro Shop – Located in Sevierville, an average trip to Bass Pro Shop involves hours of marveling at the huge assortment of outdoor gear, clothes, and accessories. If you are searching for the perfect gift for your outdoorsman, this is the place to look.

Smoky Mountain Angler – Specializing in Fly Fishing gear and apparel, this store is the first stop for anyone looking to experience trout fishing in Gatlinburg and the national park. At this Smoky Mountain fishing mecca, you can find everything you need for great days on the water.

Smoky Mountain Knife Works – Located near Sevierville, this famous knife emporium is bound to impress any visitor. Whether you are looking for quality utility knives or unique weapons, this is a must see in the Smoky Mountains. In addition to a huge assortment of cutlery, shoppers at the Knife Works can browse a museum that features knives, swords, and axes through the ages. With military, tactical, and survival knives, this is another place to find a unique quality gift for the hunter or camper in your family.


Special Shopping Occasions in Gatlinburg
If you are visiting Gatlinburg during special seasons, there are special events and sales to look out for. Of course the major sales holidays like the tax free weekend and Black Friday are shopping events to look for in the Smokies. One of the major events in the Smoky Mountains calendar is the biannual Gatlinburg Craftsman's Fair. This event, sponsored by the artists of the Glades Crafts Community, brings famous artists and craftsmen from across the nation to the Gatlinburg convention center. Held in the fall and spring of every year, this event is one of the most acclaimed craft shows in the country and is a great opportunity to find quality gifts and unique goods.
In the months before Christmas, there are shops and events that are perfect for finding special gifts and decorations to celebrate the Christmas season. The Christmas Place, in Pigeon Forge is a festive shop to visit anytime of year, but the holiday season at this festive store features visits from Santa and holiday decorations galore. A trip to the largest Christmas store in the South is bound to inspire some seasonal cheer and give you plenty of gift ideas!
Final Thoughts on Shopping in Gatlinburg
With everything from unique boutiques to brand name outlets, Gatlinburg and the Smoky Mountains have something for everyone. Use our shopping guide to point you to the best shops in Gatlinburg so that you can find the perfect outfit, accessory, décor, or gift during your stay in the mountains of Tennessee. Make the most of your vacation and shop till you drop in the Smokies!