Fishing in Gatlinburg and the Smoky Mountains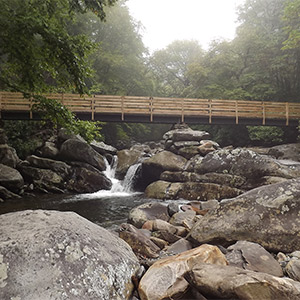 Looking to do some fishing in the Smoky Mountains of Tennessee? There are over 2,000 miles of streams in the Smokies and many of them permit fishing. Indeed, the Smokies are a rare treat for anglers. From high elevation streams to rivers to bass fishing on Douglas Lake, there is a whole host of fishing experiences for anglers of any age and ability. Use our fishing guide to help plan your fishing trip in Gatlinburg and the Smoky Mountains!
Starting Your Fishing Adventure
Before setting off on your trip, be sure to obtain a Tennessee or North Carolina fishing license. Special permits exist for fishing within the Gatlinburg city limits. Good places to purchase fishing permits in the Smokies are:

Smoky Mountain Angler
466 Brookside Village Way, Gatlinburg, TN
865-436-8746

NOC Outdoors Outpost
1138 Parkway, Gatlinburg, TN
865-277-8209

Gatlinburg Welcome Center
1011 Banner Rd, Gatlinburg, TN
865-436-0519

The Smoky Mountain Angler is an excellent fly fishing store where you can find gear and local expertise before setting out on your trip! Be sure to ask about current national park regulations on fishing. For example, there are size limits for catch and release within the park. Also, anglers within the park are forbidden from using treble hooks and may not use bait. For this reason, fly fishing is the preferred method in the Smokies.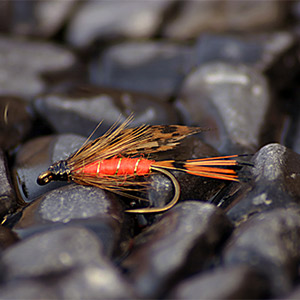 Fishing Streams in the National Park
Thanks to the headwaters in the high elevations, the Smoky Mountains are one of the few places in the Southeast where you can experience cold water wild trout fishing. Local fisherman generally can find Rainbow and Brown Trout that were introduced to the park some years ago. At especially high elevation streams, it is possible to find native Brook Trout. Because many of these streams are small and steep, fly fishing is the most effective way to catch trout that live here. Many of the best fishing spots require a good deal of bushwhacking and local knowledge to find. One popular local spot is LeConte Creek in the national park. This high elevation stream is perfect for finding brook trout and can be accessed from the Rainbow Falls Trail.
One quick note on fish from these streams: they are quite small. Generally a good sized brook trout will only be 4 - 6 inches. That being said, they are gorgeous and well worth the extra work to reach them. Many of the best streams require tough backcountry treks to reach and successful fly fishing means stealthy approaches.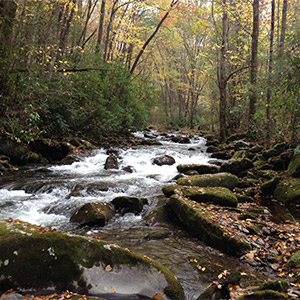 Popular Rivers in the Smoky Mountains
There are several larger rivers in the Smoky Mountains that are popular for fly fishing and spin fishing. Streams like these, especially at lower elevations, are close to roads and easier to access. However, this also means these streams are under more fishing pressure. It always pays to find a spot further away from the road. The rainbow trout and brown trout found here could be much larger, as much as 10 inches in length. In the summer months, the sections the larger sections of river can be a bit warm for trout. An angler's best bet is to go up to elevations above 1,500 ft. to find the cooler water that trout prefer.
Some popular rivers for trout fishing in the Smokies include:
The West Prong of the Little Pigeon River

- Between Gatlinburg and Sugarlands Visitor Center

The Roaring Fork

- Gatlinburg Roaring Fork Motor Trail

The Middle Prong of the Little Pigeon River

- Tremont Rd.

Abrams Creek

- Abrams Creek Campground
For the portion of the West Prong of the Little Pigeon River that is within the city limits, this portion of the stream is stocked with rainbow trout. This requires a special city permit and the fishing here is catch and release during certain times of the year. Within the city limits, there are several streams that are reserved for children to fish. These include:
Herbert Holt Park in Gatlinburg
Dudley Creek
LeConte Creek Within the City Limits
Fishing Lakes in the Smokies
Douglas lake is famous for its Crapie and Smallmouth bass. Here, bait is permitted and spin fishing is preferred. This popular fishing destination hosts an annual Bassmaster Classic. Visitors will also find fishing guide services like Smokies Angling. This service can provide boats and gear for guided fishing trips in the Smoky Mountains area.
Other Thoughts on Fishing in Gatlinburg, TN
The Smoky Mountains are certainly a fisherman's paradise. Novices and experienced fisherman can all find something to enjoy in the streams, rivers, and lakes of the Smokies. Even better, there is an annual Smoky Mountain Trout Tournament that is held in April. Check out our event calendar for more updated information on this event. To attend this event or just to enjoy the tranquil experience of fly fishing, look into renting a cabin in the Smokies so that you can enjoy a multi-day fishing trip. So grab your flies, rod, and a camera (to show off your great catch) and come to the Smokies for excellent trout fishing!