If you plan on visiting the aquarium in Gatlinburg, or just want to stay close to this part of downtown, this handy guide will help you find Gatlinburg cabins close to Ripley's Aquarium of the Smokies!
With fun, interactive exhibits and wondrous sea life like sharks, penguins, and sea turtles – Ripley's Aquarium of the Smokies is a must see if you're in Gatlinburg. From incredible attractions like the "Swarm" exhibit to the "Shark Tunnel," this Gatlinburg attraction isn't one to miss.
It goes without saying that Ripley's high on the list for the Smoky Mountain top attractions, but it's also located in a beautiful part of Downtown Gatlinburg. It's no wonder that so many vacationers want to stay in cabins this part of town.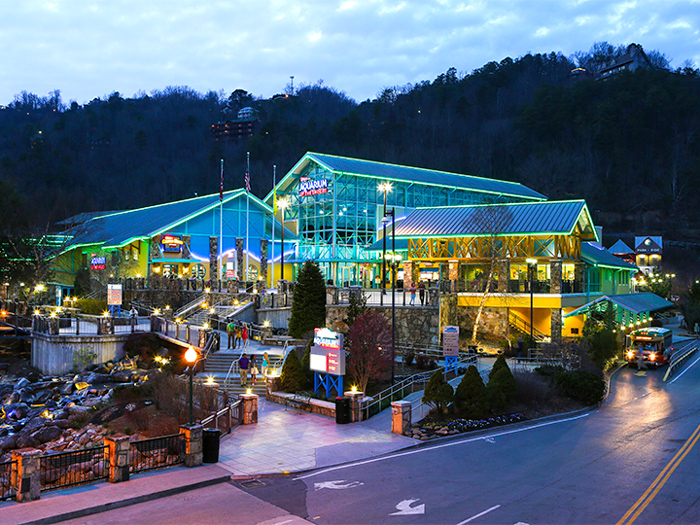 Where To Find Cabins Close to Gatlinburg's Aquarium
Since Ripley's Aquarium is located on the east side of downtown, any cabins on the East Parkway are an excellent way to stay close to this popular attraction. On the other hand, any cabins that provide quick access to the "Spur Road" between Gatlinburg and Pigeon Forge are also a good option since the Aquarium is close to the Spur.
These cabins place vacationers only minutes from this top-rated attraction, but also allow guests to experience the forests, mountains, and streams of Gatlinburg. Enjoy your own personal slice of the Smokies, but stay close to everything when you stay in one of these cabin resorts!
Sky Harbor
You'll find the Sky Harbor resort area only a few miles down on the Spur Road that connects Gatlinburg to Pigeon Forge, TN. Not only does this cabin community place guests close to the aquarium in Gatlinburg, but also these cabins are ideal for reaching other top destinations in the Smokies like Dollywood and other attractions on the main parkway.
Better yet, these rentals provide vacationers a peaceful spot in nature that provides guests with privacy and seclusion.
Mountain Shadows
Located just off of the East Parkway only minutes from Downtown Gatlinburg, Mountain Shadows Resort features premium cabin getaways to give families and groups an experience they won't soon forget. Guests staying here will enjoy quick access to the Aquarium of the Smokies and great amenities like resort pool access, hiking trails, hot tubs, fireplaces, and jetted tubs.
This Gatlinburg resort area is only 5 miles away from the heart of Downtown Gatlinburg, so Mountain Shadows is ideal for families wanting to explore the best sights and attractions in the Smokies!
Elk Cove
Elk Cove Nestled in the mountains above Gatlinburg, Elk Cove Resort is home to secluded, luxury cabins that are only 4 miles from Ripley's Aquarium. When guests aren't busy enjoying Downtown Gatlinburg or the national park, they'll love relaxing in their private cabin complete with a jetted tub, hot tub, and a game room pool table.
The Glades
This peaceful part of Gatlinburg is also located on the East Parkway. Not only is this beautiful resort area only a short drive from downtown, but it's also home to the largest community of independent artists and crafts people in the United States. If you want to explore the rich heritage of handicrafts in the Smoky Mountains, the Glades is just the place to go with numerous shops, studios, and galleries.
Chalet Village Resort
While Chalet Village is located closer to Ober Gatlinburg on the other side of town, Chalet Village cabins do provide quick access to the aquarium thanks to the Gatlinburg Bypass. This favorite local route can quickly bring visitors to the other end of town near Spur Road.
After a day exploring the marvelous sealife of the aquarium downtown, guests can relax in comfortable cabins with premium amenities or catch some rays by one of three resort pools in the Chalet Village area.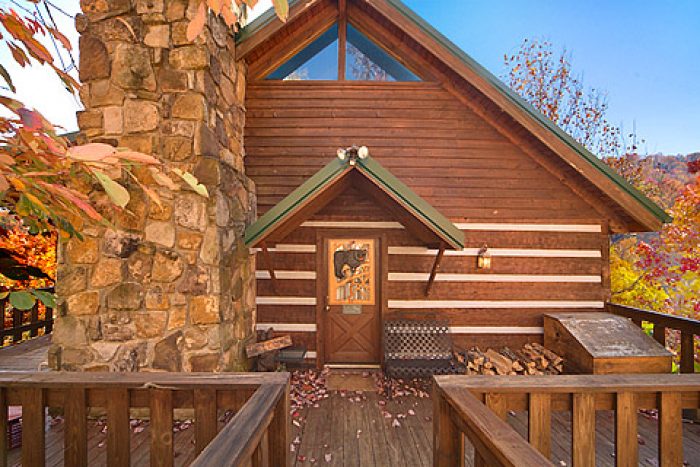 Final Thoughts
Our cabins help guests stay close to the sights they want to see, so you're bound to have an excellent vacation in the Smoky Mountains!
No matter where you choose to stay in Gatlinburg, our cabins can help make your stay comfortable, fun, and incredibly affordable. Simply book your dream resort cabin online with Cabins USA Gatlinburg to earn a special 15% discount on your vacation rental!
Find My Cabin Near Ripley's Aquarium!
Written by Hayden Brown