Gatlinburg, TN on New Years Eve is an incredible place to celebrate.
The entire town seems to join in on Gatlinburg's festivities on the night of Dec. 31st. If you're planning on being in Gatlinburg on New Years Eve, we've made this handy guide with the top things to do in Gatlinburg to bring in 2019!
You won't want to miss what's going on in Gatlinburg for New Years!
1. New Year's Eve Ball Drop and Fireworks Show at the Gatlinburg Space Needle
Before the clock strikes midnight, thousands of visitors gather in the streets of Gatlinburg to bring in the new year with a big party. The night's festivities include a live DJ and a light show to help build the festive anticipation.
While Gatlinburg isn't quite like Times Square in NYC, this scenic mountain town isn't far from the mark.
Gatlinburg hosts a New Years Eve Ball Drop at the 400 FT tall space needle that's fully decorated with bright LED lights in the heart of town. Topping it all off is a terrific fireworks show at the Gatlinburg Space Needle that's synchronized to music. Pyro-Shows, a professional fireworks and special LED light effects company, will be featured at the event.
Local restaurants like Smoky Mountain Brewery and Dick's Last Resort have extended hours for New Years. Sugarlands Distillery, Ole Smoky Moonshine, and Davy Crocket's Whiskey Distillery are a great place to try some free samples before the ball drops.
This city-wide New Years party is perfect for a group of friends looking to bring in a new year in style.
2. New Years Eve Dinner at the Melting Pot
Enjoy an upscale fondue dinner with a great view of the ball drop at the space needle and a champagne toast and party favors. The cost is 59.95 per person. Reservations are required so call (865) 430-4430 to save your table!
3. The New Years Eve Party at Blaine's
Blaine's Bar & Grill is an iconic Gatlinburg restaurant located at the foot of the Space Needle in Gatlinburg. As a result, this popular spot is at the heart of all the action for New Years Eve.
The celebration begins at 7:30 pm for couples with a special dinner package that include party favors, Champaign, and a full dinner. At 9 pm, the bar opens for general admission. A live DJ and a dance floor will keep the party going and V.I.P. guests can enjoy a prime rib dinner.
Best Places To Watch the Fireworks Show
No matter where you choose to spend New Years Eve in Gatlinburg, TN, you're bound to want to see the fireworks and light show in downtown.
If you'd like to be in the heart of all the action, getting as close to the Gatlinburg Space Needle as possible is an incredible way to see the fireworks.
However, if you're looking for less of a "party atmosphere," you can enjoy the fireworks from a distance by parking at one of the overlooks along the scenic Gatlinburg Bypass. You'll have all the fun of fireworks with a fraction of the crowds.
Another exceptional way to see the fireworks is to book a log cabin with a view of downtown Gatlinburg.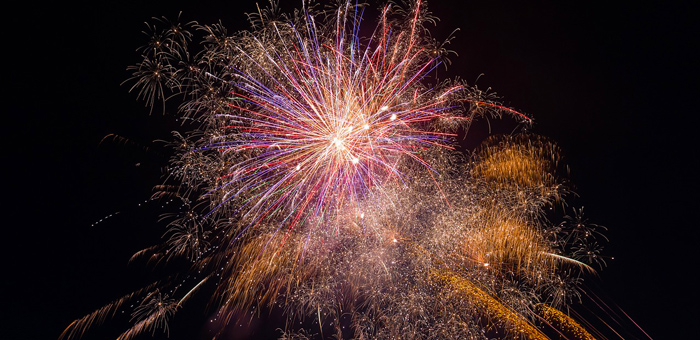 Tips For Seeing New Years Eve in Gatlinburg
Arrive Early – the best spots for viewing the Gatlinburg Space Needle Fireworks show fill up early. We recommend planning a dinner in Gatlinburg and then gathering near the Space Needle around 10 PM.
Gatlinburg New Years Eve Parking – The most affordable places to park in Gatlinburg are the city lots. These parking garages only cost $6 for a day of parking and can be found behind Ripley's Aquarium and near the Gatlinburg Welcome Center. There are other lots closer to the Space Needle, but these run around $10 per spot.
Be Patient – Following the festivities, there's likely to be a fair amount of traffic as Gatlinburg experiences a mass exodus.
Does the Gatlinburg trolley run on New Years Eve?
Gatlinburg runs an extended trolley schedule on New Years Eve. In fact, Gatlinburg's Trolley service plans to run their shuttles' until after the Ball Drops in downtown.
One option might be to park at the Gatlinburg Visitor Center on the Spur Road to take the purple trolley route into downtown. After the festivities, you can return on a trolley from the Gatlinburg Aquarium to return to your car.
If you have any questions about riding to trolley on New Years Eve, don't hesitate to contact the trolley service for more information at: 865-436-3897.
Map of Gatlinburg
Final Thoughts on Gatlinburg For New Years
We think one of the best ways to celebrate the New Years is to reserve your own Gatlinburg cabin so you can stay with all your family and friends. We've made this handy guide with details of what to look for in a Gatlinburg New Years cabin.
Ready to experience one of the best New Years Events in the South? Start planning your New Years getaway today!
Written by Hayden Brown