Gatlinburg is the place to be for new years – just check out this video of the fireworks show downtown.
In addition to a terrific downtown new year's celebration complete with a live DJ, fireworks show, a synchronized LED light show, and a New Year's Eve Ball Drop at the Space Needle, Gatlinburg has numerous venues like Blaine's and the Melting Pot that host special events to bring in the New Year.
While thousands of visitors attend the city-wide new year's party at the foot of the 407-foot Gatlinburg Space Needle, many other vacationers enjoy private parties in their own Gatlinburg cabin.
No matter where you want to celebrate December 31st in Gatlinburg, you'll want a quality lodging to make your stay truly special.
To help you make fantastic memories during your stay, we've made a guide of 5 things to look for in a cabin for your New Year's trip to Gatlinburg.
1. Find A Cabin With A View of Downtown
Staying at a cabin with a lovely mountain view is always a treat, but New Year's can make this experience even better.
When you reserve a cabin with a view of downtown, you'll be able to see the fantastic fireworks and light show at the Gatlinburg Space Needle at the stroke of midnight. In effect, you'll be able to enjoy a beautiful fireworks show from the privacy of your cabin's deck.
Chalet Village area cabins are an especially good place to find cabins with this kind of view.
2. Stay Close To Downtown
Without a doubt, the streets of Gatlinburg are the most exciting place to celebrate the coming new year.
So why not stay close to all the action? Though many of our cabins are nestled in the mountains above Gatlinburg, these properties are often only a short drive away from the biggest attractions in town. Better yet, there are tons of fun things to do for New Years in Gatlinburg, so staying close to all the action is a great idea.
After a terrific night of celebrating the New Year, you can enjoy a short drive back to your cabin rental. For more on this, look through some of our Gatlinburg cabins that are close to downtown.
3. Look For Comfortable Amenities
While many guests choose to stay in hotels for New Year's, these vacationers are missing out some excellent amenities for their stay. Treat yourself and find a New Year's cabin with:
Fireplace
Hot Tub
Game Room
Private Indoor Pool
And More!
Several of our cabin rentals in Gatlinburg feature full theater rooms with surround sound and large projector screen – a terrific place to watch the New Year's Eve festivities in Times Square.
4. Book a Large Cabin
When it comes to New Year's celebrations, it truly is the more the merrier. So why not reserve a place to stay that accommodates all of your family and friends?
Large cabins provide plenty of space for celebrating your own private New Year's party in Gatlinburg with the people who matter most.
5. Look For New Year's Eve Specials
Although there are lots of places to stay in the Smoky Mountains for New Year's, not all of these places come complete with discounts to make your stay even more affordable.
Cabins USA Gatlinburg offers a special 15% discount on our cabin rentals - a great deal for your stay!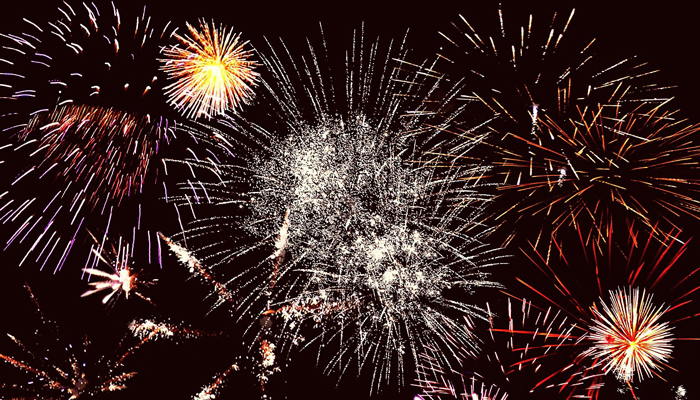 Final Thoughts On Celebrating New Year's in Gatlinburg
Lastly, you definitely want a cabin that's available for New Year's Eve in Gatlinburg.
Since most guests want to enjoy an authentic mountain-style vacation, cabin rentals are often the first kind of lodging to be filled up.
Since the early bird gets the worm (or in this case, early birds get the best cabins), it's best to reserve your cabin for New Year's Eve as early as possible.
Start brushing up on the words to "Auld Lang Syne" planning your getaway to the Smokies! To help you find the perfect cabin for celebrating the coming new year, use this search feature to find available cabins for the dates of your trip!
Written by Hayden Brown