Gatlinburg and the Great Smoky Mountains are an incredibly popular vacation spot that draws millions of visitors every year. But, as with anyplace that becomes this popular, you can count on the roads getting crowded from time to time.
To help you enjoy your Gatlinburg vacation without getting stuck in a traffic jam, we've made this handy guide on how to avoid Gatlinburg Traffic!
First, we'll let you know when you can expect to run into traffic in Gatlinburg and show you some alternate routes to help you get around Pigeon Forge. Finally, we'll let you in on some tips to get around Downtown Gatlinburg when the roads are crowded.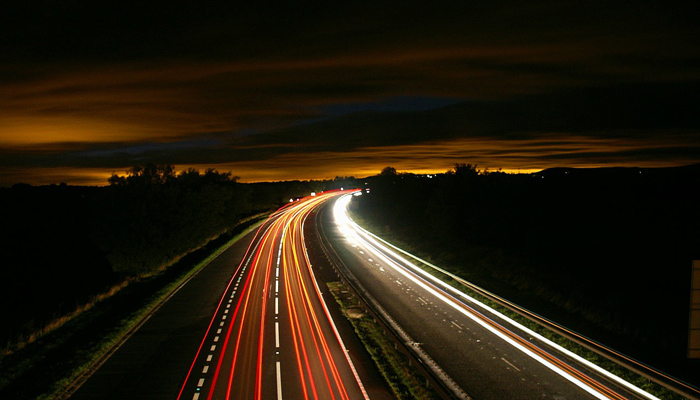 When Is Traffic The Worst in Gatlinburg?
As a rule, traffic in the Smoky Mountains and Gatlinburg isn't bad at all. It's only during specific times that the roads can become quite busy.
So when can you expect to run into traffic on main roads in Gatlinburg?
Seasonal Changes – Generally speaking, summer and fall are the busiest seasons in the Smoky Mountains. Thanksgiving, Christmas and other major holidays also create more traffic on roadways.
Check In and Check Out Times – Since most vacationers visit the Smoky Mountains during the weekend, its often possible to predict when the roads will be most crowded. As a result, after 3PM on Fridays and Sunday Afternoons are busy times to drive in the Smoky Mountains.
Major Events – Major festivals, parades, and conventions often bring more traffic to the Smokies. If you're visiting during a major car show weekend like Shades of the Past, the Fall Rod Run, or the Spring Rod Run, you'll want to plan your trips very carefully.
Insider Tip: By choosing to travel on weekdays or traveling early in the day, you can often dodge the worst of the traffic. Additionally, visiting in the off-season in late winter and early spring is a terrific time to enjoy Gatlinburg without the crowds.
Bypassing Pigeon Forge To Get To Gatlinburg
Before you can start enjoying your trip to Gatlinburg, you have to get there. Unfortunately, there are thousands of other visitors planning to do exactly the same thing. For most vacationers to Gatlinburg, they typically take the interstate and other major highways by way of Pigeon Forge.
The Main Route: I-40 Exit 407 To TN 66
When the roads aren't busy, there's nothing wrong with driving straight through Pigeon Forge to get to Gatlinburg.
This road takes you along The Pigeon Forge Parkway, the main drag in downtown with lots of restaurants, shops, and attractions. While there's a lot to do and see in Pigeon Forge and Sevierville, sometimes you just want to get to Gatlinburg for a check in time.
Traffic can be particularly fierce here, so if you're just trying to reach Gatlinburg or the Great Smoky Mountains National Park, we recommend trying another path.
By timing your trip correctly, it's often possible to dodge traffic on this road.
Alternate Routes To Get Around Pigeon Forge
Motorists should know that it's not always necessary to take alternate routes when driving to and from Gatlinburg. But, when the roadways are congested, taking the path less traveled is a good way to save yourself time and stress.
Depending on what direction your coming from, these routes might be just the right option to start enjoying your vacation faster!
From Nashville Driving I-40 East
Take Exit 388 To Chapman Highway (US - Hwy 411)
This route takes visitors through Knoxville and Seymour. If you stay on Chapman Highway, this road will eventually deliver you to Sevierville, TN and Downtown Pigeon Forge.
However, if your aim is to go to Gatlinburg and dodge traffic, we suggest you take a scenic route through Wears Valley and the Great Smoky Mountains National Park.
Once you arrive in Wears Valley, you can take the Metcalf Bottoms entrance into the national park and drive the Little River Gorge Road. On your way, you'll pass by Elkmont and the Sugarlands Visitor center.
Though the route is longer, it is far less stressful than getting caught in traffic. Visitors from Ohio, Illinois, and Kentucky may find this route helpful.
From Asheville Driving I-40 West
I-40 Exit 440 To Hwy 321 S.
Taking this exit on I-40 allows motorists to travel to Gatlinburg through Cosby and Pittman Center.
This route is also quite scenic and features views of tall peaks in the Great Smoky Mountains National Park. Best of all, this quiet highway delivers vacationers right into Downtown Gatlinburg.
From Atlanta Driving I-75 North
I-75 Exit 81 To Highway 321
If your travelling from Georgia, Alabama, or Florida, you'll likely take I-75 N towards Knoxville. However, you have the option to get off I-75 before it merges with I-40 to enjoy a more scenic drive to the Smoky Mountains.
This route passes through Lenoir City, Maryville, Townsend, and the Great Smoky Mountains National Park. Once you arrive at the Townsend entrance to the national park, you can continue left on the Little River Gorge Road towards Sugarlands Visitor Center in the Great Smoky Mountains National Park. Once you arrive here, you're only a couple miles from the heart of Gatlinburg.
Best Ways To Get Around Gatlinburg
If you find yourself in Gatlinburg during a busy weekend, there are still some great ways to get around traffic.
Take The Trolley – To help alleviate traffic, the city of Gatlinburg offers an extensive trolley system that can bring visitors to great attractions like the national park, Ripley's Aquarium of the Smokies, and more! You can access the trolley by parking at a city lot in downtown or you can park at the Gatlinburg Visitors center on the Spur road.
Park And Walk – Even if you don't want to use the trolley, Gatlinburg is an exceptionally pedestrian friendly town with wide sidewalks. There is mostly paid parking in Gatlinburg, but the city lots only charge a $6 maximum for a day of parking.
The Gatlinburg Bypass - If you need to get from one side of town to the other, its hard to beat the appeal of the Gatlinburg Bypass. This scenic route connects the Sugarlands Entrance of the national park to the Spur road that leads to Pigeon Forge.
River Road – Much of the traffic in Downtown Gatlinburg is concentrated on the main drag. So if you want to avoid some stoplights and pedestrian traffic, try taking River Rd that runs parallel to the primary road through downtown.
Closing Thoughts
As you plan your trip, we recommend exploring backroads and other alternate routes to enjoy on your trip. Though travelling this way may add some time to your trip, they're often incredibly beautiful and feature unique restaurants and attractions.
If you truly want to enjoy the beauty of the Smoky Mountains while staying away from the crowds, you may want to consider booking a secluded cabin in Gatlinburg.
Often times, these cabins make it easy to access top local attractions, while also featuring private, forested locations or a great spot with a beautiful mountain view.
So start planning a great getaway to Gatlinburg and dodge traffic during your stay!
Written by Hayden Brown