Without a doubt, one of the biggest highlights of visiting Gatlinburg in April is the chance to see stunning wildflowers.
By April, many flowering plants are in full bloom in the Great Smoky Mountains National Park. With over 1,600 species of flowering plants, the Smokies are an ideal place to enjoy the spectacle of blooming dogwoods, pink lady slippers, fire pink, and trillium.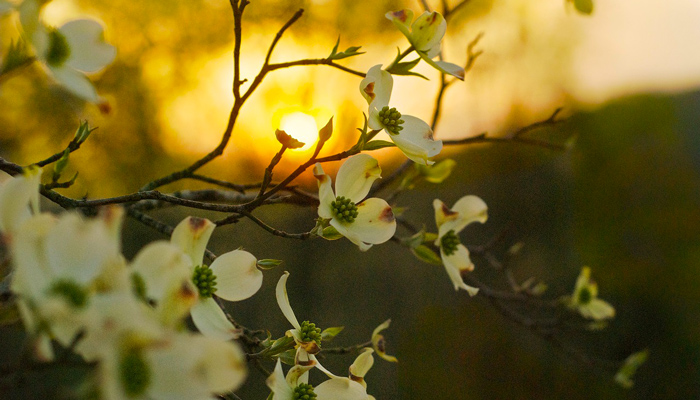 Here's a guide with the best places to find wildflowers in the Great Smoky Mountains National Park during this beautiful time of year.
Additionally, several roads in the national park Clingmans Dome, the Roaring Fork Motor Trail, and Parsons Branch Road reopen in April after brief closures in the winter.
So what are the best things to do in Gatlinburg during the month of April?
Use this guide on visiting Gatlinburg in April to plan your trip and find fun activities, events, and tips for getting the most out of your spring vacation in the Smoky Mountains of Tennessee!
April Weather in the Smoky Mountains
Springtime is known to be one of the most pleasant times to visit the Smoky Mountains. Be sure to check the forecast when planning your trip to watch out for spring showers, but overall, the average temperatures are mild and there are plenty of sunny days.
Avg. High – 69°F
Avg. Low – 55°F
Best Attractions To Enjoy in April
When you're visiting Gatlinburg in April, it's hard not to come down with a bad case of spring fever! Here are some of the best ways to get outside to enjoy the spring weather.
Explore the Forest Canopy From a Zip Line
Ride a Mountain Coaster
Helicopter Tours of the Smoky Mountains
Guided Horseback Rides in the National Park
Play 18 Holes at the Gatlinburg Golf Course
Go Whitewater Rafting on the Pigeon River
Ride the Gatlinburg Sky Lift
Additionally, just going for a short hike in the national park, strolling through Downtown Gatlinburg, or planning a picnic are all prime ways to make the most of your April vacation.
Here's a short video of some of the beautiful wildflowers you can find in the Great Smoky Mountains during mid-spring.
Events in April
Looking for more Gatlinburg activities in April? Check out this great lineup of events!
Dollywood Festival of Nations Mar. 16 – Apr. 9
Every spring, Dollywood brings the best musicians from around the world for live shows at Dollywood. See musical traditions from the farthest corners of the globe and have a great time at this family-friendly theme park complete with roller coasters, delicious food, and authentic Smoky Mountain crafts.
Spring Rod Run Apr. 19-21
Come see the first major car show in Pigeon Forge! The Spring Rod Run weekend is the perfect time to see tricked-out muscle cars and beautiful custom rides. You can participate in the official car show at the LeConte Center or just enjoy cruising up and down the parkway.
Smoky Mountain Trout Tournament Apr. 7 - 8
Fishermen of all ages have a great time at this weekend tournament. Local rivers in Gatlinburg are stocked with over 10,000 brook trout and fishermen compete for cash prizes and bragging rights.
Hands on Gatlinburg Apr. 13 – 15
This new crafts festival in Gatlinburg is the perfect time to learn how to make handmade crafts on your own! Local artists from the renowned Arts & Crafts Community in the Glades will hold special workshops and classes to share their techniques and mastery of making beautiful pottery, cloth, glass, metalwork, and woodcarvings.
Smoky Mountain Wine Fest Apr. 13 - 14
Explore the best local wines in Tennessee at the Smoky Mountain Wine Fest at Arrowmont School of Arts and Crafts. Ten wineries will be present offering free samples and presentations on winemaking and pairing wine with food.
Earth Week Apr. 27
As spring comes to the mountains, Gatlinburg celebrates the beauty of nature with Earth Week! This week features interactive educational events for kids and a special Earth Day 5k, a fun night walk and run through the streets of Gatlinburg.
Spring Wildflower Pilgrimage April 24 – 28
For over 50 years, this annual event has been the perfect way to explore the beautiful wildflowers of the Smoky Mountains. With guided hikes and informative presentations, the Wildflower Pilgrimage in Gatlinburg is an ideal way to learn about the plants, animals, people, and history of the Smokies.
Mountain Man Memorial March Apr. 13 - 14
This excellent event is dedicated to the bravery and sacrifices of America's fallen heroes. Every year, participants march or run various distances on a supported course in Gatlinburg. Proceeds go to benefit gold star families who've lost a loved one in combat operations.
How Busy is Gatlinburg in April?
As the weather gets nicer, more and more visitors make their way to Gatlinburg and the Smoky Mountains.
In fact, major events like the Spring Rod Run and the Mountain Man Memorial March bring even bigger crowds.
So while April might not be as busy as the summer and fall, Gatlinburg sees lots of vacationers, especially on weekends. The good news is that if you can schedule your trip during weekdays or avoid visiting during a major event, you'll enjoy a great spring vacation without the crowds.
Final Thoughts
If you want to experience springtime in Gatlinburg, April is an excellent time to visit! Start planning your trip today by finding your own Gatlinburg cabin rental to stay close to the national park and other great attractions.
Don't forget, Cabins USA Gatlinburg offers select properties with a 15% discount to help you save money on your vacation. Find your cabin today to see how much you can save on your nightly rate!
Written by Hayden Brown