With all the great dining restaurants in Gatlinburg, you may be wondering how you can pick the best places to eat in Gatlinburg.
A time honored way to dodge tourist-trap restaurants and enjoy a unique dining experience is to go where the locals eat.
To save you time and help you find great local restaurants, we've made this list of the top 7 favorite places where locals eat in Gatlinburg, TN!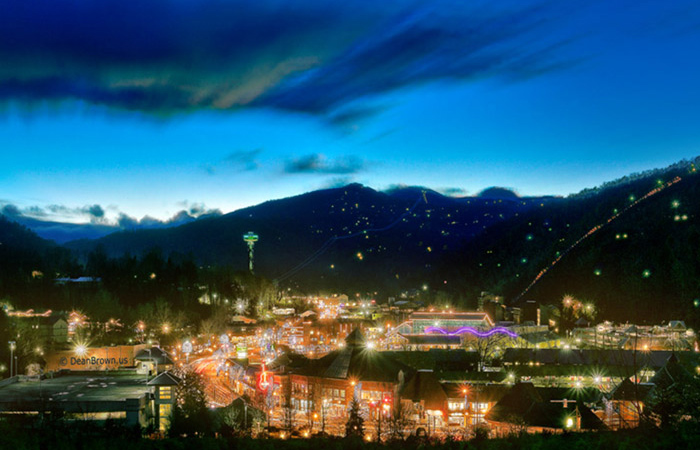 1. Best Italian Cafe and Pizzaria
This casual Italian cafe in the heart of Gatlinburg has earned quite the following over the years. This restaurant is famous for its garlic rolls, New York style pizza, and calzones, but they also have a great selection of pasta dishes such as Chicken Marinara and Eggplant Parmesan.
While this restaurant isn't known for its décor or service, we can all appreciate a place with hearty portions of delicious food – not bad for a high density tourism area like Gatlinburg. This business has two locations on the Parkway, so if there's a long wait for one, you always have a backup plan.
2. The Pancake Pantry
From strolling in past the numerous pancake houses in Downtown, you might guess that everyone in Gatlinburg starts their day with a big stack of flapjacks.
Of all the breakfast restaurants in Gatlinburg, The Pancake Pantry reigns supreme as the oldest and most popular pancake house in Gatlinburg for both locals and vacationers alike.
While we can't say this restaurant isn't touristy (it's often packed with visitors), the Pancake Pantry has earned its reputation of serving some of the best hotcakes and sandwiches in Gatlinburg.
Over the years, the Pancake Pantry has served distinguished diners such as Dolly Parton and US Senators, so you can be sure the food here is top-notch.
3. The Peddler Steakhouse
The Peddler steakhouse is built out from an old log cabin complete with a chimney, chinking, and weathered logs. While part of the restaurant may have an old, rustic appeal, the Peddler is one of the finest places to eat in all of Gatlinburg.
This upscale restaurant serves up incredible Filet Mignon, Prime Rib, and seafood. Without a doubt, the Peddler is the nicest steakhouse in Gatlinburg. This is where the locals go to celebrate special occasions or to enjoy a romantic dinner.
To get the most out of your trip, ask to be seated outside on the covered patio by a beautiful stretch of the West Prong of the Little Pigeon River.
4. The Donut Friar
Known for having the most mouth-watering donuts in the Smokies, The Donut Friar is a Gatlinburg classic that's been open since 1969. As a result, they've had plenty of time to perfect their made-from-scratch recipes.
Although, the Friar isn't a proper restaurant, it's a great place to stop for breakfast or a snack. Better yet, this shop opens at 5 AM daily, so you can grab a bag of delicious baked goods before you start your day in the mountains.
5. Smoky Mountain Brewery
While this brewery is part of a local chain in Tennessee, it's still a favorite stop for locals.
Diners here can enjoy great burgers, pizza, wings, and dinner entrees, but the main attraction at this brewery is, of course, the beer. This handcrafted beer is brewed in house with recipes inspired by the Smoky Mountain area. Be sure to try the Cherokee Red Ale or the Tuckaleechee Porter.
The Smoky Mountain Brewery is a great place to catch the big game and on weekends this restaurant is a hot spot for seeing live music.
6. The Three Jimmy's
One of the best ways to find where Gatlinburg locals eat is to drive further away from the main downtown area. By doing so, you could run into a hidden gem like the Three Jimmy's that's a popular stop for locals.
This great live music venue and restaurant serves up Barbecue and other American classics. Not only does this non-chain restaurant serve homemade dishes, but they also they smoke all of their meats in house.
For the complete experience, ask to be seated on the covered patio and order their award-winning wings.
7. The Mountain Lodge
No frills and good food should be the motto of The Mountain Lodge in Gatlinburg.
This breakfast house serves up East Tennessee classics like sawmill gravy, sausage, biscuits, grits, country ham, and omelets cooked just the way you like. Diners can also enjoy a full lunch menu with burgers, sandwiches, fried catfish, fried chicken and gravy, pork chops.
If you're looking for a traditional East Tennessee diner experience, it's hard to beat the Mountain Lodge. For a real treat, check out the Sunday brunch menu, but try to arrive there before the church crowd!
Map Of Favorite Local Restaurants in Gatlinburg
Where's your favorite place to eat in Gatlinburg? We'd love to hear about it in our comment section!
Written by Hayden Brown