Join the thousands of people that come to the Great Smoky Mountains and Gatlinburg to enjoy a fantastic Memorial Day Weekend!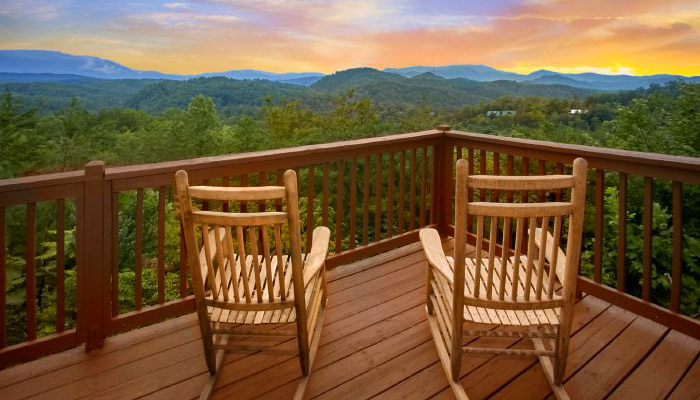 Celebrated as a federal holiday, Memorial Day is always observed on the last Monday in May. As one of the few three day weekends in the year, there's no wonder why so many drive to beautiful places like Gatlinburg, TN to spend it with friends and family.
This special day is designated to commemorate fallen soldiers and it's marked with patriotic celebrations of our freedom as well as solemn tributes to soldiers who paid the ultimate price. Gatlinburg, well known for its patriotic spirit, is a perfect place to remember the bravery of these heroes.
To help you get the most out of your long weekend, here are the 4 best things to do in Gatlinburg this Memorial Day!
1. Host A Cookout
Get your summer off to a great start by hosting a cookout at your Gatlinburg cabin!
Memorial Day in Gatlinburg usually sees temperatures in the 70s and 80s, late May is a great time of year to relax by the grill while you cook up some delicious food. Best of all, you can enjoy the company of family and friends in the refreshing Smoky Mountains outdoors.
Whether you're throwing the football or enjoying a delicious plate of barbecue, there's hardly a better way to kick off the summer season that relaxing at a cabin with the people who matter most.
As an added perk, you could reserve a cabin with resort pool access, a game room, or a beautiful mountain view to make the occasion truly special.
Better yet, weather is perfect for going swimming in the Smokies or spending a day at Dollywood Splash Country Waterpark.
2. Explore the Smokies
It'll also be a great weekend to explore the Great Smoky Mountains National Park! Better yet, you'll have an extra day to take in the natural beauty of Tennessee's mountains. When the weather's sunny, you can plan a fun adventure like:
Hiking To A Waterfall
Driving to Scenic Mountain Views
Horseback Riding
Go Fishing in the National Park
Whitewater Rafting on the Little Pigeon River
ATV Tours
Zip Line Adventures
3. See Great Music at Family Fest
From May 26th to May 28th, you can see a huge lineup of gospel and contemporary Christian artists in the heart of Downtown Gatlinburg.
For years, Bill and Gloria Gaither have put on Family Fest at the Gatlinburg Convention Center to spread an inspiring message and lift people's spirits. With moving keynotes and concerts, you won't want to miss this excellent multi-day event in Gatlinburg!
4. The Smoky Mountain Thunder Memorial Ride
Join hundreds of motorcyclists as they take a 65-mile ride through the Smoky Mountains to honor the courage and sacrifice of America's fallen heroes.
This solemn event begins at the Sevierville Courthouse in Sevierville, TN on May 28th at 10 AM with a ceremony complete with speeches, patriotic songs, and the presentation of an American Bald Eagle. Following this tribute, a police escorted motorcycle train leaves at 11:00 AM.
The ride concludes at Clinch Mountain in Grainger County with a closing ceremony, a 21 Gun Salute and Taps. This non-profit, volunteer organized event is a moving commemoration of America's greatest heroes that celebrates the true meaning of Memorial Day.
Final Thoughts
We've offered a few ways to spend Memorial Day Weekend in Gatlinburg. We'd love to know, how would you spend your long weekend in the Smoky Mountains? Feel free to share your thoughts in our website's comment section!
No matter how you plan to spend your summer holiday in the Smokies, be sure to check out Cabins USA Gatlinburg's cabins to find an incredible place to stay on your trip!
Written by Hayden Brown