As spring turns to summer, more and more vacationers come to the Great Smoky Mountains and Gatlinburg to enjoy pleasant weather and great attractions.
The national park is filled with wildflowers, fun attractions are open for the summer, and there are lots of great events to experience!
To help you make the most of your May vacation in Gatlinburg, we've put together this guide with some of the best things to do during this gorgeous time of year!
Here are 5 reasons why you can't miss visiting Gatlinburg during the beautiful month of May!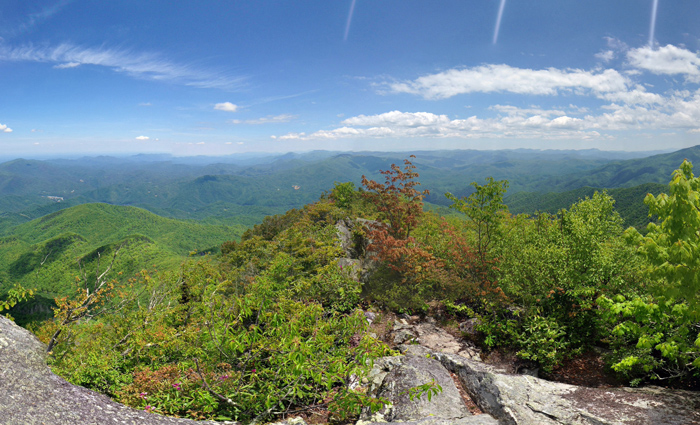 1. Enjoy Beautiful May Weather
May is a truly beautiful time in the Great Smoky Mountains of Tennessee. The weather is just perfect for strolling through shops in Downtown Gatlinburg or going for a spring in the Great Smoky Mountains National Park.
Here are the average temperatures for Gatlinburg in May:
Avg. High 77°F
Avg. Low 64°F
Better yet, pretty much every major attraction is open by May. Whether you want to ride coasters at Dollywood, explore the forest canopy from a zip line, or go on guided horseback rides in the Smokies, everything is open for business.
If you're a thrill seeker, we recommend booking a whitewater rafting trip on the Little Pigeon River. Rafting outfitters begin their season in May, so you can experience the wild rapids of the Smoky Mountains.
2. See Gatlinburg May Events
So what's on Gatlinburg's calendar in May? Be sure to check out these great local events during your vacation! Memorial Day weekend is also a popular time to visit Gatlinburg.
Music in the Mountains Spring Parade – May 4
In past years, Pigeon Forge celebrated Dolly Parton's Homecoming to Pigeon Forge with a massive parade with Dolly as the Grand Marshall herelf. After 32 years of serving as Grand Marshall, Dolly has stepped down and Pigeon Forge is bringing out a new parade that celebrates the musical heritage of the Great Smoky Mountains. This action-packed parade draws as many as 50,000 spectators and comes complete with marching bands, floats, and performers from local Pigeon Forge dinner shows.
Gatlinburg Beans and Cornbread Festival - May 11
Discover how delicious beans and cornbread can be at this unique Gatlinburg festival! Beans and cornbread have long been staples for the diets of hardy Appalachian people and now there's a celebration for these humble foods. Come see who has the best recipe at this outdoor event in the streets of Downtown Gatlinburg.
Barbecue and Bluegrass at Dollywood - May 25 - June 10
Hear the wholesome sounds of bluegrass and taste the delicious flavors of smoked barbecue at this excellent event at Dollywood Theme Park. For two weeks in May, Dollywood celebrates the beautiful sights of spring by brining in terrific musicians and excellent food. With regular admission to Dollywood, you can enjoy all the rides and attractions of Dollywood as well!
Wilderness Wildlife Week - May 8 – 12
This free event is a great opportunity to learn about the flora, fauna, and history of the Great Smoky Mountains. With a great line up of presentations, guided hikes, and vehicle tours of the park, Wilderness Wildlife Week is a favorite activity for all ages.
3. Find May Wildflowers in the Smokies
One of the most beautiful sights in the Smokies are wildflowers in the national park. In places like Cades Cove, the Roaring Fork Motor Trail, and Greenbrier you can see the forest in full bloom with White Trillium, Woodland Blulets, and Fire Pink.
Another great way to explore wildflowers is to go for a morning bike ride in Cades Cove. Starting in May, the Cades Cove Loop road is closed to vehicle traffic until 10 AM on Wednesdays and Saturdays - the perfect way to see wildflowers in this gorgeous valley!
The Smoky Mountains National Park is home to over 1,500 varieties of flowering plants, and May is one of the best months of the year to witness a beautiful display. Be sure to bring your camera to snap some photos of the stunning spring wildflowers of the Smokies and check out this guide with the best places to find flowers in the park.
4. Go For A Swim
After lots of relatively cooler weather in the spring, Gatlinburg starts to see the thermometer reach into the 80s. If you find yourself in Gatlinburg on a warm, sunny day, it may be time to find a swimming hole in the national park!
For some, the cold mountain water may be a bit too cold for taking a dip, but you could always just put your feet in while enjoying the riverside scenery.
Some cabin resorts open their swimming pools in May, but you could always reserve a cabin rental with a private indoor pool if you want to guarantee some time by the pool no matter what the weather holds.
Also, nearby Dollywood Splash Country starts its season by the 2nd week of May, so you can have a great time on slides and water rides at this Smoky Mountain water park!
5. Save with May Specials on Cabin Rentals
May is also a great time to find deals on cabins in the Smoky Mountains!
To help you save money on your vacation, Cabins USA Gatlinburg is proud to offer its cabins with a special 15% discount rate! To see how much you can save on your cabin vacation, simply search for cabins that are available for the dates of your trip!
Final Thoughts on May in Gatlinburg
Every month of the year brings new things to enjoy about Gatlinburg and the Great Smoky Mountains National Park. We'd also love to hear what your favorite things about Gatlinburg in May! Feel free to share your thoughts and stories in our comments section!
Written by Hayden Brown