Summer is a peak time to go to the Smokies and its no secret why. Lots of beautiful sunny weather, tons of fun attractions, and great outdoor activities draw tons of visitors to enjoy the warm season.
If you're planning a vacation in June, July, or August, be sure to check out our list of the 10 best things to do in Gatlinburg in the summer! Make the most of your getaway to the Great Smoky Mountains with these fun summertime activities.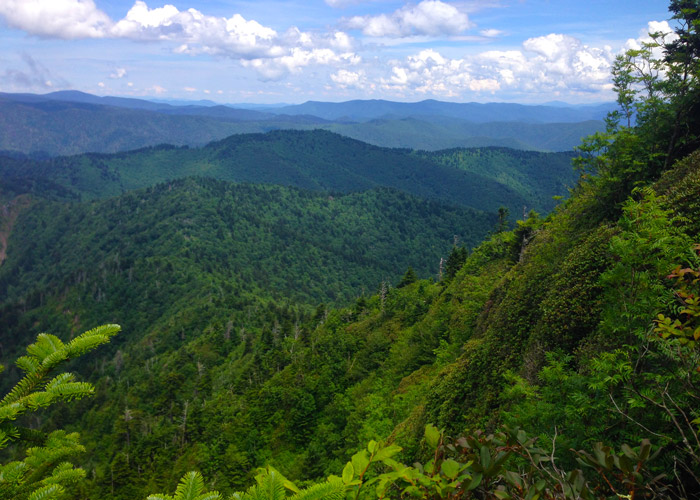 1. Stroll Through Downtown Gatlinburg
Gatlinburg is famous for it's lively downtown with lots of interesting shops and fun attractions. Here are just a few of the things you can do on a stroll through town:
Sample Moonshine at a Local Distillery
Watch Taffy being made at the Ole Smoky Candy Kitchen
Get an Old Time Photo
See Panoramic Mountain Views from the Gatlinburg Space Needle
See Beautiful Art at the Arrowmont Galleries
Visit the Historic Ogle Cabin
From major attractions like Ripley's Aquarium of the Smokies to guided haunted tours of historic sights in Gatlinburg, you'll have no shortage of fun things to do during the summer months!
2. Walk Through the Forests in Full Bloom
Of all the great things about Gatlinburg, it is first and foremost the main Gateway to the Great Smoky Mountains National Park.
With lovely ferns, magical beds of moss, the sounds of chirping birds, the sight of dappled sunlight hitting the forest floor; summer is a stunningly beautiful time to explore the mountains.
To start your adventure in the national park, be sure to check out these easy hikes near Gatlinburg. Other top summer destinations include Cades Cove, Metcalf Bottoms, Tremont, and Elkmont.
On hot days, you can always find a cooler place to hike high up in the mountains. Newfound Gap sits at an elevation above 5,000 Ft above seal level and is usually 5 to 10° F cooler than the valley below. Some great high elevation hikes include:
The Jump Off
Charlie's Bunion
Andrews Bald
Clingman's Dome Trail
Alum Cave Trail
3. Go Swimming in Pristine Mountain Streams
After you work up a sweat on your hike, its time to cool off by a beautiful mountain stream! Waterfalls and creeks in the Smoky Mountains serve as natural air conditioners, so be sure to check out these great swimming spots near Gatlinburg:
The Roaring Fork Motor Trail
The Wye
The Sinks
The River at Greenbrier
The Midnight Hole
Better yet, you don't have to go to these popular stops for a relaxing dip in the river. At many pull-offs in the national park, its easy to find your way down to a mountain stream. The water may not be too deep, but you can be assured that you'll enjoy plenty of peace and privacy if you find your own spot by a stream.
4. Go Rafting on the Little Pigeon River
A whitewater rafting trip is a terrific way to play in the pure waters of the Great Smoky Mountains National Park.
On the Little Pigeon River near Gatlinburg, there are regular dam releases on Tuesday, Wednesday, Thursday, and Saturday in the summer months, so it's easy to schedule your rafting trip on this wild waterway.
NOC is one of several outfitters that take visitors on rafting trips of the Little Pigeon River. Here's a sneak peak of what you'll see on your excursion:
5. See The Smoky Mountain Tunes & Tales
Another highlight of visiting Gatlinburg during the summer are the Smoky Mountain Tunes & Tales Nights! On summer nights in June and July, you can see a band of entertainers, dancers story-tellers, and musicians performing in the streets of Gatlinburg.
These fun merrymakers are easy to spot because they wear period costumes of Smoky Mountain locals from the 1800s. This popular event earns rave reviews and it's a great way to learn about the unique culture of the Smokies!
6. Have a Blast At Dollywood Splash Country
Summer is a prime time for playing in the water, so why not visit the region's best waterpark?
Dollywood's Splash Country boasts dozens of water slides and innovative water rides like RiverRush, Tennessee's only "water coaster." Thrill seekers will love the steep plunge of the 70 Ft tall Fire Tower Falls Slide while others will love relaxing in the lazy river. This waterpark is a big hit with children since it offers tons of interactive water play areas.
Dollywood Splash Country is only a short trip away in Pigeon Forge and its open all summer!
7. Visit the Gatlinburg Farmers Market
From May to October, you can experience the vibrant Gatlinburg Farmer's Market!
Find tasty local produce and one-of-a-kind Smoky Mountain crafts at this farmers market in the Glades area of Gatlinburg. Depending on when you visit you can find delicious seasonal foods like nuts, berries, herbs, jelly, honey, vegetables, meats, baked goods, and garden plants.
While you're in the neighborhood, you could spend some time exploring the Arts & Crafts Community in the Glades. This historic community of craftspeople and artists create some truly beautiful and well-made creations. This is the perfect place to find a unique souvenir and support the proud tradition of craftsmanship in the Great Smoky Mountains!
8. See a Smokies Baseball Game
What's summer without going spending an afternoon at the ballpark?
Luckily, you can catch a Tennessee Smokies baseball game from April to Early September, but there are games every week during the summer months. Come cheer on the home team at Smokies Park stadium in nearby Kodak, TN. Depending on when you visit, you may visit a team that's followed by a fireworks show.
9. Explore Forbidden Caverns
No matter how hot the weather gets on your summer vacation, there's a place you can go in the Smokies where the air temperature is always a cool 58°F.
The Forbidden Caverns are only a short drive away from Gatlinburg, TN in the Sevierville area. Here, you can explore this geologic wonder that's hundreds of feet below ground with an underground river, unique rock formations, and large rooms. Furthermore, this fascinating cave system has a colorful history filled with Native American folklore and moonshiners.
10. Book A Cabin With A Pool
While a hot tub is perfect for the winter months, nothing beats having a swimming pool to enjoy during your vacation. Whether you're splashing in the water, reading a book by the poolside, or working on your tan, you'll be glad you reserved a cabin that comes with a swimming pool!
Cabins USA Gatlinburg offers two kinds of cabins with pools: resort cabins with shared outdoor or indoor swimming pools and luxury cabins with private indoor swimming pools.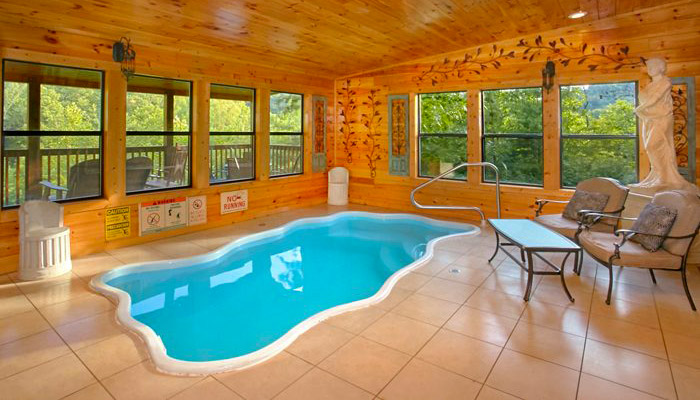 Final Thoughts on Visiting Gatlinburg in the Summer
If you've never been to Gatlinburg and the Great Smoky Mountains in the summer, you're in for a real treat!
This exciting season offers so many fun events, great attractions, and thrilling outdoor activities, you won't want to miss seeing Gatlinburg in the summer!
We'd love to know, what's your favorite thing to do in Gatlinburg during the summertime? We'd love to hear about it in our website's comment section!
Written by Hayden Brown