Gatlinburg is a small, charming town, but it still draws big crowds. With limited space, parking is at a premium in this community, especially during big events and festivals like the Gatlinburg Christmas Parade.
Even when there is parking available, sometimes it can be rather expensive. Some private lots charge about $10 for a flat rate, while others charge by the hour.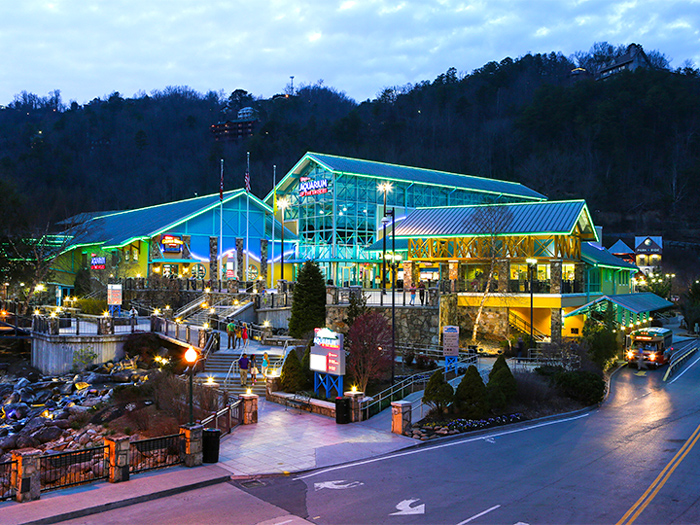 That being said, it's possible to find cheap parking or even free spots if you know where to look! That's why we made this map that shows where to park in Gatlinburg!
Gatlinburg Parking Map
Best Places to Park in Gatlinburg
Free Park & Ride Lots
These parking lots are located only a short distance from Gatlinburg and offer trolley service into downtown. These parking lots are a great free option if you know that your plans will work with the trolley schedule. The free park & ride lots are located at the City Hall Complex on Hwy 321 and the Gatlinburg Welcome Center on the Spur Road. The trolley is only $0.50 per person per ride or $2 for an all-day pass.
Gatlinburg City Lots
If you're going to be spending the whole day in Gatlinburg, one of the cheapest options is to park in one of the two Gatlinburg City lots. One is located behind Ripley's Aquarium and another is located at traffic light #3. These lots charge a maximum rate of $6 for a day of parking, which is less than other private lots.
Free Parking on River Road
If you're lucky enough to find them, there are a limited number of free parking spots on River Road, but these fill up quickly, especially during major events.
Private Lots
There are several open surface lots and private parking garages on River Road, Historic Nature Trail, and the main Parkway. These lots are often closer to some attractions like the Gatlinburg Space Needle, but they are generally more expensive than municipal parking lots.
Final Thoughts
Some businesses like the NOC have parking spaces for customers, but this is less common in the busiest parts of town. Businesses along River Road and Historic Nature Trail usually have spaces for customers only.
If you're unable to find parking close to the attraction you want to see, Downtown Gatlinburg is a pedestrian-friendly place that's perfect for enjoying a stroll. If you need help getting around town, Gatlinburg runs a trolley service that's free during the summer months and cheap to use during other times of the year. This trolley stops at most major attractions in town like the Gatlinburg Space Needle, Ripley's Aquarium of the Smokies, and the Village Shops.
If you'll be in town for a big event like a parade, festival, or car show take a look at our guide for getting around traffic in Pigeon Forge and Gatlinburg, TN!
Written by Hayden Brown