Ever been to the Smoky Mountains and Gatlinburg for the 4th of July? This patriotic town is the perfect place to celebrate America's independence and honor the courage and sacrifice of America's heroes!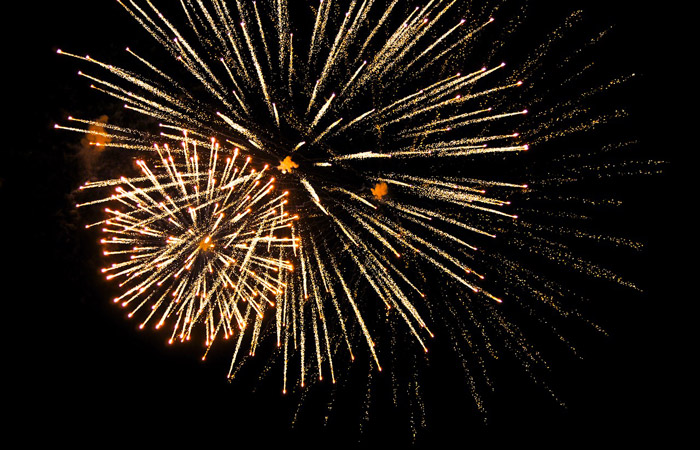 With a dazzling midnight parade, a whimsical river raft race, and a dazzling fireworks show, Gatlinburg hosts plenty of events and activities to celebrate America's birthday! Better yet, July is a beautiful time to visit the Smokies.
To get the most of your 4th of July weekend in Gatlinburg, we've made this guide complete with the biggest events, activities, and insider tips!
Gatlinburg 4th of July Midnight Parade
Ever experienced an exciting parade that begins right at midnight? Gatlinburg can't wait to kick off the festivities at the stroke of Midnight on the evening of July 3rd. Known as "The First Independence Day Parade in the Nation," this exciting parade brings in nearly 80,000 spectators.
This festive event comes complete with floats, marching bands, and excellent salutes to the brave men and women of our armed forces.
To see this unique, small town celebration, we recommend you arrive around 10 PM on July 3rd to see this parade step off at 12:01 AM July 4th. The parade route stretches over a mile from traffic light #1A to traffic light #10.
Map of Parade Route
Here's a video of what you can expect when you come to Gatlinburg's 4th of July parade!
The River Raft Regatta
During the day, the 4th of July festivities in Gatlinburg continue with the annual River Raft Regatta!
This fun, unmanned floatables race begins at Christ in the Smokies Bridge and ends at Ripley's Aquarium of the Smokies. To enter your own floatable in the race, registration begins at 10 AM at Christ in the Smokies Museum in Gatlinburg. Prizes will be rewarded in two categories: Trash (not hand-made) and Treasure (hande-made). There are also awards for the most creative raft and the youngest participant.
The race begins at noon, so come out to participate or spectate at this fun, kid-friendly event!
Gatlinburg 4th Of July Fireworks
After a day filled with barbecues, raft races and parades, Gatlinburg concludes its 4th of July celebrations with a Fireworks Finale Show at 10 PM on July the 4th.
This 20-minute fireworks show is the perfect way to cap off an excellent day in the Smokies. The best viewing areas can be found between traffic light #3 and #5 near the Arrowmont School and Ripley's Aquarium of the Smokies.
Some other popular vantage points for the fireworks show are the overlook on the Gatlinburg bypass and the Gatlinburg Skylift Observation deck.
4th of July Events in the Smoky Mountains
Not only are there fun events in Gatlinburg, but also there are fun things to do for Independence Day throughout the Smoky Mountains!
The Patriot Festival in nearby Pigeon Forge is held in Patriot Park on the banks of the Little Pigeon River. This celebration begins at 1:30 PM and features live music, a kids' carnival, food, and an evening fireworks showcase.
Dollywood also celebrates the 4th of July with park hours extended to midnight, new shows, and a fireworks show!
Gatlinburg 4th of July Cabin Rentals
While there are tons of things to do and see during Independence Day in the Smokies, you may also want to have your own celebration with your friends and family. Booking a cabin rental for the 4th of July is an excellent way to enjoy this holiday in the Smoky Mountains.
Not only do our luxury cabins have decks with mountain views, swimming pools, hot tubs, game rooms, and theater rooms, but they also feature full kitchens and grills for hosting your own 4th of July cookout.
Ready to come celebrate Independence Day in the Smokies? Simply book your cabin online today with Cabins USA Gatlinburg to save 15% on your nightly rate!
Written by Hayden Brown