July is an incredibly exciting time to experience Gatlinburg and the Smoky Mountains. From patriotic midnight parades to dazzling fireworks shows to beautiful weather, there's a lot of things to love about visiting Gatlinburg in July.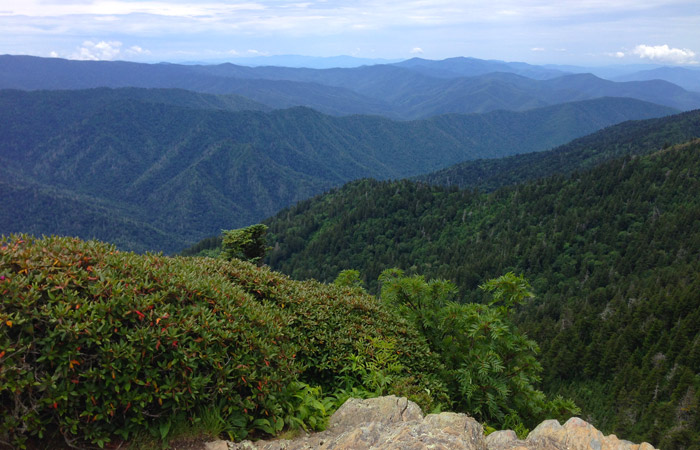 To help you get the most out of your summer trip to Gatlinburg, we've made this guide with everything you need to know about July in Gatlinburg including weather, events, ideas for activities, and more!
July Weather in Gatlinburg and the Smokies
July brings beautiful weather to Gatlinburg and the Smokies, so it's an especially popular time to visit. Here are the average temperatures for this month:
Avg. High 87°F
Avg. Low 65°F
Overall, July is probably the warmest season in the Smoky Mountains. As a result, this warm, sunny time of year is the perfect time to enjoy outdoor attractions like Dollywood or go for day hikes in the Great Smoky Mountains National Park.
Though there are occasional thunderstorms, July is a drier time of year so there's less of a chance that your vacation plans will be rained out. Also, for especially hot days, visitors can always cool off at a Smoky Mountain swimming hole or by driving to high elevation areas in the national park, which are often 10 degrees cooler than the valley below.
Gatlinburg July Events
Big events and festivals also make July an excellent time to visit Gatlinburg. Here are just of a few of the things to do Smokies during this action-packed month! Independence Day in Gatlinburg is an especially exciting time in the Smokies.
The Gatlinburg 4th of July Parade
Gatlinburg is a patriotic town, so it's not surprising that it hosts the first 4th of July Parade in the United States! This midnight parade steps off at 12:01 am on July 4. In the past, nearly 80,000 spectators have attended this event which honors military veterans and current members of our armed forces.
This popular event brings a big crowd, so it's a good idea to arrive in Gatlinburg early on the evening of July 3 to find a great spot to watch the event.
Parade Route Map
Here's a video of a previous Independence Day Parade in Gatlinburg.
The River Raft Regatta
Gatlinburg's celebration of the 4th of July continues with the annual River Raft Regatta. This fun boat race begins at the Christ in the Smokies Bridge and concludes at Ripley's Aquarium of the Smokies.
Anything that can float can be entered into this boat competition and the raft can compete in one of two categories. The "Trash" category is for any raft that is not handmade, while the treasure category is any handmade toy-raft. This free event begins at 10 AM on the 4th of July and concludes around 1 PM.
Kids love this exciting event and it's a great activity for families to watch while they enjoy Independence Day in Downtown Gatlinburg!
4th of July Fireworks in Gatlinburg
Gatlinburg finishes celebrating Independence Day with a big fireworks show at 10 PM on the evening of the 4th. The best place to view the fireworks display is near Ripley's Aquarium of the Smokies in Downtown Gatlinburg. If you can't make it to Gatlinburg's fireworks show, there are several other places to watch fireworks in the Smokies, including the Island in Pigeon Forge.
For an even more interesting vantage point, some spectators go to the Gatlinburg Bypass overlook to get a birds-eye-view of the show.
Pigeon Forge Patriot Fest
This day-long Independence Day celebration is held at Patriot Park in the heart of Pigeon Forge along the banks of the Little Pigeon River. Highlights include live music and a kid's carnival from 1:30 PM to 9:30 PM. The evening concludes with a fireworks showcase at 9:45 PM!
Summer At Dollywood
During the whole month of July, visitors to Dollywood will enjoy extended park hours from 10 AM to 10 PM, special summer shows, and a nightly fireworks show synchronized with music.
Smoky Mountain Tunes and Tales
Every evening at 6 PM during the entire month of July, you can also experience Smoky Mountain Tunes and Tales! This lively street performance takes place in Downtown Gatlinburg and it features musicians, performers, and storytellers who share a bit of Smoky Mountain culture with visitors from across the nation. Some of these performers portray personalities from the 1800s, so this family-friendly event is both fun and educational!
Summer Gatlinburg Craftsmen's Fair
From July 14 to July 23, you can see the work of Gatlinburg's finest crafters on display at the Gatlinburg Convention Center. Over 200 booths of fine, handmade crafts from skilled local artisan will be on display. The event also includes live bluegrass and gospel music and a comedy show performed daily. Admission for adults is $7 and children under the age of 12 are admitted free.
Summertime Outdoor Activities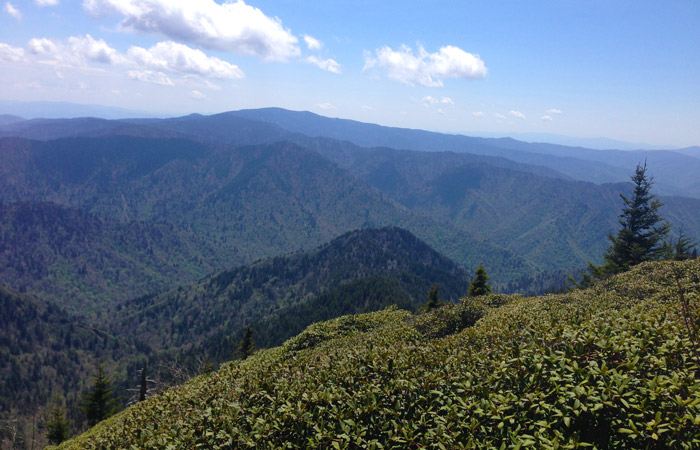 Summer in the Smokies is the perfect time to experience lots of fun outdoor adventures! After all, pretty much every attraction is open during this exciting time of year. Here are just a few of the things to do in July in Gatlinburg!
Mountain Biking
ATV Tours
River Tubing
River Rafting
Zip Lining
High Ropes Courses
Guided Horseback Rides in the National Park
Additionally, you can also enjoy visiting the Great Smoky Mountains National Park for free. Waterfall hikes like Laurel Falls and Abrams Falls are especially popular during the month of July.
Hiking In the Smokies in July
One thing visitors should be aware about the Smokies in July is that the summer season is one of the busiest periods for the national park. To ensure you enjoy the best that the Smoky Mountains have to offer, we recommend that you avoid popular places like Cades Cove, The Townsend Wye, and The Sinks Waterfall during this busy time of year, especially during weekends or holidays.
To help you explore the national park away from the crowds, we've made this list of suggested hikes that are lesser known but also offer an incredible experience for visitors.
Recommended July Hikes
Hike To Andrews Bald From Clingman's Dome - This short, lesser used hike leads to a high elevation meadow with panoramic views.
Newfound Gap To The Jump Off - Hike along the Appalachian Trail To One of the Most Dramatic Vistas in the Smokies.
Mt. Cammerer From Cosby - This challenging 10-mile hike rewards hikers with panoramic views and Western-style fire tower.
Middle Prong Trail From Tremont - This pleasant waterfall hike features several swimming holes and evidence of past logging operations.
Greenbrier Porters Creek Trail - This 4-mile roundtrip hike features historic cabins, lush forests and a waterfall in the historic Greenbrier area of the Smokies.
We've also made this guide of less-visited parts of the national park, so you can avoid the crowds during your trip!
Summertime Indoor Attractions
Sometimes, it's nice to get out of the sun for a while to enjoy the AC. Here are some excellent indoor attractions to check out during your summer trip to Gatlinburg:
See Incredible Sea Life at Ripley's Aquarium of the Smokies
Enjoy Summer Ice Skating At Ober Gatlinburg
Take In Scenic Views From The Gatlinburg Space Needle
Also, check out this guide of top indoor attractions in the Smokies.
July Cabin Discounts
Whether you're celebrating the 4th of July or just planning a getaway with the family, booking a cabin is a great idea for a July vacation in the Smokies. Since many log cabins come complete with resort swimming pool access, hot tubs, game rooms, grills, and decks with beautiful mountain views, it's no wonder so many choose to enjoy staying at a Smoky Mountain cabin.
July is an exciting, action-packed time to visit the Smokies, but you can also enjoy seasonal discounts during your trip! Cabins USA Gatlinburg is proud to offer a 15% discount on our Smoky Mountain cabins. Start planning your July getaway today to see how much you can save on your Smoky Mountain cabin vacation!
Save On My July Cabin In Gatlinburg!
Written by Hayden Brown