Looking for a physically challenging hike in the Great Smoky Mountains National Park?
Check out our list of the 5 hardest hiking trails in the Smokies! These strenuous hiking trails are bound to give you a workout. Although these trails might make your legs sore, these difficult routes take hikers to some of the most beautiful places in the Great Smoky Mountains National Park, so you can at least count on getting a reward for your hard work!
To enjoy some outdoor adventure while taking on the challenging day hikes of the Smokies, check out these top 5 most difficult hiking trails in the Great Smoky Mountains National Park!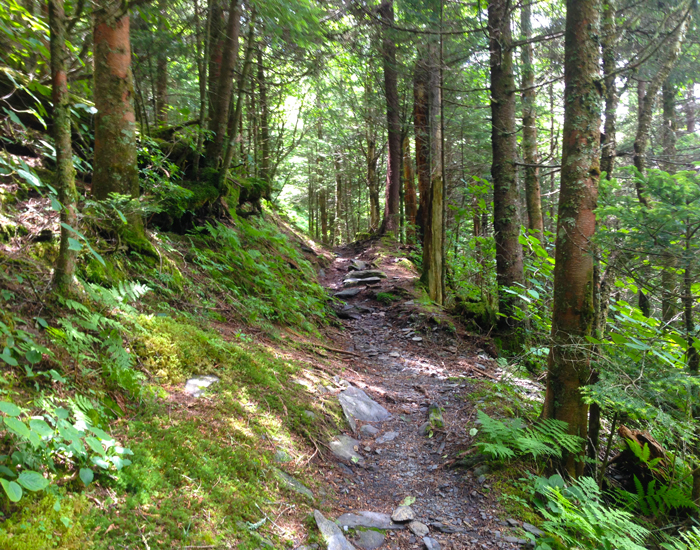 1. Mt. Sterling via Baxter Creek
Round Trip: 12.2 Miles
Total Elevation Gain: 4200 Ft.
Considered to be the hardest day hike in the national park, this scenic route climbs 4200 Ft. in just 6.2 miles. The trailhead for reaching Mt. Sterling can be found in the Big Creek picnic area, one of the less traveled regions of the Great Smoky Mountains.
Though this hike is physically challenging, hikers will get the chance to explore lush old growth forest filled with massive tulip poplars. In the higher elevations, hikers will see some of the most beautiful sections of spruce fir forest in the national park. Upon reaching the summit, you can enjoy panoramic views from the 60' Mt. Sterling Fire Tower.
2. Rocky Top and Thunderhead
Round Trip: 13.9 Miles
Total Elevation Gain: 3665 Ft.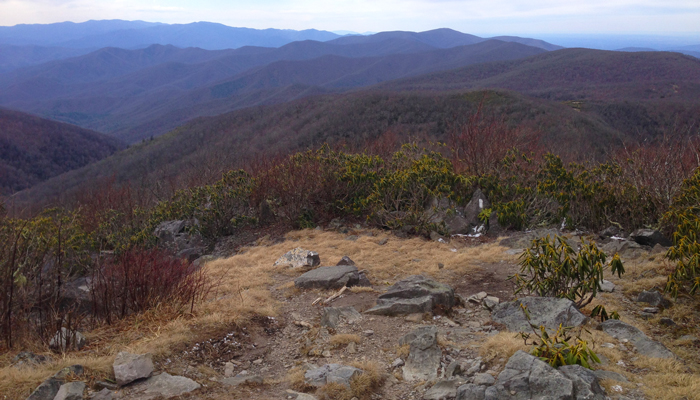 This demanding route makes the list due to its unforgiving steady climb and considerable distance. Luckily, this trail offers one of the most iconic day hikes in the Great Smoky Mountains National Park.
To complete this route, hikers can take the Anthony Creek Trail, which can be found in the Cades Cove Campground. After 3.5 miles, this trail dead-ends into Bote Mountain Trail and hikers will begin the most physically demanding section of the hike. Bote Mountain trail is a rocky, steep, and seemingly endless route that takes hikers to the Appalachian Trail. By turning left on the A. T. hikers can enjoy beautiful views from Spence Field along the Appalachian Trail on their way to Rocky Top and Thunderhead Mountain.
In the final mile of the climb, hikers will have to hike up grueling narrow sections of trail before reaching Rocky Top, one of 3 sub-peaks on Thunderhead Mountain. This beautiful overlook provides panoramic views of Cades Cove, Mt. LeConte, and Clingman's Dome.
3. Rainbow Falls Trail to Mt Leconte
Round Trip: 13.8 Miles
Total Elevation Gain: 3993 Ft.
Mt. LeConte is the 3rd tallest peak in the national park and it's arguably the most scenic destination in all of the Smokies. But at an elevation of 6,594 Ft, it will definitely take some work to reach the summit.
Rainbow Falls Trail offers hikers a chance to view a beautiful waterfall on the side of Mt. LeConte, but it's also one of the most challenging routes in the National Park. This rocky, washed-out trail takes hikers up a beautiful route to LeConte Lodge and Cliff Tops, an excellent rocky outcropping with stunning mountain views.
The Bullhead Trail is another similar route to the top of Mt. LeConte that can be incorporated into a loop hike with Rainbow Falls Trail, but unfortunately, this trail is closed due to damage from a Nov. 2016 wildfire.
The Boulevard Trail is a much longer route to Mt. LeConte, but at 9 miles in length one way the Boulevard is a bit too long to be considered a day hike.
Alum Cave Trail is probably the easiest route to Mt. LeConte, but with a round trip distance of 11 miles and an elevation gain of 2763 feet, this route is strenuous even for experienced hikers.
4. Mt. Cammerer Via Low Gap
Round Trip: 11.1 Miles
Total Elevation Gain: 3045 Ft.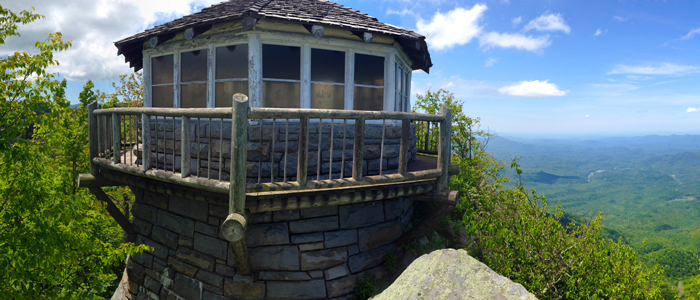 This difficult hike begins in the lesser-visited Cosby region of the Great Smoky Mountains National Park. Hikers will take the Low Gap Trail out of Cosby Campground and will enjoy meandering through lush forests and crossing rushing mountain streams.
The trail eventually runs into the Appalachian Trail, which will take hikers the rest of the way to Mt. Cammerer and a historic, Western-Style Fire Tower that offers incredible views of the Tennessee Valley and the Northeast section of the Great Smoky Mountains National Park.
5. Gregory's Bald
Round Trip: 11.3 Miles
Total Elevation Gain: 3020 Ft.
This hike begins just off of the Cades Cove Loop. At the time this post was written, the gravel access road to the Gregory's Bald Tail is closed, so hikers will have to walk an additional 2.2 miles along the Forge Creek Road near the Cades Cove Visitor Center to reach the trailhead.
Even when Forge Creek Road is open, Gregory's Bald offers a steady uphill climb and a challenging day hike for hikers of all experience levels. The trail meanders through beautiful stands of old hardwood forest on its way to Gregory's Bald, a high elevation field filled with large stands of Flame Azaleas. During the summer months, the Flame Azaleas bloom and fill this area with rich orange, red, pink, and yellow flowers. Typically, the peak bloom occurs in mid to late June. During any time of year, Gregory's Bald offers excellent views of both Cades Cove and the North Carolina side of the national park.
Map of Difficult Hikes in the Smokies
About This List of Difficult Hikes
With over 800 miles trails in the Smokies, you could spend days and days trekking through the national park. With the Appalachian Trail running through the middle of the park, you could obviously hike this 72-mile trail and stay overnight in the park, although some trail runners can complete this distance in one day.
For this list, we've compiled a list the hardest day hikes in the national park. This includes any trail that most hikers can reasonably complete in one day.
Other hikes like the Chimney Tops Trail and Fontana To Shuckstack Fire Tower are strenuous hikes in their own right, but these trails are a bit shorter in length. Ramsey Cascades in Greenbrier is another demanding trail that takes hikers to the tallest waterfall in the national park, but at a distance of 8.8 miles round trip, it is slightly less challenging than the others we've listed.
With this in mind, we compiled a list of hikes where the round-trip distance is no more than 15 miles. Furthermore, all of these trails have some kind of reward at the end that makes all of that effort worth it.
Final Thoughts
If long, demanding day hikes aren't your idea of a relaxing day in the mountains, we recommend trying out some of these excellent easy hikes near Gatlinburg. These routes are accessible for beginner hikers and they offer beautiful scenery to enjoy.
Also, when hiking on these routes, please exercise the utmost caution. When taking on a challenging day hike in the national park, it's important to:
Let Someone Know Where You Go – Let a friend or family member know where you'll be hiking in the national park and give him or her an approximate time that you expect to return from the trail.
Bring Friends – Having a hiking companion is one of the best ways to enjoy a safe hiking experience, plus they can offer conversation to take your mind off that burning feeling in your quadriceps.
Bring Plenty of Food And Water – These difficult hikes are demanding, so be sure to bring plenty of water and calories to complete the journey.
Wear Proper Clothing and Footwear – Wearing sturdy boots and using trekking poles are excellent ways to prevent injuries on the trail so you can enjoy a safe hike. Additionally, dress properly for the season and be aware that high elevation mountains in the national park are often much cooler and they experience more rainfall than the valleys below. During the winter, high elevation trails may have large amounts of ice and may be virtually impassable.
Choose An Appropriate Challenge – Hiking is a personal journey and everyone's journey is different. Be sure to choose a hiking trail that is appropriate for your level of physical fitness and health. It could be a good idea to talk with your doctor before you set out on a long hike in the mountains or try doing some easier, warm up hikes before tackling the most difficult routes in the Smokies.
Additionally, the national park service provides an excellent list of safety guidelines for exploring the Smoky Mountains.
We hope you enjoy these strenuous hiking trails in the Great Smoky Mountains National Park. We'd love to know, what's the most difficult trail you've hiked? Please let us know in our comments section!
Written by Hayden Brown