Want to explore the beauty of the Great Smoky Mountains in spring?
There's no better way to experience springtime in the Smokies than going for a hike in the national park! After all, March, April, and May is the prime time to see wildflowers in the Smoky Mountains and spring is an excellent time to view waterfalls because of higher rainfall averages!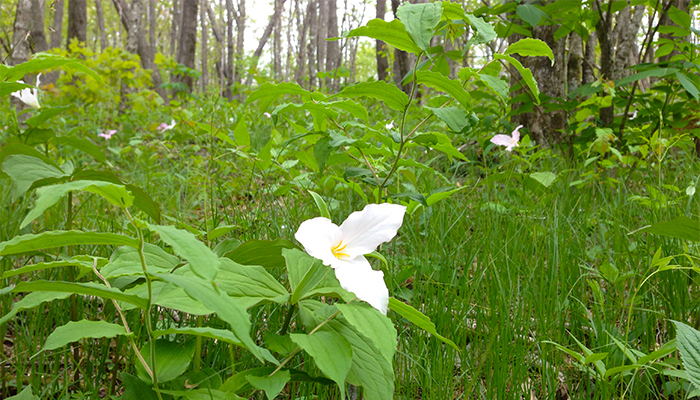 To help you find the perfect spring hike, we've made this list of the 10 best spring hikes in the Smoky Mountains!
1. Porter's Creek Trail
Located in the peaceful Greenbrier area of the Great Smoky Mountains, the Porter's Creek Trail is arguably one of the best spring and wildflower hikes in the Smokies. During March and April, this trail passes through verdant forests filled with violets, white trillium, bloodroot, hepaticas, May-apple, and woodland bluets.
This easy trail is only a 4-mile round trip hike and it features other highlights like a historic cantilevered barn built in 1875 and the 60-ft Fern Branch Falls waterfall. This video from the Great Smoky Mountains Association shows some scenes from the Porter's Creek Trail area.
2. Schoolhouse Gap Trail
You'll find this lovely spring hiking trail in the Smoky Mountains on the way to Cades Cove. Hikers can also use this trail to access the White Oak Sinks area of the Smokies, however, the national park sometimes closes this area to protect bat populations that are being impacted by White Nose Syndrome.
Even if White Oak Sinks is closed, the Schoolhouse Gap Trail is a pleasant easy hike that's especially lovely during springtime. In this 3.8-mile round-trip hike, you'll get a chance to see cardinal flower, golden aster, pink lady slipper orchids, and mountain laurel.
3. Middle Prong Trail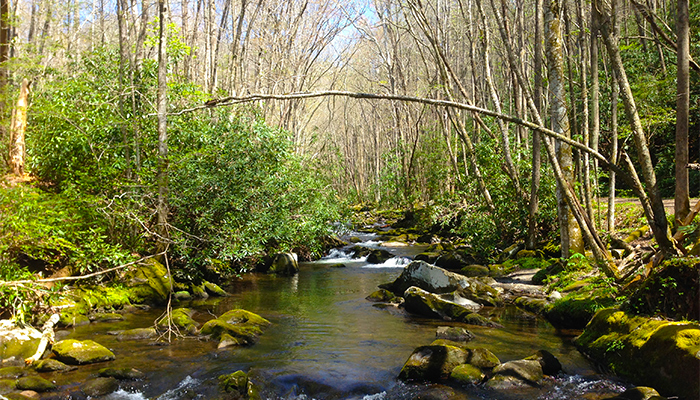 This 8.3-mile round-trip trail is located in the stunning Tremont region of the Great Smoky Mountains National Park. You can enjoy many highlights on this trail without hiking it in its entirety.
This lush trail follows the Middle Prong of the Little River and it passes by several large cascades and waterfalls. Along the way, you'll find an abundance of beautiful wildflowers. This trail also features some evidence of historic structures and logging activity.
This wide, moderate trail can be rocky in sections, but overall this hike is great for beginners. Better yet, during the spring, you'll find an abundance of wildflowers and the cascades and waterfalls will be gushing from ample rainfall.
4. Little River Trail
This level, easy trail takes hikers along the Little River in the historic Elkmont district of the Smoky Mountains. Near the start of the trail, hikers will see beautiful old resort homes that were constructed prior to the formation of the national park. As you hike along the river, look for wildflowers that thrive along sunny spots by the trailside.
This trail follows an old railroad grade, so this flat and level trail is great for beginning hikers. The Little River trail is a 4.9-mile round trip hike. Be sure to take your time to explore the beautiful spots by the river! This video highlights the charm of this spring hiking trail in the Smokies!
When hiking this trail in spring, keep an eye out for spring beauties, hepaticas, umbrella leaf, crested dwarf iris, and yellow trillium.
5. Metcalf Bottoms Trail
The Metcalf Bottoms Trail is a great beginner trail that's located in the Metcalf Bottoms picnic area. This low-elevation trail is one of the first places you can find wildflowers blooming in early spring.
This lesser-used hiking trail features several historic structures including an old school house and a community cemetery. Additionally, this lovely trail passes through gorgeous creekside settings that are perfect for wildflowers. Additionally, this trail features some large rhododendron stands that also bloom in May and June.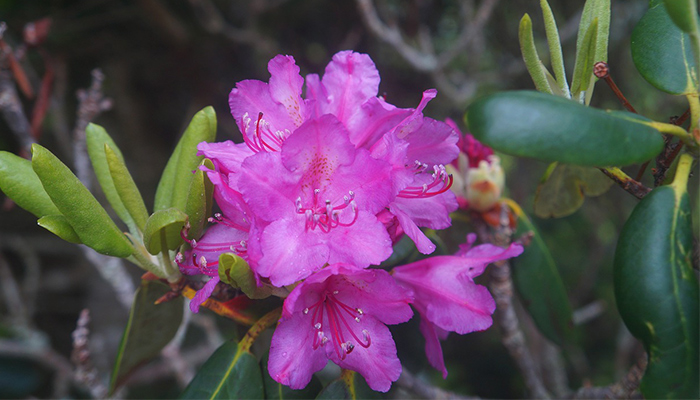 6. Meigs Creek Trail
This lesser-used hiking trail begins at the Sinks Waterfall and takes visitors to a secluded streamside region of the national park.
This hike has some steeper sections, so it's a great moderately difficult hike. The full trail requires a 7-mile round trip, but you can shorten your hike to reach the 18-ft Meigs Creek Cascades that's only 1.7 miles from the trailhead. During spring, this hiking trail is filled with ferns and wildflowers.
The Meigs Creek Trail has plenty of stream crossings and it passes through several kinds of forest types, so you'll get to see a beautiful variety of wildflowers on this hike.
7. Cove Hardwood Self-guided Nature Trail
At a mile in length, one of the shortest spring hikes in the Smoky Mountains is also one of the best. This self-guided nature trail in the Chimney Tops picnic area is known to have some of the largest concentrations of wildflowers in the Smokies. This trail also features stands of old-growth forest that are an especially rare sight in the Eastern United States.
From this easy, beginner friendly trail, hikers can enjoy seeing the forest floor carpeted in a large assortment of wildflowers in April. Keep an eye out for white trillium, fringed phacelia, spring beauty, and violets.
Check out this video for a preview of what to expect on the Cove Hardwood Nature Trail in Spring!
8. Curry Mountain Trail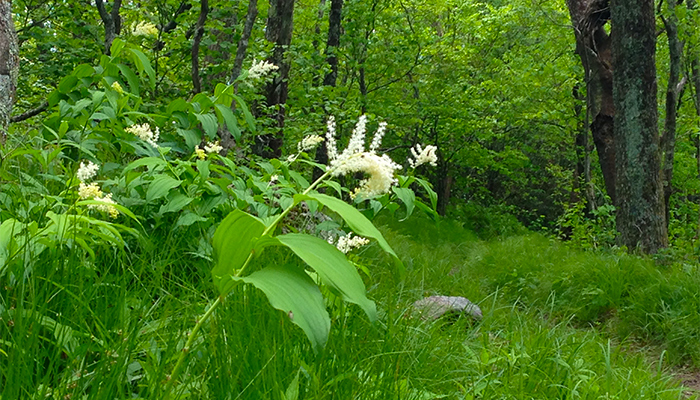 This moderately difficult hiking trail begins near the Metcalf Bottoms Picnic area. Though the Curry Mountain trail doesn't have many major sights, it's still a pleasant hike with several overlooks and lots of nice scenery. Additionally, this trail is rarely crowded, so you'll be able to enjoy a secluded walk in the forest.
This hiking trail follows a mountain ridge, so you'll be able to find lots of sun-loving spring flowers and mountain laurel on this hike. At a round-trip distance of 6.4 miles, the Curry Mountain Trail is perfect for a relaxing afternoon hike.
9. Chestnut Top Trail
You'll find the trailhead for the Chestnut Top Trail near the Townsend Entrance to the Great Smoky Mountains National Park near the Wye. This moderately difficult trail offers pleasant scenery, lots of solitude, and it's a great trail to find wildflowers like hepatica, violets, fire pink, and Jack-in-the-Pulpit.
10. Mingus Creek Trail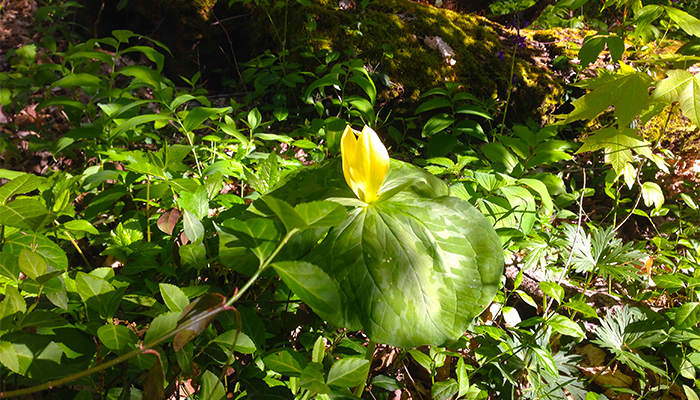 With wildflowers and a historic working grist mill, the Mingus Creek Trail is an excellent spring hike located in the North Carolina side of the Great Smoky Mountains National Park.
Near the start of the trail, you'll be able to explore the Mingus Mill, a working mill built in 1886 that's complete with a picturesque, moss-covered water sluice.
After some creek crossings, the Mingus Creek trail offers a great place to enjoy white trillium, Virginia bluebells, blue phlox, and violets. This trail requires a 5.8 mile round-trip and it's moderately difficult.
Map of Best Spring Hikes in the Smokies
Final Thoughts
With over 1500 varieties of flowering plants, the Great Smoky Mountains National Park is one of the best hotbeds for wildflower diversity in the world. Needless to say, you won't be disappointed with any of these top spring wildflower hikes in the Smokies!
Lower elevation hiking trails tend to be the best places to find wildflowers, so many of the hikes on this list are located in lower areas of the park.
Additionally, the season for viewing wildflowers on low elevation hiking trails is longe, since these areas emerge from winter than the high mountain peaks.
The wildflower season in the Smokies begins in late February with spring ephemerals in late winter Spring Beauties and Fringed Phacelia. Here is a short video of these early spring wildflowers.
By March and April, you'll see remarkable flowers like Jack-in-the-pulpit and columbine. Moving into May, you'll find intricate flowers like yellow trillium and pink lady slippers orchids. By June, the park comes alive with stunning displays of Catawba rhododendron and flame azaleas.
More species of wildflowers bloom in the Great Smoky Mountains than in any other national park, so it's the perfect place to go hiking in spring!
Written by Hayden Brown