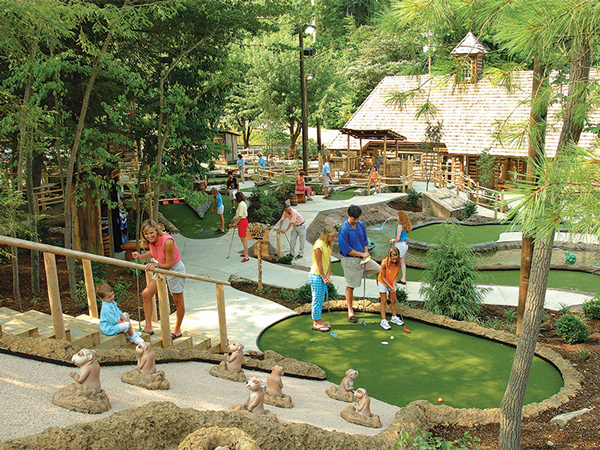 The Best Mini Golf in Gatlinburg is...
There is perhaps no attraction more synonymous with a family vacation than mini-golf. With kitschy decorations and zany themes, there is something lovably corny about a round of mini-golf with friends, family, or just that special someone. But what is the best mini-golf in Gatlinburg? It can be hard to decide with each course offering its own unique pros and cons. Luckily, Cabins USA is here to give you the details on all the options for mini-golf in Gatlinburg so you can pick the right course for you and your family.
Gatlin's Mini Golf
Formerly Fort Fun, this mini-golf course in Gatlinburg is perfect for the family who just can't decide what they want to do. With two outdoor golf courses, an indoor blacklight mini-golf course, laser tag, bumper cars, a rope course, and escape rooms, there are more than enough attractions for the whole family to enjoy!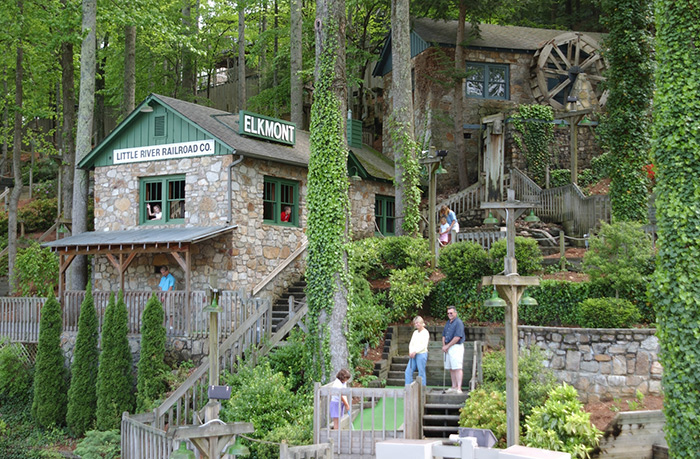 Outside, visitors will find the Old Mountain Trail and the Old Town square, Gatlin's two unique outdoor 18 hole mini-golf courses, each with its own distinctive landscape. The Old Mountain Trails features beautiful landscaping with 100-year-old hardwood oak trees and informative plaques on the history of the Cherokee and the Great Smoky Mountain National Park. The Old Town Square features replicas of historical sites from Gatlinburg's past, including restored cabins.
Rainy day? No worries! Gatlin's also features an indoor blacklight golf course with an underwater theme and 9 challenging holes for a unique mini golf experience in Gatlinburg.
What Makes it Unique:
Gatlin's offers several packages that allow you to enjoy several attractions during your vacation stay at a Gatlinburg cabin. The best deal by far is the Fun Pass which lets you choose from 6 activities for only $19.99. There are other packages that allow you to enjoy the ropes course or escape rooms as well.
Gatlin's is open from 10 am to 9pm, with some variance in their operating hours depending on the season. Call ahead of your visit to know their exact hours.
Ripley's Davy Crockett
At Davy Crockett mini-golf in Gatlinburg, guests can expect a zany setting on both of this attraction's 18-hole golf courses. This mini-golf course is a favorite among kids visiting Gatlinburg.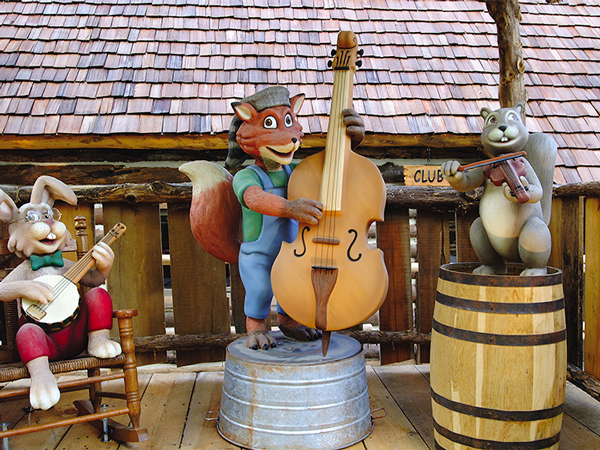 This course features a Smoky Mountain forest full of animatronic animals, including bears, chipmunks, possums, groundhogs, crows, and more! Featuring water features, steep drops, and interactive features, these golf courses offer a wacky good time for friends and family visiting Gatlinburg together!
What Makes It Unique:
This golf course is open to 12 am on weekends in the summer which makes it perfect for later night golf with friends with few other guests on the course.
Also, you can enjoy winning free games when you hit a hole in one at this golf course! Combo ticket packages purchased at Ripley's Aquarium of the Smokies allow you to enjoy two Ripley's attractions with the purchase of a special combo ticket, making this a great choice for families looking to enjoy the aquarium and other attractions in Gatlinburg.
Hillbilly Golf
This classic mini-golf course in Gatlinburg offers guests a chance to enjoy a view of the city and a hillbilly-themed course. This golf course features two challenging 18-hole golf courses with Smoky Mountain hazards fit for a frontiersman. With outhouses, moonshine stills, and lush mountain flora.
You can enjoy group rates and affordable prices with adults only costing $12.50 and children costing $8.50.
What Makes it Unique:
To get to this golf course, you'll need to ride a tram up a mountain, which is sure to be an exciting start to your mini-golf experience in Gatlinburg.
Treasure Quest
In the heart of downtown Gatlinburg, you'll find Treasure Quest mini-golf. This adventure-themed golf course places guests in an Indiana Jones-esqe setting with hieroglyph filled tombs, dinosaurs, crocodiles, pirates, and adventurers.
The best part about this attraction is that it is indoors, making it a perfect activity for a rainy day. There's even a recently added blacklight section for an even more unique experience in this kooky, kitschy attraction.
What Makes it Unique:
Treasure Quest golf is in the heart of Downtown Gatlinburg, making it perfect for guests looking to take a day to explore the city and all it has to offer.
Final Thoughts:
There really isn't truly a single attraction that offers the best mini-golf in Gatlinburg. Each of the attractions offers its own set of pluses and you're sure to find a favorite that you and your friends and family will want to visit year after year when on vacation at one of our Gatlinburg cabin rentals.
Written by Brittany Tipton