June and August are some of the busiest months in the Great Smoky Mountains National Park. According to the park service, summer is one of the peak times for visitation. With about 9 million visitors visiting the park every year, it goes without saying that the Smokies can become crowded at times.
Though crowded sights, overlooks, and hiking trails don't bother some visitors, many of us would like to find a quiet spot in the woods to relax. So where can we find some quiet places in the most visited national park in America?
Luckily, it's easy to find your own quiet spot in nature in the Smokies!
By following these tips and exploring some of the lesser known parts of the park, you can have an incredible outdoor experience without running into crowds!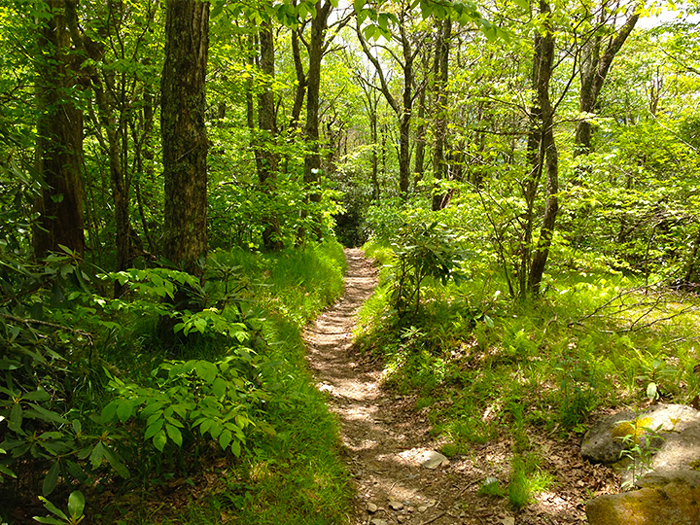 Tips For Finding Quiet Places
Even if you visit during the busiest time of year in the Smokies, it's easy to enjoy some of the most popular sights in the mountains. By following these rules, you can know when to expect the park to be busy and how to dodge the crowds.
Arrive Early or Visit on a Weekday – By touring the park before 10 AM, visitors can reach trailheads, historic sights, and waterfalls without running into too many people. Weekdays also have lighter visitation.
Hit the Trails – Even in crowded spots like Cades Cove and Newfound Gap, it's still possible to escape the crowds. Most visitors to the national park don't explore longer hikes in the Smokies, so you can find peace and quiet just by walking a few miles.
Keep Holidays in Mind – Certain times of the year bring especially large volumes of vacationers to the park no matter the time of year. These include Memorial Day, 4th of July, Labor Day, Thanksgiving, and Christmas.
Try Quiet Walkways and Nature Trails – Like the name suggests, these short trails are designed to offer a peaceful place to enjoy nature. Trailheads for these walkways are located up and down the main roads in the Smokies.
Though some places can be slammed with people, the Great Smoky Mountains National Park is a big place with plenty of alternatives. With 800 square miles of mountains, streams, and forests, it's easy to find your own peaceful getaway. To help you plan a great trip, we've made this list of five alternatives to point you in the right direction to some incredibly beautiful places without the crowds.
Great Alternatives To Crowded Places in the Smoky Mountains
1. Crowded Place: Cades Cove
Cades Cove is one of the most popular sights in the park for a reason. With historic home sites, gorgeous mountain views, and plenty of wildlife, it's no wonder why so many visitors drive this 11 mile loop road. Unfortunately, this one-way road can become deadlocked in slow-moving traffic.
Alternative: Cataloochee Valley
Cataloochee is another peaceful valley at the other end of the park that boasts historic sites, hiking trails, and wildlife. This peaceful mountain valley is famously home to a large elk herd and is one of the only places you can see wild elk in the Eastern US.
2. Crowded Place: Laurel Falls Trail
With a location close to Gatlinburg, a highly accessible trail, and a beautiful waterfall, Laurel Falls receives a lot of foot traffic. If you're looking for a peaceful spot in the Smokies, Laurel Falls is often much too busy to enjoy nature in quiet.
Alternative: Middle Prong Trail
The Middle Prong Trail in Tremont is a nearby waterfall hike that's well-known for being quite easy. After only 1 mile of hiking, you'll be treated to several cascading waterfalls. Better yet, this trail is far less traveled than the path to Laurel Falls.
3. Crowded Place: Chimney Tops Trail
This hike close to Gatlinburg offers panoramic views and a rewarding climb. On a summer day, the trailhead to Chimney Tops is filled with cars and the trail is filled with hikers. So where can you enjoy a walk in the woods and a stunning mountain view?
Alternative: Hike To The Jump Off
To visit the Jump Off, hikers will follow the Appalachian Trail northbound from the Newfound Gap Parking area. Though it's popular, this portion of the AT doesn't see nearly as many visitors as Chimney Tops Trial. After a short hike on a gorgeous mountain ridge, you'll be treated to a stunning drop-off with views of some of the most rugged parts of the mountains.
4. Crowded Place: Elkmont
Elkmont is home to one of the largest campgrounds in the Smokies and dozens of historic structures. Many people love exploring the beautiful rivers and forests of Elkmont and this is especially true during the yearly synchronous firefly event.
Alternative: Tremont
This nearby part of the Smokies is home to some of the most scenic sections of river in the national park. Tremont is a trout fisherman's paradise and has some gorgeous waterfalls and hiking trails.
5. Crowded Place: Alum Cave Trail
Alum Cave is one of the most unique hikes in the park and features popular sights like arch rock and the alum cave bluffs. As one of the 5 trails to the summit of Mt. LeConte, these features also make it one of the most crowded hikes in the Smokies.
Alternative: Charlies Bunion
Charlies Bunion is another highlight on the Appalachian Trail near Newfound Gap. This challenging hike yields great rewards. The impressive mountain views and sense of seclusion are well worth some hard work on the trail.
Bonus Crowded Place: Roaring Fork Motor Trail
This popular loop road is a popular stop for many visitors to Gatlinburg. Waterfalls, historic sights, and several trailheads to Mt. LeConte make Roaring Fork a must see in the Smoky Mountains. At the same time, everyone seems to drive this road at the same time, so it may pay to find a quieter spot in the mountains.
Alternative: Greenbrier
Nearby Greenbrier in the national park is a section of the park that's off the beaten path. Along with a picnic area, this portion of the Smokies features a gorgeous section of the West Prong of the Little Pigeon River and famous hiking trails like Ramsey Cascades.
Other Peaceful Spots in the Park
Abrams Creek Campground
Deep Creek
Fontana
Cosby Campground
Balsam Mountain
Metcalf Bottoms
Map of Peaceful Places in the Smoky Mountains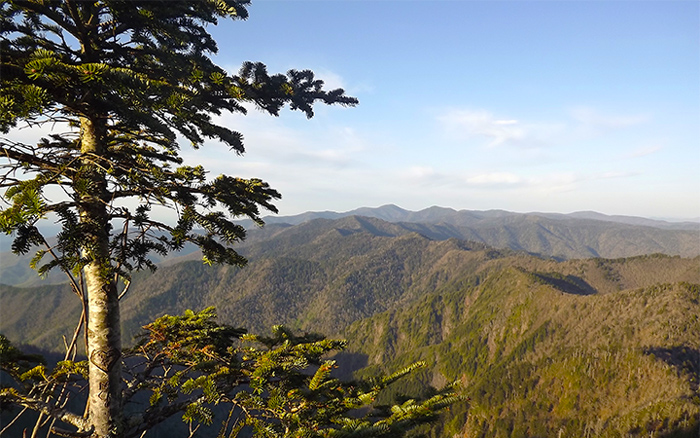 Even with 9 million annual visitors, the Great Smoky Mountains National Park is filled with lesser known places that give you a sense of peace when you're surrounded by nature.
Another great way to enjoy seclusion in the Great Smoky Mountains is to book one of our private cabins in Gatlinburg, TN.
What are some of your favorite peaceful spots in the Smokies? We'd love to hear about them in our comment section!
Written by Hayden Brown