It happens to the best of us – your vacation plans get rained out. The kids are getting antsy and everyone wants to spend the day outside of their cabin in Gatlinburg, TN. What can you do on a rainy day in Gatlinburg? As it turns out, a lot!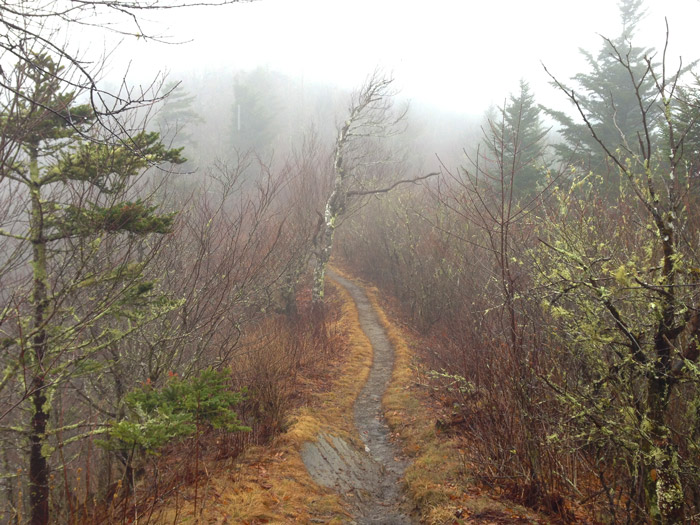 What to do in Gatlinburg when it rains?
Luckily, Gatlinburg is home to logs of great attractions that are available rain or shine. Try these rainy day activities in Gatlinburg to keep the good times rolling!
1. Ripley's Aquarium
This attraction is entirely indoors and features a huge array of sea life, interactive exhibits, and a one of a kind Shark Tunnel! A walk-through the Gatlinburg aquarium takes 2 hours or more, so it's a great way to spend a rainy day.
If you visit the aquarium on a rainy day, it's likely that lots of other people share your great idea. The Gatlinburg aquarium might be crowded, but there are other fun Ripley's indoor attractions like the Mirror Maze, Ripley's Believe it or Not, or the Guinness Book of World Records attraction.
2. Ride on the Trolley
Want to see Downtown Gatlinburg without getting soaked? Take a ride on the Gatlinburg trolley. Typical fares run from $0.50 to $2, so not only is this ride scenic, but it's also affordable! To ride the trolley, please bring exact change.
3. Star Cars Museum
You won't believe extensive car museum collection in the heart of Downtown Gatlinburg features the most iconic automobiles from film history. This Gatlinburg car museum takes well over an hour to walk through and provides informative displays alongside beautiful, wacky, and stunning cars.
4. Sugarlands Visitor Center
Only two miles away from downtown, you'll find Sugarlands Visitors Center in the national park hosts an informative natural history museum and a film on the Smoky Mountains. Not only can you stay out of the rain, but also your family will enjoy some enriching education about the history, culture, and wildlife of the Smokies!
5. Gatlin's
Need an activity that's a hit with the kids? Gatlin's provides an excellent indoor black light mini golf course. Your family can also buy passes at Gatlin's for indoor laser tag, bumper cars, a video arcade, a laser maze, and a gem mine – plenty of entertainment until the sun comes out again.
6. Fannie Farkles Fun Parlor
All you need for quality family fun is a quarter at Fannie Farkles! This indoor attraction is also a great place to grab a delicious bite to eat, so enjoy fun carnival games before enjoying their famous sausage sandwiches and Ogle Dogs.
7. Ice Skating at Ober
Ober Ski Mountain is home to a large indoor ice skating rink, that's open year round! Simply ride the Gatlinburg Tram to the ski lodge and enjoy a great afternoon of ice skating! There are also restaurants, shops, and carnival rides all inside Ober's indoor amusement park so you won't get the rainy day blues.
9. See a Waterfall or River
If you can brave the rain, wet weather is the perfect time to see waterfalls and rivers in the national park during high water volume periods. Waterfalls are especially gorgeous after a rainstorm, but proceed carefully on wet trails and rocks.
Flash floods and lightening are also potential hazards to watch out for during the summer. Cataract Falls, Abrahams Falls, the Sinks, Rainbow Falls, and Ramsey Cascades are all beautiful waterfalls close to Gatlinburg.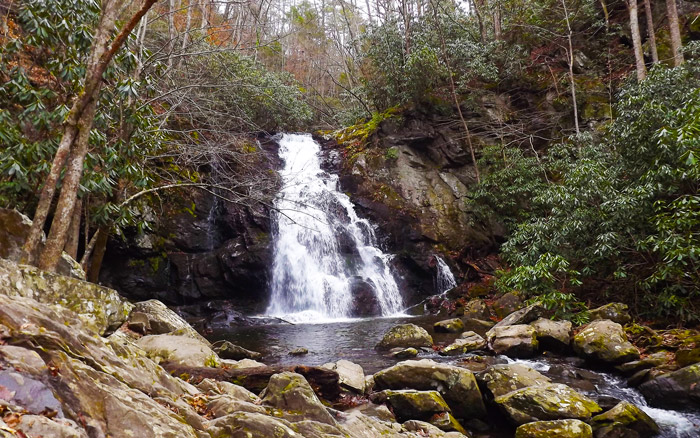 10. Kick back in your Gatlinburg Cabin
In especially poor weather, take advantage of your Gatlinburg, TN cabin! Many cabins come complete with covered decks with hot tubs so you can enjoy the sights and sounds of nature in a rainstorm.
If your cabin comes with a game room, you'll have the option of playing a round of billiards, air hockey, or an arcade game in the comfort of your rental.
With your cabin's kitchen, you don't even have to go into town to enjoy a delicious meal. At the end of the day, cozy up by your cabin's fireplace and stay warm even during rainy weather.
Watch a movie in your cabin's theater room or experience a luxury stay in a cabin with a private, indoor pool. With a log cabin rental with top notch amenities, a rainy day will never ruin your vacation plans in the Great Smoky Mountains!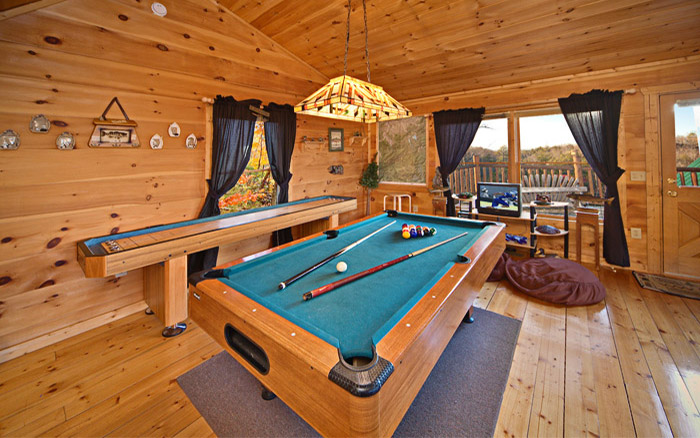 Written by Hayden Brown